Thursday, April 21st, 2011
Wednesday was my last day on Orcas.  My step-sister Joan and I were going to attend the Senior Center's monthly High Tea with Faith, my step-mother.  I was going to pick them up at the house about 1:30, for the 2:00 pm event. 
After a leisurely breakfast at the hotel I drove east, through Eastsound, along Crescent Beach, and turned right, heading for Moran State Park.  I had corrected the music situation and I had two Carlos Santana CDs (Supernatural and a "Greatest Hits") and Pink Martini.  It was about 9:30, cloudy but not rainy, and probably fifty degrees.  The park was open.  I turned left and started up Mt. Constitution.  
There are two turnouts on the road that let you see the San Juan Archipelago spread out in front of you, always in shades of blue and violet.  I was looking forward to reaching the first one and taking some pictures.  My favorite track of the Pink Martini CD came on and I was just starting to relax into it when my cell phone rang.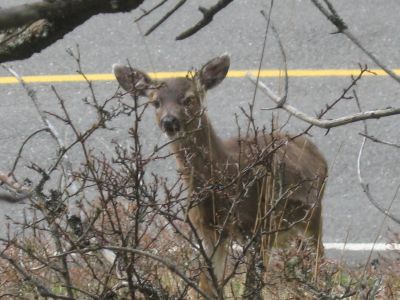 I don't talk on the phone while I'm driving, especially not my personal phone which doesn't have blue tooth. This call could only be Joan, and it probably wasn't good.  She couldn't be calling to ask me to pick up pancake mix or something.  By the time I got to the turnout, the phone had stopped.  I re-dialed, but even though I was two-thirds of the way up the tallest point on the island I had no reception.  Twenty seconds later the phone chirped to alert me that I had voicemail. 
Just the night before we had been talking about cell phones and Joan had mentioned how much she hates to leave messages because she never knows what to say.  Now she'd left one; that really wasn't good. 
So, I could go back down the hill and try to find a place with reception, or continue to the top on the assumption that there would be reception at the peak.  I went for Option Two.  I was trying to drive carefully because I didn't know this road, and my mind was scurrying off in a dozen different directions, not wanting to focus on the road.  Maybe she really did just want pancake mix.  Maybe they needed to take Faith to the hospital.  When was the next ferry?  What if they airlifted her?  Then I told myself to stop imagining the worst.  Then I started again. 
At the top of the mountain, in the parking lot, I had three bars.  I played by voicemail and it was Joan, saying, "Um, Mother doesn't feel quite right.  I left a message for Jay.  I thought maybe you were in town. . . Call me when you get this." 
I tried twice and even though I had bars I could not connect.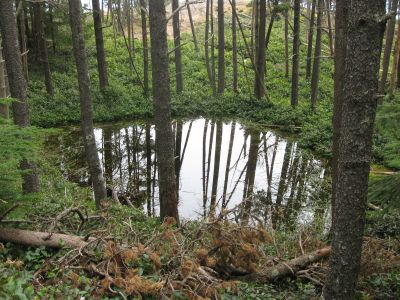 Faith, my step-mother, was just released from the hospital about five weeks ago after a serious episode.  She has COPD, which is controlled, and is recovering really well from a cracked pelvis.  For me, though, the words, "Not quite right," are always code for "stroke." And Joanie had sounded tense, frightened. 
I drove down the mountain, trying not to panic, thinking hundreds of thoughts, many of them, I'm sorry to say, selfish.  At Cascade Lake—no reception.  I drove on, finally glancing down at the phone as I drove past Crescent Beach the other way, seeing I had four bars, and pulling into a turnout.   This had taken twenty minutes from the time I listened to the message, and probably half an hour from the time Joan had left it. 
She answered on the second ring and I could tell from her "Hello," that things were not as bad as they had sounded.  "Oh, hi.  I thought maybe you were in town.  Mother wasn't feeling quite herself when she got up, and we were afraid we'd have to cancel the tea.  I wanted to catch you."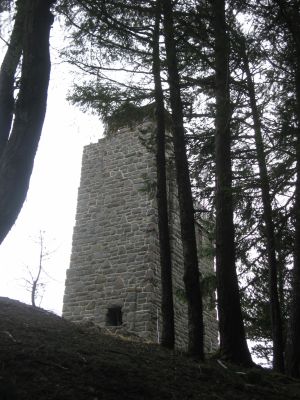 I asked what had been wrong.  Faith had complained of shortness of breath while eating breakfast.  Joanie said she was going to call the doctor, but Faith said she didn't need one. She was sitting up with her feet elevated, and said she was feeling better.  Joan sounded calm and relaxed.  "Did you go into town?" she said.  "Town" is Eastsound. Faith and Joan live out past the ferry landing, about twenty miles  southwest of Eastsound. 
"I was driving up Mt Constitution," I said, trying not to grit my teeth.  Of course Joan could sound calm now; she had already been through the half an hour of fear when she couldn't reach her brother who lived on the island, and her step-sister who was visiting the island, both of whom had cell phones.  She probably pictured me frolicking among the mounds of melting slow on the mountain, chasing deer with my camera. 
"Oh, no!  Well, we haven't made up our minds about going to the tea," she said.  "Do you want to go ahead up the mountain, and call back in an hour maybe?" 
"I'll stay in town and call in an hour," I said.  "And then, seeing how things are going, maybe I'll go back up the mountain." 
I wandered the streets of Eastsound, disconsolately spending money, and called back in an hour, to find out that Faith had rebounded and was eagerly looking forward to High Tea.  They would come into Eastsound, where the Senior Center is located, and meet me, which meant I wouldn't have to drive across the island again to pick them up.  It was about 11:30.  I went back up the mountain.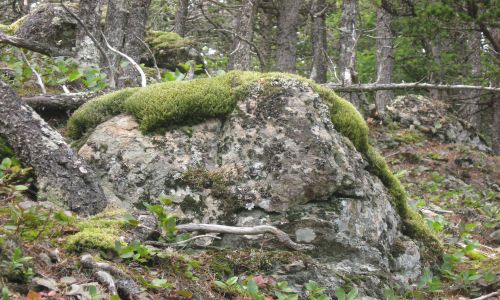 These photos are  six views from Mt. Constitution.