Monday, May 31st, 2010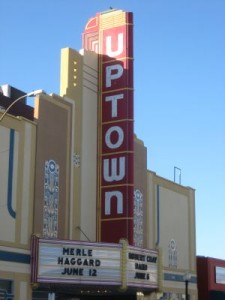 "In heaven they serve beer for breakfast."  Loudon Wainwright III
"Dad's in a bad mood/Dad's got the blues."  Richard Thompson
Richard Thompson is a guitar god.
Loudon Wainwright III is more of a trickster god, like Coyote or Raven, bringing the audience songs, story-telling, acerbic humor.  When the two team up for duets, magical fire fills the air.
First of all, the venue; the newly renovated Uptown Theater in Napa.  This 1920's era movie palace has been lovingly restored and is a thing of beauty.  The curved ceiling is painted, including odd medallions with portraits of women's faces in them; all of the same type, but each slightly different.  I couldn't tell if they were supposed to be old movie stars or just some idealized It Girls.  The colored glass chandeliers have an Arts and Crafts look to them, and the wall sconces, of rich burnt-orange glass, have the familiar V-shape from the 1930s.  Curlicues of lavishly painted plaster or wood grace the walls.  The stage is surrounded by detailed Art Nouveau designs. The seats were comfortable enough that I wasn't consciously aware that I was sitting for a two-hour performance.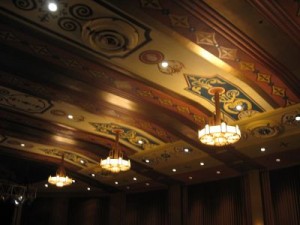 The $600,000 sound system didn't hurt either. 
Wainwright played first.  From the first two lines of his first song ("All I can do is play this song,") he engaged the audience.  He's a story-teller and a clown, self-deprecating, insightful and wry.  His third song was a charming ditty about how, in the afterlife, you must be able to do all the fun things that were supposedly bad for you in this life; smoke, drink, have sex.  "In heaven, no one says 'No.'"  The chorus contained the line, "In heaven, they serve beer for breakfast," which drew a breaker-wave of applause from the audience.
He also writes songs that are thoughtful and personal, such as the touching "The First Loudon," where he ruminates on what he knows about his grandfather, and what traits have come down through his father's line, and the eerie "Dead Man's Closet," inspired by his father's death. There is a disturbingly ambiguous line in "The First Loudon."  Wainwright is looking at a photo and remarks on his grandfather's "half-clenched fist."  He says he doesn't need a picture, because he saw that fist every day.  Later, he comments on his own half-clenched fist.  It's a haunting line—is it merely the recognition of the hands, or an allusion to legacy of family violence? I guess to really know, I'd have to listen to his son's Rufus Wainwright's songs.
He also had a thoughtful and sweet song about the dynamics of becoming a grandfather.  At the other end of the continuum, he played the ukulele to accompany himself on the song "Lucky You," based on the Carl Hiaassen book which has been turned into a play—and sang a bitter and hilarious number about a woman named "Susie" who works at the Durango airport and mistreated his guitar.  Usually, I don't appreciate rants or songs that use the word "bitch" over and over; in this case, by the end of the song, I was leaning back in my seat laughing helplessly. My friend Kathleen leaned over and said, "I think we all know a Susie."
At one point after an instrumental bridge in one song, he said, "Whenever I try a guitar riff in a Loud and Rich show, I feel like an idiot." This drew tremendous applause.
A few minutes after that, Thompson wandered out and they played two blues numbers together.
Wainwright has two new CDs out.  One is called High, Wide and Handsome and he sang the title song.  The other is Songs for the New Depression and most of these are social-commentary.  "Cash for Clunkers" was the best audience sing-along.
Thompson is a bit more reserved, engaging more with his music, at first, than the audience. If you consider the performance as a triangle; performer, music, audience, Wainwright somehow went to the audience first, and brought us back to the music.  Thompson went through the music to get to us.  I know that's lame, but I don't know how else to describe it.  As the set went on, he warmed up, but there was always a bit of formality in his interaction that was missing from the trickster who played before him.
Thompson can play music that sounds like thirteenth-entury troubadour material to 1970s vintage hard rock; all on one acoustic guitar. He had just played a slow number—I'm thinking it was "Sunset Song"—when a person down front yelled out a song request.  I didn't hear what it was.  Thompson said, "Yes.  Thank you."  The guy yelled it again.  Thompson hesitated, and said, "Yes, I will.  There's just this, this thing I want to do first," tuned up his guitar and launched into "1952 Vincent Black Lightning."  At one of the bridges, he went into the standard "Black Lightning" guitar riff, then shifted the tempo and played blues.  It should not have worked, but it did.  After a minute or so of blues magic he brought back the sweet, laddered musical phrase that is the intro to "Black Lightning," and finished the song. 
Lots of Thompson's material is dark, whether it's "Cold Kisses," about a man secretly going through his lover's things while she is out, comparing himself to the pictures of former lovers, or "Dad's Gonna Kill Me," a driving hard-rock song about the war in Iraq.  "Dad" is short for Bagdad. ("Nobody wants me here; nobody loves me here; Dad's gonna kill me.")   As Thompson put it, "All my songs are miserable, but at least some are slow and some are up-tempo."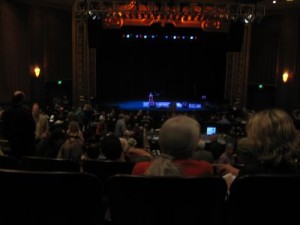 Continuing the social-commentary theme, Thompson played his song about Wall Street; "The Money Shuffle."
For the encore, they played three songs together, included a Grateful Dead song and "Smoky Joe's Café."  These are distinct, disparate artists, but there is rapport and respect between them, and together they created synergy in the classic definition of that term. 
Great show.