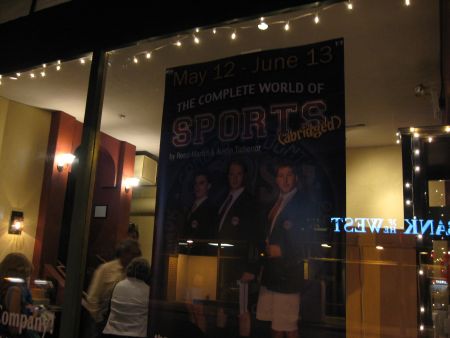 The Sig-O was a scoutmaster for 19 years, and this meant he spent one week every summer with his troop at scout camp.  Friday evening I would leave work early and drive up to see the final campfire and watch his troop get their merit badges and their awards (they always won awards).  Of course, at that final campfire, the staff also performed the compulsory Staff Skit. 
Staff skits had certain things you could count on; boys in drag, lots of topical references and in-jokes, and a high degree of energy. Those cool evenings under the redwoods, listening to the bullfrogs bell and watching the skit, are some of my favorite summer memories. 
I say this so that you'll understand that when I say The Complete World of Sports, (Abridged), currently playing at the Sonoma County Repertory Theater (the Rep) is like a two-hour camp staff skit, I mean it in a really good way. 
Comedy is difficult. The controlled pandemonium that is  Sports is practically a triumph of engineering; a swirling, perfectly blended contraption of puns, physical comedy, topical comedy, improvisation and audience participation.  Yes, they bring up the lights and interact with the audience three times and even bring audience members onto the stage to assist in the performance at one point.  You can only do this successfully if you have complete faith in your material, your actors and your audience. 
Dodds Delzell, Ben Stowe and Chad Yarish are the three leads, playing sportscasters in the first televised "Abridge-athon," in which they plan to cover every sport on every continent, throughout history, in just under two hours.  They claim this will be 3,000 sports—in fact they give an exact number that ends with a fraction, but I can't remember it.  And I think they do it. The three of them are absolutely wonderful; each different and each great. 
Delzell is the ex-jock sportscaster, a sports-partisan whose cultural insensitivity and political incorrectness annoy other two.  Stowe is the "eye candy who knows nothing about sports," and Yarish is the book-learned intellectual. In addition to these characters, they shift into various other characterizations with each bit. A bit of emotional tension is added as Stowe, who does not want  to cover the Olympics, keeps trying to derail the production so they won't have to.  Yarish then informs us that they have gotten a note from their lawyers that they can't call it the Olympics, so they must refer to their final "montage"—I know that's not a stage term but there's no other way to describe it—as "Olympish." 
In addition to intense physical action, spouting thousands of words of memorized dialog, conducting lightning-fast costume changes (okay, well, it's mostly props, but still) and clambering around on ladders backstage in order to appear in the cutout "screens" that adorn the back wall, our three stalwarts also sing. There's singing! 
The laughter shifts through the audience as references resonate for different age groups or sport aficionados, but it never stops from the time the show opens. 
I attended a staged reading of this production, which included some of the blocking but few of the props used last night.  It was still funny, but our reaction was that it needed tightening, and the writers heeded that message.   Reed Martin and Austin Tichenor, who wrote All the Great Books, Abridged, and several other "abridged" plays, do extensive research. They have a gift for comic timing and great ears for dialogue, managing to make the performances seem spontaneous and even easy. 
There is some sexual material; a condom joke and a bit about gay athletes so parents, be aware. I think kids over eleven or so will find this show hilarious. 
As a bonus, the guys give us a standard with which to determine whether something is a sport or merely a game.  "It's a sport," Chad, decked out in Scottish golfing togs, tells us, "if it's covered on ESPN."  By their own measure, then, the writers committed an egregious oversight.  They included a cheerleading reference but they did not include cheerleading competitions and dance team competitions.  This is terrible!  And if I hadn't been so exhausted from laughing when I left, I would have complained to someone about it.