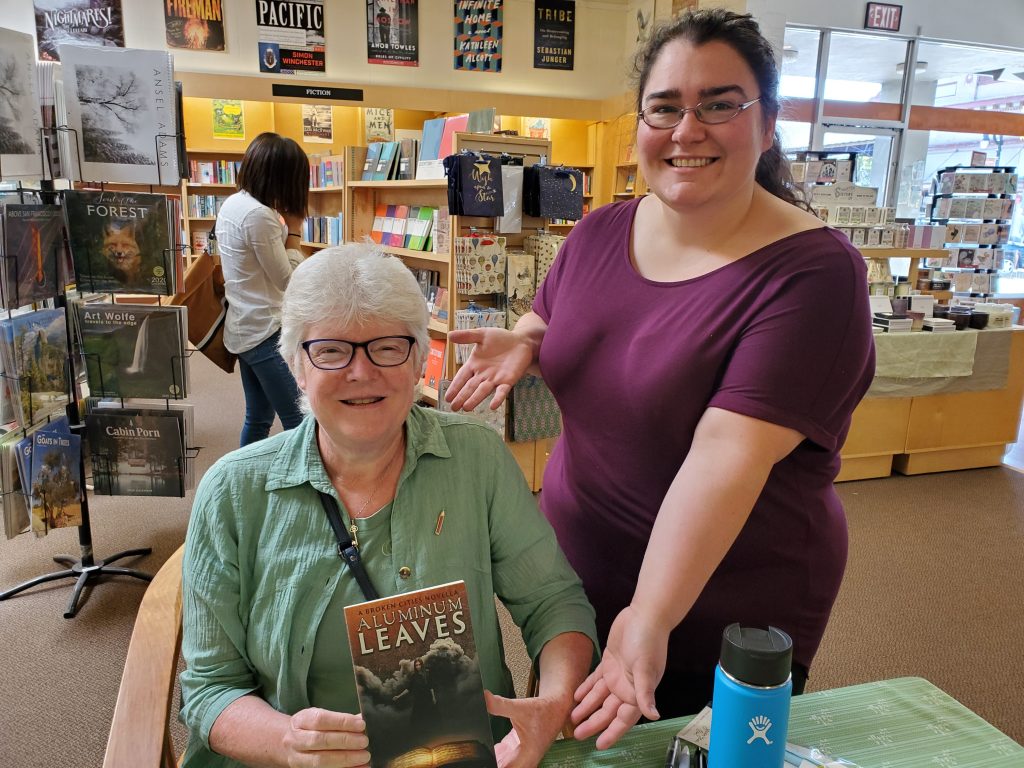 I did my first Author Meet and Greet.

Copperfields in Petaluma was welcoming! The table and a book-stand was already in place when I got there a few minutes after 1:00 PM. Amber and Ray greeted me. (Amber told me she was going to buy a copy at the end of the event for me to personalize. She did and I did.)

I brought water for me, chocolate leaves, extra copies — it's good that I did — several pens and a notebook. I assumed I would have stretches of time with no one coming by, so I was prepared to do some writing. Several friends showed up, though, not just to buy books (in fact most of them already had the book) but to provide support.

One of these was Terry, who drove from Hayward — from Hayward!– to spend some time. There was a bonus for her. Terry is putting together a book of writing prompts and Ray directed her to the Writing How-To section, where she found a couple of decent comp-titles. She bought a couple of books for her grandchildren and briefly checked out Petaluma Underground, the used bookstore.

Lillian Lee was there when I got there. Lillian bought me a pen! Greg and Mary Varley showed up, as planned, because the four of us were going to to out later as a mass-birthday celebration before they leave on a trip to Disneyland.

To my surprise, my across-the-street neighbor Carol appeared! She came with her daughter, ate a couple more chocolate leaves — she likes them — and bought a book.

While traffic to my table was light, I was happy to see that the store itself was pretty busy, and that many of the groups were families. Lots of kids were already inspecting the Scary Story display, preparing for Halloween, and several had Star Wars related books.
A man named Peter bought a book from me, after an interesting conversation and a lot of thought on his part. He is a regular at Copperfields, apparently, which is odd, because the second thing he told me about himself was that he doesn't read. That seemed strange. He's a boomer, and we usually read. He said he'd gone to New York to visit a friend, and in the course of a conversation she revealed that she doesn't read either. I asked him, magazines, papers, newsites? Nope. He watches the news on TV. He likes the radio. I asked about audio books and podcasts — nope. He said he thought books needed to be shorter, like one sentence long, and then shared a "one-sentence novel," he had "written." I suggested he explore micro-fiction, a concept that was new to him.

And after all that he bought a book and wanted me to sign it, so… there's a mystery.

Traffic was light, but I got down to one book from the original consigned inventory. I left another five books with them. In the two hours I was there I sold six books; a friend bought two. Brandy, who owns Second Chances, said six books in a meet and greet is pretty good. I was happy.

I hope to schedule one at the Sebastopol Copperfields once I get some more books.