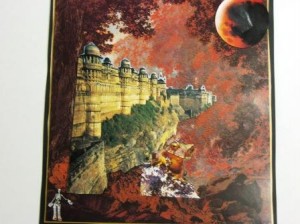 "Collage can be fun and light-hearted,even if it leads to profound insights."
Barbara Jacobsen
Living Into Art
            Get a stack of picture magazines, on any subject. . . art, nature, home, hobbies, sports, food, lifestyle.  Find a pair of scissors.  Go through the mags and tear or cut out pictures that you like.  Don't stop to plan, think or analyze.  Just go with the images that speak to you or move you in some way.  Now get a piece of matboard or cardboard and some tape or glue.  I recommend removable two-sided tape.  Arrange the pictures in a way that appeals to you. When you have them the way you want, attach them to your board.
            This is collage.
            This is the surface of collage, anyway.
            Beneath the surface, collage is like a waking dream.  It can be a way to get information from yourself about events in your life.  For some, collage is a pre-work exercise, a warm-up before plunging into some other creative work like painting, drawing or writing.  For some, it's a meditation, and like meditation, for some it is a spiritual practice.
            This fall I got to work with two different collage groups.  In October, I took  a collage class at Angela Center, a retreat center in Santa Rosa.  There were five of us, all women—no surprise there—including Alli, our facilitator.  Alli, a busy mom of two active kids, falls into the spiritual practice group. The Angela Center group met on two Tuesday evenings.  Alli followed the "soul collage" method and we kept our collages small; 5″by 7″.
            In December, L came from Hawaii for a visit.  She and I attended the Sonoma collage class facilitated by Barbara Jacobsen and Audrey von Hawley.  This group is the subject of the book Living Into Art, by Lindsey Whiting.  Barbara, widow of well-known Sonoma artist Ray Jacobsen, is an established artist in her own right.  We went into Barbara and Audrey's cozy studio that smelled of rain, paper and spiced tea, and sat around a long wooden table.  There were about nine of us, all women—again, no surprise.  Barbara and Audrey have hundreds of magazines.  In addition to magazines the studio has art paper, mat boards, calendars, a paper cutter, mat cutters and a color copier.  The class lasts a little over four hours, with the last 30 minutes devoted to interpretation of the collages.  The only direction in the class comes from Audrey, who functions as a pretty non-directive time-keeper, saying, after about an hour and a half, "You could be cutting," and, later, "Could be pasting."
            In both groups, the entire group comments on each collage.  The focus is interpretive, not critical, except in the Sonoma group, where some participants, who are professional artists, request critique
            L created two good-sized collages.  The second one showed a house, warm, tropical colors, greens, yellows, tans and shades of orange.  Along the bottom a group of shadowy silhouettes cavorted, vaguely threatening. . . they could be dancing, or fighting.  Within the house, L created a face, pasting eyes below the line of the roof, a nose on the wall and lips above the door.  The group talked quite a bit about how your face is like your house, lived in, to some extent.
            It wasn't until after Christmas that I remembered how L had been talking about her new across-the-street neighbor who is more or less squatting in an empty house owned by a relative of his.  He has approached L once, overly friendly and aggressive.  She said that she didn't feel comfortable even sitting on her front porch, in case the guy was watching her.  Does the dilapidated house across the street have eyes?  Are the shadowy figures dancing, or fighting?
*
            The last collage I did at the Sonoma group I called "Welcome to the Dream Palace." It uses a color palette I rarely play in; reds, oranges and browns.  Counting the background, there are five images.  I don't know what it means, yet, but I know a few things.  I know the little figure at the lower left is a cheerful, grateful-dead-type skeleton, and also a memento mori, a reminder of mortality.  And there's something about that frog.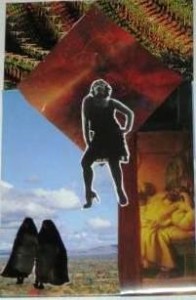 *
            The Angela Center group decided to continue to meet.  In January, we met at KKs 1930's bungalow in the Junior College area.  It ended up being only three of us, Alli, KK and me.  KK is undergoing cancer treatment, so it was a surprise that she would offer her house, but she is a trouper.  Before we got started collaging I admired the photos she had taken from her sabbatical to Africa, where she volunteered in a small rural village.
            We worked for about two hours and I made the collage I call "Pilgrims."  Again, shades of red and yellow, warm, fiery colors, seem to dominate.
*
            A week or so later, I took some  images leftover from KK's and made "Temperance."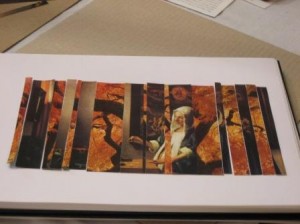 *
            At its most superficial, collage is play, a way to unlimber the creative mind.  For a visual artist it's a good way to practice up on color and composition.  For all of us, if we chose, it can be a dipper of water from a deeper well.