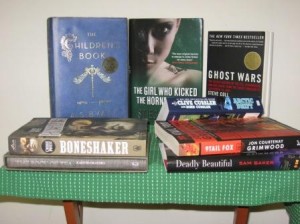 Christmas day dawned clear, blue and cold. Over coffee, orange juice and fresh cinnamon rolls, melted butter seeping into the pastry cracks, the day seemed much better than yesterday. I'm in a much better mood. I said I had hoped I would be boasting over the books we got, and that's what I'm going to do, right now.
I got the following very cool books:
A Children's Book, by A.S. Byatt
The Girl Who Kicked the Hornet's Nest, by Steig Larrson. Score! Total score; I didn't know this was released in the US yet.
9Tailed Fox, Jon Courtenay Grimwood. Can't wait! Before the Larrson? Yes, I think so.
Deadly Beautiful, Sam Baker. This is a murder mystery set partially in Japan. I haven't read anything by Baker, who currently edits Red magazine in the UK. The story looks intriguing, a sort of high fashion/high danger/serial killer mystery.
The Book of Tea, Kanuzo Okakura. A copy with its own slipcover, very understated and elegant, found used. I am delighted!
Ella Young, Irish Mystic and Rebel, Rose Murphy. My friend Kathleen gave me this book about an Irish rebel and writer. She hung out with people like Yeats and Ansel Adams.
The Sig-O did not make out as well as I did. He got:
Ghost Wars, Steven Coll. Afghanistan and the Taliban.
Boneshaker, Cherie Priest. Seattle-based steampunk with zombies.
Artic Drift, Clive Cussler.
He, however, got more bookstore gift cards than I did, so he will be stocking up here pretty soon.
Let the reading begin!