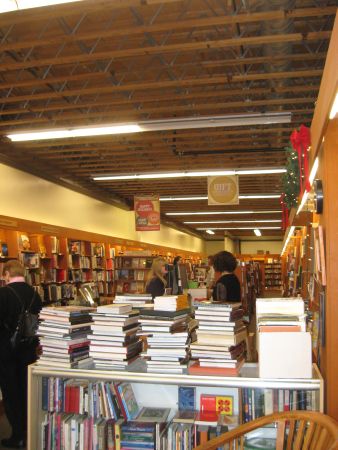 Part of my Sunday routine was to browse Copperfield's Used Books after I left the farmers' market. I would visit Sally, the bookstore cat, and usually share a bit of chard or kale with her. I'd visit with the clerks and I'd almost always buy a book. After January 25, that will come to an end. Their lease is up 1/31/12 and somehow, despite the fact that this county is drowning in vacant commercial property, they can't seem to find a place on or near Main Street in town.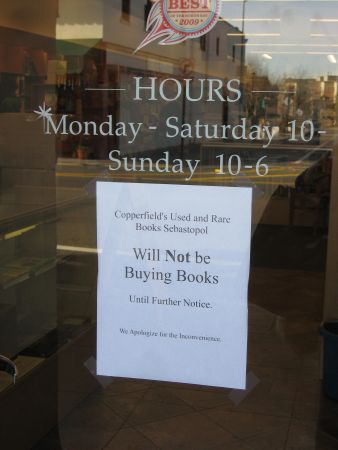 Over the years I've bought many books and many types of books at this store. I've purchased a lot of cheap fantasy, science fiction, horror, mysteries and classics. I've bought nonfiction and specialty books. Here's a brief list of the books I've found there:
 After Dark by Haruki Murakami
 Around the World in 80 Days, and Paris in the 21st Century, by Jules Verne
 A book on the Japanese tea ceremony
 8 children's book that I gave away for All Hallow's Read
 2 farmers' market cookbooks to raffle off for a work event
a tomato cookbook
a pear cookbook
 A beautiful book of garden photographs for my stepmother
 The Sacred Book of the Werewolf, by Victor Pelevin
 Dead Famous, a Mallory mystery by Carol O'Connell
Paul Jaffe, CEO of Copperfield's, checked into getting a space at the Barlow, the empty cannery complex that is currently being developed, but the Barlow is behind schedule. He apparently talked to Jonathon, who is retiring from Incredible Records, but the rumor is that Jonathon plans to sell the business or the space. There is also an open storefront in the Redwood Shopping Center, but that didn't work out either.
South of town, but still on Main Street, there are open storefronts in the Basso Center, but the person who owns the building they are in now is the same landlord, so I guess that's not a good option.
It isn't fair to blame Jaffe for this "lost our lease" closure, but he certainly knew this was coming. I'm just a customer and I've known for over a year that the lease was up.
Copperfield's started in Sebastopol, but recently, all the focus has been on making the Petaluma store the flagship. That store is expanded with a huge magazine section and a basement used-books section; and most of the author events. Plainly, even though we were the home town where the business started, Jaffe doesn't feel a tremendous amount of loyalty to us. Of course, he is a businessman, not a bookseller, why should he? It isn' t fair to complain too much, since he has kept his business operational through the recession. I guess I'm just sad that there wasn't enough commitment to the used bookstore to start working on the problem earlier– or, maybe there was, and the Barlow was/is a viable option, and it is just behind schedule. We'll see if he reopens there. If he does, I suspect the three greaet staffers I see in there every day will be working somewhere else.
I will miss the staff, I will miss the cat and I will miss the books. They are going to start having sales next week, and I will definitely hit those, but that will be a bittersweet experience.  Main Street won't be the same.