My friend Linda, in addition to being a first-rate documentarian, artist and photographer, also occasionally makes shadow box art. While I was visiting in Hawaii, we drifted into a conversation about shadow box dioramas and Barbie doll art. Linda has several Barbies and other dolls she has scavenged over the years at garage sales, thrift stores and other places. Her collection is not limited to the vintage American fashion doll. She has a lot of dolls and action figures. The next thing I knew, Linda was planning an art day with Sculpey, the over-baked pliable resin that is a lot like clay, and Barbies, with a theme for a series of art boxes.
It sounded like a great idea, but I was flying out the day after we got back to the Hilo side, so there wasn't going to be any time. Linda suggested that I could take a doll with me, and create a costume and mask at home. Her enthusiasm spilled over onto me, as it often does, and made me forget a couple of key points, like: 1) I'm not an artist and, 2) I'm a bad technician.
The upshot was, I mailed myself home a doll. This is it.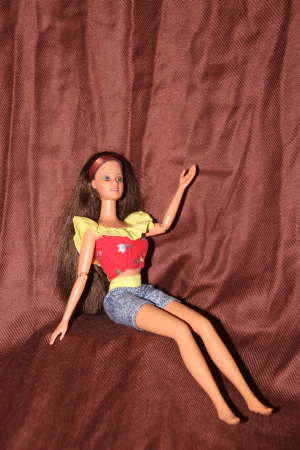 I don't think this is a Barbie. By that I don't mean that it is an aftermarket brand, although it could be. I mean that in the pantheon of Barbie and Barbie's friends and family, I think this might be a Skipper. Skipper, if I have the right name, was Barbie's younger sister, a bit of a tomboy. Not that it matters. I just like to know the name of things I'm going to traumatize and mutilate.
Linda's large-canvas idea, without giving anything away, involved people getting into costumes. My first idea was that Skipper would be putting on a horse-head mask, and she would have hooves. The more I looked at the doll, the less feasible that seemed. I did think I could do the hooves. What a fool I was.  The horse-head mask, however, was beyond me. I thought of just doing a muzzle and attaching it to the face, but I couldn't imagine it being pretty.
I killed some time by making a wig for Skipper, a big, not-at-all-naturalistic wig of baby yarn and some glittery lavender and pink cord. I wanted to go big. I did. It's big.
Doll wigs are one of the easier things to do, and while I was pulling lengths of yarn through a cloth base I decided I would take the easy way out and create a unicorn mask for Skipper. Or maybe it isn't a mask. Maybe Skipper has a unicorn horn, and some delicate facial covering and the wig are the only parts of the costume.  Sculpey lends itself to things like unicorn horns, especially if you run a short length of wire up the middle so the horn doesn't droop. Nothing worse than a drooping unicorn horn. Insert joke of a sexual nature [Here].
The horn and the headpiece actually came out all right, although it is uneven. (I hope the wig will hide that.)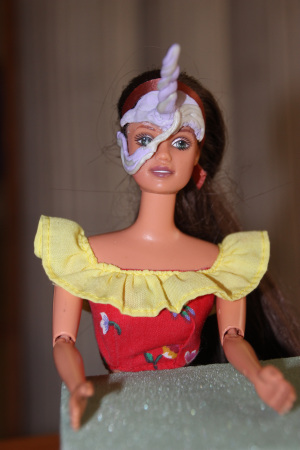 Then I spent a very long time trying to make hooves.
It's still not too late. I could go to Goodwill, buy a model horse, put some Vaseline on the hooves and "cast" the hooves in Sculpey. Then I could glue them onto Skipper's high-heel-shaped feet. I'm probably too lazy to do that. All the free-hand hooves I tried looked stupid, and then when I opened them up enough to bit Skipper's feet, they collapsed. You bake Sculpey at 250 degrees, in the oven. I could risk leaving the badly formed hooves on Skipper, and baking her. It doesn't seem safe.
I think she isn't going to have hooves, unless some stroke of genius occurs to me.
After I did a swoopy, asymmetrical mask thing, I hated how it looked. Full face was all right, but from the side you could see a big gap over the nose. Since this is a shadow box, the doll will probably be seen from the side. I removed it and went with a more traditional mask which I hate too, but I'm not going to do this again.
Now is probably the time for an e-mail to Linda, letting her know that my feelings won't be crushed if she decides not to use this thing in an art piece.