Chocoholics Chocolate Factory is located in Clements, California.  If you are driving east on Highway 12 as if you were headed to the Sierras, you would come through Victor and Lockeford before you came to Clements.  You drive through a lot of flat land covered with vineyards or olive orchards.  Some hills are left grass-covered and used as pastureland.  When you reach Clements you are about to start the climb into the foothills even though it doesn't feel like it yet.
Clements is the tiny town with the chocolate factory on your left.
I think I remember the two story brick building being there before the Schenones converted it, but memory may be playing me false.  The company added a factory that runs at right angles to the old building, forming an L shape.  In the space between they have developed a grassy area with picnic tables, and along the outer edge, a vivid rose garden.  Even if you don't love chocolate, the lush furled explosions of pink, yellow and creamy peace roses with shiny green leaves against the rust-colored brick is reason enough to stop.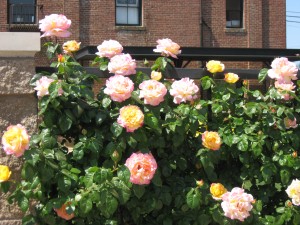 But let's face it.  You love chocolate and that's why you're really going to stop.
The old brick building is the retail store, with a deli/coffee/candy counter at the back.  They inherited an old chalkboard from a local one-room school and have it mounted on one wall, where they list the daily specials.  The hardwood floor creaks occasionally in a friendly, historical way as you walk among the shelves studying the specialty chocolates.
It looks like they do specialize in the unusual and novelty products.  They had chocolate voodoo dolls, (eating chocolate is the best revenge?), various board games that had chocolate themes or pieces or something.  There are some sensual or "naughty" items. They also sell, for about $2.50 apiece, decorated chocolate-dipped spoons.  It seems to me that a nice coffee mug and a Tuxedo chocolate spoon would make a special and inexpensive gift for someone. 
In addition to voodoo dolls, the Chocolate Diet and hot chocolate mixes, you can get Wine Country truffles, mixed chocolate candies, toffee and chocolate pasta.  Yes, that's right, chocolate pasta.
The chocolate pasta is not candy.  It is actually fusilli pasta made of wheat flour with cocoa powder added.  The color is black and does not bleach when you boil it, and when you open the bag the aroma of chocolate is powerful. That aroma lasts, too, even after cooking.  The pasta isn't particularly sweet, which makes it even better.  They recommend it with chicken mole, or as an unusual dessert.  We tried it with fresh raspberries and a raspberry cream sauce and it wasn't bad (I chilled the pasta after I cooked it).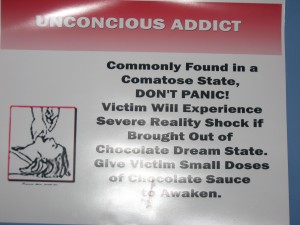 Once you've purchased your chocolates and gotten a coffee drink or a treat from the counter, you can walk over to the chocolate factory and take a self-directed tour.  I was there on a Sunday so no one was working in the factory, but they leave it set up so that it is still instructional to the tourist.  This is a working chocolate factory with long glass panels set into one side.  A wide corridor leaves lots of room for gawkers.  Two TV screens play a continuous-loop video presentation about the Schenones and the company, while along the wall the viewer can follow an interpretive display of the geography of chocolate and details of some of the processes.           
The day I was there the grassy picnic area was filled with lean, Lycra-clad, 2% body fat bike-riders.  It made me think that I might even get motivated for a ten or twenty mile bike ride, if there was chocolate at the end of it.