On Saturday Kathleen and I headed out to visit some of our favorite west county artists' studios as part of Art Trails. I haven't gone in a few years. It was nice to get back to it.
Once the fog dissipated it was a typical beautiful fall day. We added a couple of new-to-me stops this year, including a ceramics artists on Lone Pine Road.
In fact, Suki Diamond was our first stop. She makes anthropomorphic animal sculptures; rhinos, elephants, hogs, cats and chickens. In addition to figurines she has plates, saucers and large mugs (the mugs are in the shapes of faces, very humorous).  Diamond lives on a good-sized lot with a beautiful garden and spent last summer constructing a rose tunnel, which by next summer will have filled in and be glorious. It is a great showcase for her larger garden sculptures. Her dignified elderly corgie Lola greeted us.
I took a picture of her tableau. When I asked what inspired it, she said her parents used to throw wonderful cocktail parties. "Of course people didn't show up in tuxedos."
We stopped at Teri Sloat's next. I've seen Sloat's illustrations in children's books and on cards. She and her husband lived in Alaska for several years, and many of her works play with the themes of the native people and the Russian immigrants. She uses pastels and is now doing bird and animals themes and luminous local landscapes. I did not photograph her art but I did take a picture of this great old stove in her studio.
We stopped at John Chambers's place because we always do. We love his pottery. There we learned some bad news; John's wonderful wife Sunai died only a couple of weeks ago. She had wanted John to go on with Art Trails, but it put him in the position of having to break the bad news to all the "regulars" as they showed up. The good part of the visit was that it became an impromptu wake for Sunai as people talked about what she had meant to us. Her tea ceremony we attended is a memory that will always be with me.
John said he was doing all right, and he was doing as all right as someone can when they've lost a beloved life partner so recently.
We doubled back at that point to visit the decorative glass studio of Salatino and Gandolfo.
After lunch at the Union Hotel in Occidental we headed east on Occidental Road to visit Barbara Hoffman's studio and Dee Andreini's. Hoffman is another potter and ceramics worker and Andreini is a painter.  Our final stop on Occidental Road was at Rik Olson's. Olson is a printmaker with great skills, a tenacious nature and a quirky sense of humor and it's always fun to see what he's up to. One of his latest prints is King Kong with a light saber, atop the Empire State Building, fighting off X-wing fighters. He also has a fox riding a motorcycle with a clutch of chickens in the sidecar.  His cats were pretty aloof with the humans, but they like each other just fine.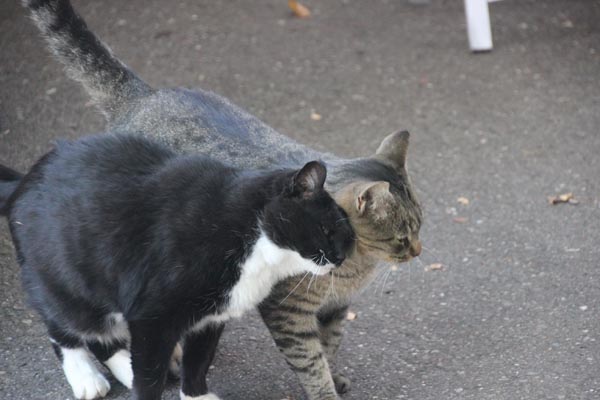 On a whim we stopped at textile artist Abby Bard's place on Florence Avenue in Sebastopol. Bard works in wool, cotton, rayon, chenille and blends, and her colors and textures are exquisite.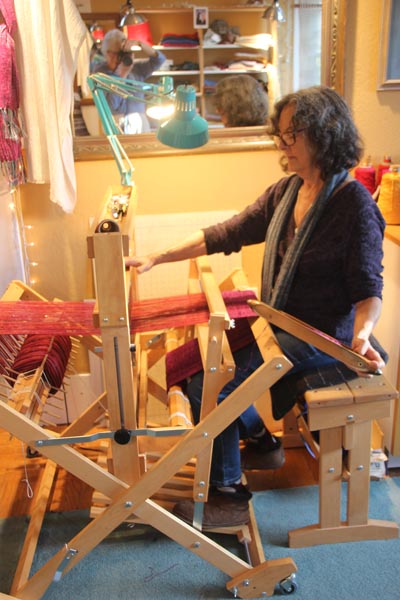 Our final stop was a fine artist in the Swain's Woods area of Sebastopol, but by then it was after five and most studios were shutting down, so we called it a day.
In spite of the bad news and a lackluster lunch, it was great to have a day to catch up with Kathleen, and, as always, the artwork inspired.