It started with a mistake; mine. I was looking for Day of the Dead things to do this weekend and I thought I found an event and a procession from the Petaluma Art Center to the fairgrounds. I invited Linda, who had made a quick trip over from Hawaii. It turned out I'd read the date wrong. The procession had been on October 27, not November 3. Still, we decided a trip to Petaluma to check out the art center and a community Day of the Dead altar would be fun.
It meant I turned off of Petaluma Blvd North and headed east on Washington, something I rarely do when it's light. Usually I'm driving at zero-dark-thirty to catch the airport shuttle.
"Look," Linda said. "Train cars."
"Um-hmm." But I wasn't glancing at the train cars; I was staring at the winged lion. And then, as I rolled past, I glanced back at the giant chromed steel mask.
We had to go back, we decided instantly.
The Petaluma Art Center was less than a block from the giant figures, across Washington. The exhibit at the Art Center was Fire and Renewal, as artists provided work depicting the firestorms of last years, and their recovery. This is a powerful, emotional show, and I recommend it.
Many artists in the county lost their entire studios and all their original work. While this is no different from the people who lost all their tools, all their records, all their children's drawings and handmade greeting cards, the good china, the family silverware, all the heirlooms, it's a reminder of how severe those losses were — and how resilient the human spirit is.
I told Linda a story that Brian Fies had shared about the fire, and then we walked down past an assemblage, and there was a wall with several panels from Brian's book A Fire Story.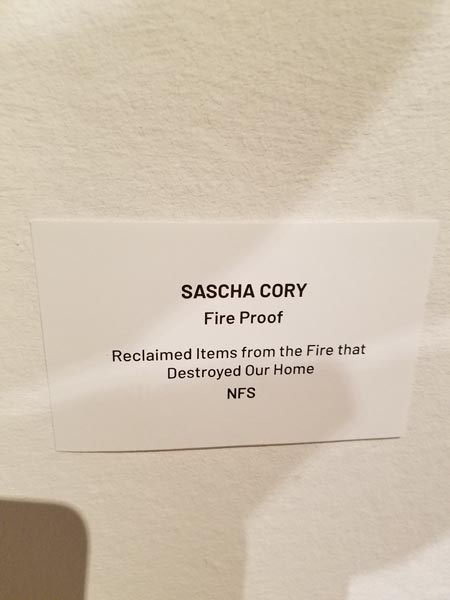 Sascha Cory's phoenix rises out of a nest of shadow that look like flames. This found object sculpture is made from objects found in the remains of her home. Many of the artists used found objects or transformed objects.
The docent at the museum said she thought the large metal sculpture work was by David Best, who has some work at the DiRosa Preserve. This made Linda even more interested — but it's not David Best. The group is called Reared in Steel. And there wasn't one winged lion; there were two. And a giant crow. And an elephant on stilts. And a flower tower. And a chromed mask that's about eight feet tall with water-conduit pipe as the snake tendrils, because she's Medusa. But wait. There's more about that in a bit.
While I was photographing the crow and grinning from ear to ear, a man came out of the yard and started to get into a white pickup. His name was Ryan and he is one of "the guys" at Reared in Steel. As you might have surmised already, they go to events like Burning Man. His t-shirt said "Team Medusa" on the back and had a poorly silkscreened image of the full Medusa head on the front. The water-conduit pipes form her snake tendrils, which are mounted on the faceted holes. But that's not all.
They had just, that day, dismantled Medusa and brought her home from an event in San Bernardino.
Medusa looked pretty cool dismantled, but when I looked on their Facebook page, I discovered that at the height of her powers, Medusa spits fire.
Ryan wasn't able to say when or if they would open their yard to the public. He said he thought it was usually for specific events (like the flower tower installation), but that it was worth a phone call to find out.
Amazing work.