Except for a couple of restaurant gift cards, Spouse and I got each other books for Christmas. That works great for me and if it doesn't work for him, he isn't saying.
Here is the "master shot" of the books we took in. I'll provide a couple other photos to provide more detail.
Spouse got:
The City of Broken Magic: A 2018 debut fantasy novel by Mirah Bolender. I don't know much about it but it got good reviews. Of course my evil plan is to borrow it once he's finished. By the way, the tagline for this book? "If it's all magic, which wire do you cut?"
The Worst Hard Time by Timothy Egan, nonfiction about the Great Depression and the Dust Bowl era.
The Last Templar and Squire Throwleigh's Heir. Two history-mysteries, both by Michael Jenks. The Last Templar has the virtue of being the first book in the series (for once!) introducing the former crusader who becomes a de facto detective in 14th century Britain. Squire Throwleigh's Heir is a much later outing in the book.
That's all he got! Don't feel too bad for him, though; he's got $50 worth of gift credit split between two stores, one of which is Second Chances Used Books. He'll do all right.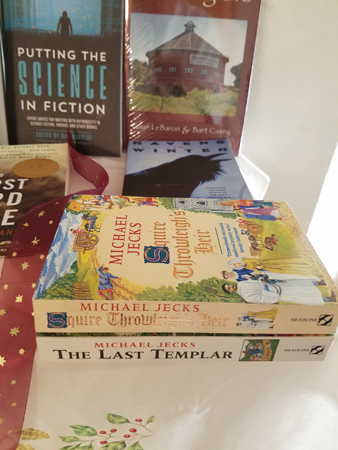 What I got:
The Wonder Seekers of Fountaingrove, by Gaye Lebaron and Bart Casey. This book has more than one meaning for me. The idealistic commune of the late 1800s/early 1900s in Sonoma County, founded by Kanaye Nagasawa and Thomas Lake Harris has always fascinated me. More emotionally, the red Fountaingrove round barn was a visual landmark for my whole life, until October 2017 when it burned to the ground. LeBaron has written a lot about the ranch's commune days and I'm looking forward to this work, which includes images and documents from Casey's large collection.
Putting the Science in Fiction, edited by Dan Koboldt, was recommended on Fantasy Literature by Bill Capossere. It's probably a bad idea to ask for reference books as gifts, since I should buy them and take them as a business expense… but I don't care.
Ravens in Winter by Bernd Heinrich. There's a story behind this one. Well, it's more of a scene:
Me: (Enters house, returning from Second Chances)
Me: (Hands spouse the book.)Here. You just bought me this book for Christmas. Give me nine dollars and eighty cents.
Spouse: (reaching for wallet) I suppose you want it wrapped, too?
Heinrich wrote The Mind of a Raven, one of my favorite nature books, and Ravens in Winter was the book before that one. I am delighted to finally have it.
The Crusades Through Arab Eyes, by Amin Malouf, is a "house book," one we will both want to read, so I got it for both of us.
Those should be enough to keep us busy through the end of the year, right? And then, there are the gift cards.