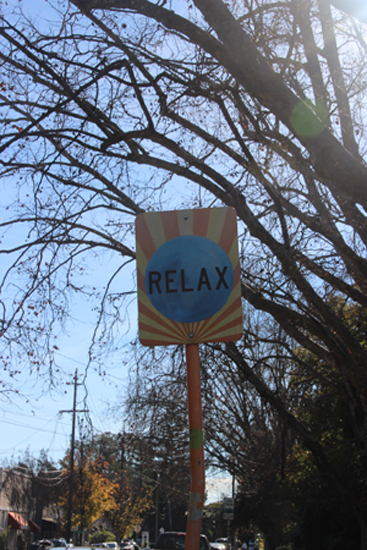 Most of this year's walking around Santa Rosa's art-colony neighborhood South A Street was done by Lillian and me. Kathleen joined us for our usual brunch at the Spinster Sisters, but needed to leave after that. We missed her!
While many of the murals and artworks, like the Prince and Bowie mural, remain,there have been changes in Art Alley. Notably, the floating woman being drawn into a flying saucer by a tractor beam has been painted over. I wonder what will appear there next.
We both paused to take pictures of the lush vegetables and flowering plants growing in Avalow's self-watering, contained metal plant beds. Lillian took the opportunity to talk to one of the co-owners and get some tips for the small greenhouse window in her apartment.
We stopped at Jeremy's Photographer's Corner, a studio and camera supply store. I bought some Blackwing pencils, a notepad and two enamel pins. None of those is particularly photography-related, but one of the pins is a camera. That counts, right? After that we checked in at one of our favorite spots on South A, the Jam Jar studio. This small storefront is filled with original art work, locally-made jewelry, cards, small vintage homeware, glassware and an eclectic mix of other objects. It's been a tough year, said Kelly, one of the owners. Several businesses in Sofa District ("South of A," get it? Not exactly accurate, but cute.) have moved out, including the Criminal Bakery, which has moved to the West End. Kelly says the fire continues to have a ripple effect on Santa Rosa's economy… and, she says, many people come look but few buy.
Then we walked through the alley. At one point an SRPD car pulled in, drove the length of  they alley, U-turned and drove back. That may have been because of us, or it may be part of their routine.
This manga mural tells a story in the length of one wall. (It the photo isn't good enough, ask me in the comments and I'll recap the plot.)
Above the head of the ramen-loving boy, birds on a wire discussed the pressing issues of being a bird.
Book covers of banned and challenged books comprisesthis mural. Lillian was startled that some of the covers showed movie actors, and we realized that in some spots  the artist had used the novel-tie-in book cover.
Some of the most attractive images occur naturally.
Once through the alley we stopped at Chroma Galley and Studios, an art collective. A couple of artists had open studios (although some were working but not open to the public). Simmon Factor was covering the front gallery. He uses mixed media in an interesting technique that incorporates decorative paper, paint and maybe even wallpaper, building up an intriguing texture.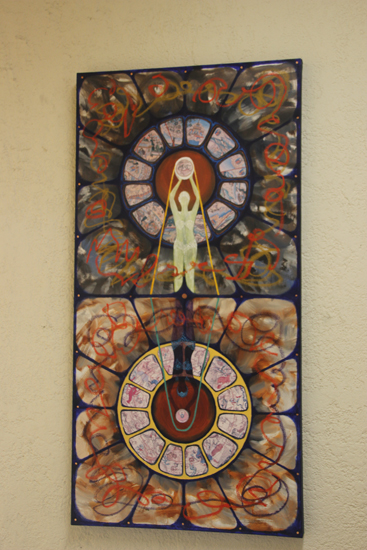 Elaine Greenwood's artist statement grabbed me with her opening sentence; "Art Heals." Greenwood is a practicing psychotherapist as well as a painter.
Of course Cat Kaufman's found-object collages captivated me.
Chroma Gallery has regular open studio hours and lots of scheduled events, most free or donation-only. Check out their website for some details and more into about the artists.
Speaking of places that are gone; Atlas Coffee closed! their wonderful steampunk scultpure/mural now graces Chroma's parking lot wall.
There were two small glitches in the day for me. The first was simply that Kathleen couldn't join us for most of it. The other glitch occurred first thing. I had called Spinster Sisters to see if they were going to be open, and to make reservations. The woman I spoke to was definitive that they do not take reservations for groups of fewer than six. When Kathleen arrived first, she was told we'd need to wait, but there were several empty tables (for fewer than six). The host told her that those were reserved, and that of course they take reservations. No mention of a table minimum. They got us a table, but, seriously, people. Spinster Sisters has good food and cheerful wait-staff. They are building up a good reputation,but this kind of indifference borders on disdain for loyal customers. It's not a good look for you guys. Maybe staff need some more training on your policies, whatever they are. Let me stress, though, that this was a glitch. We got a table and our friendly cheerful server added a bit of sparkle to the day. I came home relaxed and inspired.