I think I went to as many readings this year as panels at this year's FOGCon. That suited me fine. Readings at FOGCon are uniformly wonderful and 2020 was no exception.

The first one I went to featured Daniel Marcus, who read an outrageous and hilarious SF story called "Jesus Christ Superstore." You've read the title, so if I tell you it is set in Texas and includes a satirical use of quantum physics, that may be all you need to know.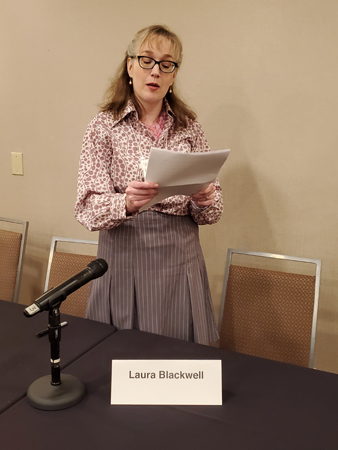 Laura Blackwell read, "The Wise and Patient Mother" which will appear in Weirdbook in 2021. The story takes a look at those who history has depicted as monsters. It's about rage, grief and hope.

The first panel I attended was about Societal Defaults That Carry Into Genre. The participants discussed class, gender, race and skin color, but then they drilled down a little deeper, looking at narrative structure and underlying values. Garret Croker, guest of honor Mary Ann Mohanraj, Alyc Helms and Karen Brenchley participated and Lisa Eckstein moderated. It was a thoughtful discussion. As Eckstein noted during the panel, they could have talked about this topic for another couple of hours.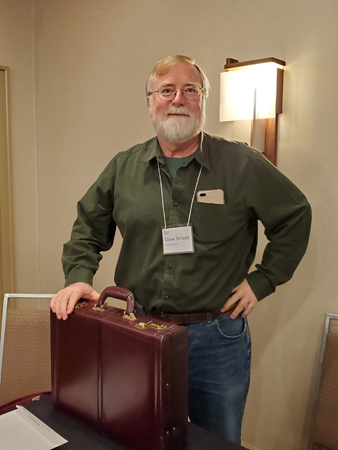 Later, Dave Smeds read the poignant beginning of a story about a grieving man and a "wind sister," an elemental creature. The story had the tone and tropes of a fairy tale.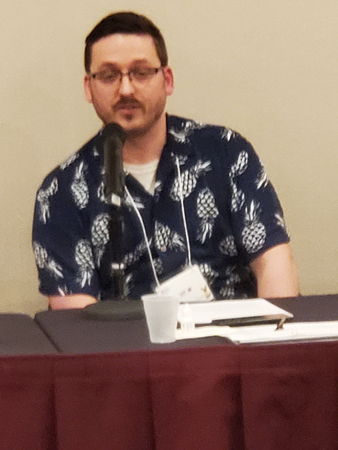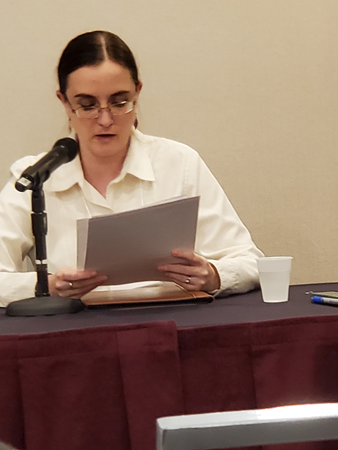 Garrett Croker read from a science fiction story that was written in response to Star Trek, and more specifically, Picard, while Marie Brennan shared a section from a new epic fantasy trilogy she is co-writing with Alyc Helms, called the Rook and Rose series.

Later, when I read with Alyc, she read another section from the same work. It's good fun, dripping with opulent clothing, class warfare, economic injustice, elegant intrigue, weaponized gossip, and silken flirtation. Book One comes out in November.

On Saturday, I was on the Archives and Genre panel, which ranged widely; actual archives and libraries, the differences of each, the value and necessity of the "lone" archivist who champions a writer or other creative. We toyed with questions of the How and the What, as well as who controls the archive and who has access. Norm Sperling shared some nice bits about the number of telescope archives he uncovered in his drive to collect them. Bradford Lyau studies in archives and has a science fictional archive of his own. Mary Ann Mohanraj talked about the funding for current libraries, and also about food and cooking archives. The seventy-five minutes flew by!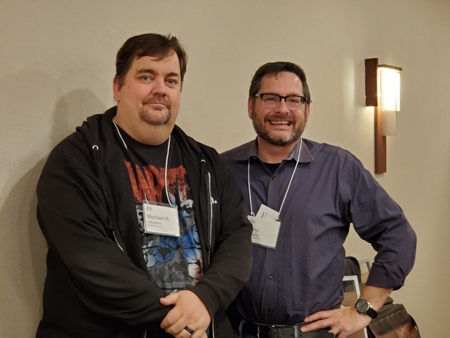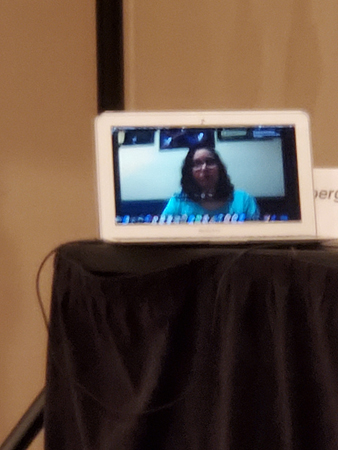 Daryl Gregory, Michael R. Johnson and Effie Seiberg read. Gregory shared a deeply emotional story about traumatic brain injury, guilt, neuroscience and free will. Johnson read a tense sequence from the second book of his military SF trilogy. MILSF is not my go-to but I liked the main character and the set-up of this piece very much.

Seiberg, who did not attend the convention for health reasons, participated via pre-recorded video with her sweet, funny and nearly too on the-nose retelling of Rumpelstiltskin with a millennial project manager who will give up nearly anything to keep her job and her health insurance. I'd read this story on the page and chuckled; with Effie reading it and doing the character voice for the magical goblin character, I, like everyone else in the room, was laughing out loud.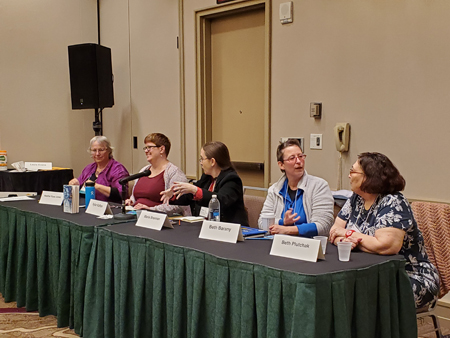 How Deep Do We Dig? Aka "The Research Panel," featured Vylar Kaftan as moderator,  Heather Rose Jones, Beth Plutchak, Beth Barany and Marie Brennan. The topic was originally, "When do you stop researching?" and that got discussed, because several panelists acknowledged that research can be a tempting procrastination for them – but when you get a bunch of writers who love history and research on a panel, you're going to learn about researching too. They also spent a few minutes on the vexing issue of how much to include in the work itself.

Heather Rose Jones provided a metaphor that I liked, from the tales of Ali Baba. Ali Baba, that consummate con artist, once set up a caper by borrowing a bunch of his mark's baskets "to haul something." He cleverly slipped one or two gold pieces into the weaving of the baskets and gave them back, leaving his mark to think he had hauled gold in them – so much gold, in fact, that he didn't even notice when a couple of piece stuck to the bottom of the baskets. Research details can be like this – choose one or two vivid, accurate details and place them in your work; it evokes the world without you stopping the story to provide paragraphs of data.

Marie Brennan, whose first work was technically a "secret history," also brought up the difference between that (where it theoretically happened in our world) versus alternate history, where you can make any changes you want or need.
Nisi Shawl was also unable to attend in person because of health concerns. She did participate in two of her scheduled events via video conference, and later stayed on the call to "hang out" virtually with a group of happy friends and fans.

Shades of Fear; Color in Horror, was not about skin color (although that came up); it was about the use of color to create a mood. Ramona Lyons moderated, Chelsea Davis, L.S. Johnson, and E.M. Markoff were the panelists. This was a very well-prepared panel that talked mostly about use of color in film, not written works. As a result of it I have two new writers to seek out; Johnson and Markoff.

I read at 9:30 on Saturday night, with Nancy Jane Moore and Alyc (pronounced Ah-liss). Nancy's work in progress is inspired by Dumas and the musketeers. She shared an actiony, funny section that featured sword fights and knife throwing. Alyc read another selection from Book One of Rook and Rose, and I shared a little bit from the sequel to Aluminum Leaves. For so late on a Saturday night, we had a nice turnout, about twelve people.

FOGCon is always held the weekend of the time change, which makes me feel bad for early Sunday morning panelists. The Value of Hopepunk panel started at 10:30, which wasn't awful. Alyc Helm moderated, and the panelists were Ian Hageman, Keyan Bowes and Elwin Cotman. Cotman and Hageman are both men of color and anarchists, and different flavors of anarchist, which was great for the panel. Bowes is from India and in her sixties, so she brought a different vibe to the panel. Elwin coined the phrase "struggle-punk" as a possible substitute for hope-punk, but Bowes said she felt "hope was the engine of the struggle." This was another panel who had planned well for the topic, and another discussion that could have continued for another hour as far as I was concerned.

FOGCon offers writing workshops, usually on Sunday. An established writer is the workshop leader and each group has three writers. Work has to be submitted in advance so workshoppers have time to comment. This is a very valuable feature for writers at any stage! I skipped it this year because of time, but my writing friend who attended one found hers useful and validating.

All in all, it was a great weekend. I'm looking forward to seeing how next year goes.