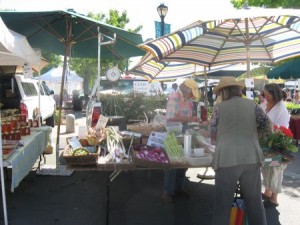 I'm at the farmers' market on Sunday, the Fourth of July, buying onions from Nancy, Middleton Farms Nancy, when Paula comes up to me, towing with her a tall, silvery-haired man in a white shirt.  Paula is the market manager, and I'm working on a project with her as part of my day job.  "Marion, this is Michael," she says. 
"Hi, Michael."  I extend my hand.  He's got a good grip, firm.  Really firm. 
Paula says, "Michael's making a film about food and farmers' markets.  Can he interview you about using Food Stamps at the farmers' markets?" 
I clutch.  Who wouldn't?  I mean, for a wonder I'm not dressed the way I usually do for the market, in a stretched-out coffee-stained T shirt over shorts or wrinkled pants, with a faded, floppy hat.  I'm actually, for no apparent reason, color-coordinated, with a wide-brimmed hat of pale blue and green that almost matches the cotton tank top and the skirt.  And just why did I wear a skirt?  Oh, yeah, because it's going to be hot today. 
Reading my reaction, Michael quickly says, "You look lovely!  That's a great hat, and the blouse. . . and I'll only shoot from the chest up, and you have a lovely complexion."  (Yes, lovely if you like dull red, which is the color I've turned.) 
I'm still in clutch-mode, though: 
Clutch, Part One:  "Okay, I look presentable, but what if I freeze and can't say anything?  What if he asks me some gotcha question about the Food Stamp program?  What if my voice gets all squeaky and I say "um," or "Like, ah" a hundred times?  What if I chew on my lower lip or blink so much it looks like I'm sending a message in Morse code?  That would suck." 
Clutch, Part Two:  "This is a work thing.  A work thing.  I'm representing the department.  I'm representing the county.  What if I say something really stupid?  What if tomorrow's headlines read (spoiler alert) "County Manager Trashes County's Largest Industry?"  What if I can't remember anything about Food Stamps?  Okay, wait, I do remember some stuff.  But what if I get it wrong?  That would suck." 
But, I'm all-in on this project, and I've been pushing Paula just a bit.  In fact, I've carried a work business card down here today because I am semi-stalking a local food celebrity, Michele Anna Jordan, to see if she will help us close the gap between the markets and the low-income families who use Food Stamps by providing a cooking demonstration or some interesting food event.  I can't make a bunch of demands on Paula and others, if I'm not going to step up myself, right? 
"Ummm, sure," I say.  "I mean, of course.  Of course!  Yes, I'd be happy to." 
"Great!"  Michael quickly asks a few questions about what brought me into this project. He points to where he'll be setting up and tell me to "wander by in a little bit."  Plainly he is going to interview other market-goers as well.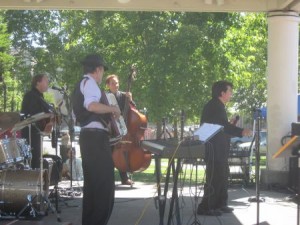 So I use this time to track down Michele Anna Jordan.  First I accost her as she's sitting on the edge of the fountain, waiting for the band, the Don Giovannis, to play a song they are dedicating to her.  Even I am not quite philistine enough to interrupt that, so I leave and catch up with her later, near the blueberry booth.  I give her my card and tell her what I want to talk to her about, in 25 words or fewer.  She says she knows about it because Paula has mentioned it, and she is willing to discuss it, but not right now because she's promised herself some relaxing time at the market.  We leave it at this; I'll send her a Facebook message and we'll talk at a later point. 
I walk back over to where Michael is set up and he's just about ready for me.  I fasten the microphone to the inside of my tank top, going through the arm-hole (very technical) after offloading the following: 
—Big bag o' vegetables
—One film camera
—One digital camera
—One purse 
"My, you have some cameras," says Michael.  "You're serious." 
"A serious hobbyist." 
He gives me a few directions and fiddles with his camera.  It's not as intimidating as it could be.  I decide that the time I've spent watching L film people and events has made me more relaxed about this sort of thing.  "Nancy's right behind you," he says, referring to her booth, "but she's out of focus." 
I say, "Nancy must not be out of focus.  Actually, Nancy was the first vendor that I would seek out when I came to the market.  She was my destination vendor; the first place I'd stop because she always had such great onions." 
He smiles.  "Nancy's great. She's the first person I interviewed for this film.  Now, why don't you say that again, because we're rolling." 
So I repeat it. 
Then he asks about the Food Stamp project, and I explain that many of the farmers' markets (six out of 11) are taking steps to be able to accept Food Stamps—now called SNAP; Supplemental Nutrition Assistance Program.  To do it, you need to be approved as a SNAP vendor, and have a Point of Sale device that reads the SNAP card, which is just a swipe card.  He asks, right on cue, if each vendor needs their own POS machine.  "Why, no," I say, "That's a common misconception, but no.  Only the market has to have one, because they will give out tokens after the SNAP card is swiped."  I seem to be frowning.  Why am I frowning?  My forehead feels wrinkled.  Unwrinkle, dammit!  And why did I think this wasn't intimidating? 
"How did you get involved?" 
I launch into the explanation; our explosive caseload growth; extra money due to ARRA (stimulus); someone needed to deal with the bureaucratic details, blah-blah-blah, blah-blah-blah, and my extra-help employee who is really doing all the work. 
I talk about the need for outreach and if he asks if I know about Bayer Farms.  I know a tiny bit about it (except, apparently, how to spell it, since until Sunday I thought it was Bear Farms).  
He talks about a man he interviewed there, a legal immigrant, talking about how proud the man was to be able to bring home food he had grown himself, for his children.  His children were not all that impressed with the vegetables, Michael said. This makes me laugh. 
He asks me about other food distribution programs, and I mention the Redwood Empire Food Bank.  He talks about a food distribution program in Toronto, where they give away no food.  Everybody pays, even if they pay in labor.  This is because of sustainability, he says.  He asks me what I think.  I say that it's an interesting idea and I'd like to see how the program works.  I say something like, "It wouldn't be bad if it gave people back a sense of pride.  Many people won't apply for programs like Food Stamps because they're embarrassed." 
Then he moves to land-use policy.  "What do you think of the fact that there are 38,000 acres of arable land in Sonoma County, and 30,000 are planted in grapes?"  he says. 
And I say something like, "Oh, I know.   I mean, I thought the wine craze would be over by now."  Geez!  Slam the second-biggest economic driver in the county, why don't you?  I blunder on, "We have agricultural cycles here.  I mean, we grew hops in the thirties."  Hops?  In the thirties? And who cares?  "And . .  well, I hope it's changing with the interest in organic farming." 
He asks about advocacy and policy-makers, which brings us to the Open Space Commission (he thinks they aren't interested in farm land; I think they are) and Landpaths.  And soon we are done. 
Michael Litle (LY-dell) is a professor in the Communications Department of California State University at Sonoma.  This project, Some Things About Food, originally stared as a work of fiction.  Now he is imagining a series of short films.  Clearly he has strong opinions about food, about politics, about economics, and about local connections. 
I immediately ask him if he is available to volunteer at Paula's Food Stamp kickoff, Day at the Market, at the Santa Rosa Vet's Building market on August 14.  He immediately, gracefully, suggests that he would be most useful as a videographer, and I notice that he doesn't exactly commit. 
We exchange e-mails and websites.  I stop for fish and fresh blueberries and head home.  Paula, hon,you owe me!