Eager to help the food service businesses in downtown Sebastopol, and possibly save the holiday retail season, the town council deployed its "parklets" last week. I confused "parklets" with "pocket parks," which I think are cool. Parklets are much smaller–often, in fact, the size of two parking spaces, which is what they used to be.

The town based its parklets on San Francisco and Santa Rosa. Here's a picture of an ideal "parklet" in Santa Rosa, in Railroad Square, a low-traffic stretch of 4th Street west of the freeway.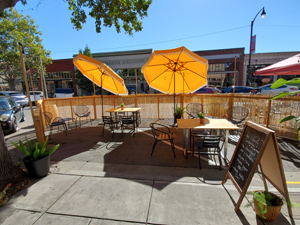 That space is more that two spaces, and extends pretty far into the street.

Sebastopol plans for four; one in the final segment of Depot Street before it merges with Bodega Avenue, right in front of Screaming Mimi's Ice Cream. Because this whole scrap of road can be closed off, it's roughly the size of the space above. This could be a successful parklet except it's right on the first of two state highways, and the east-west route through town, which means traffic is nonstop and it's noisy.

The other two have been deployed on the southbound street through town, Main Street, also known as Highway 116. One is close to the East-West Cafe and the new Italian place.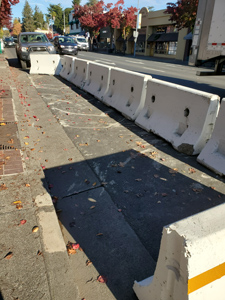 The second one, which will probably get the most use, is on South Main, in front of Retrograde Coffee and the Good Morning Café. The café already has some tables on the sidewalk, and does decent business at breakfast, at least for these times.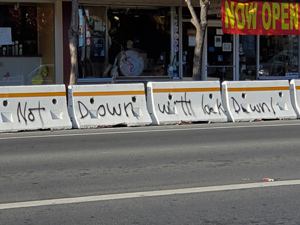 Balletto Winery donated barrels to be used as tabletops (I suspect they donated some money as well.) Other than that, the expense has been the labor, and the cost of the barriers which the city probably already had.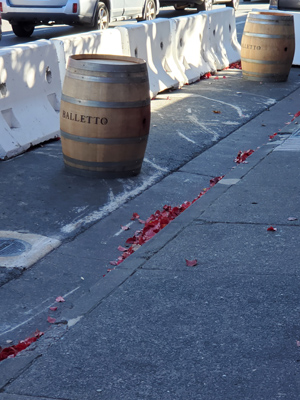 I have seen one being used, last Monday, at Retrograde; four young people were leaning on a barrel, sipping their beverages.

The city hopes that these will encourage people to come downtown, stand (or in some cases sit) in a parklet to eat a carryout restaurant meal and then linger to browse the shops. A rising tide lifts all boats, in other words. I'm not making that expression up–when I emailed the city council with some questions, Patrick Slayter's reply to me used those words.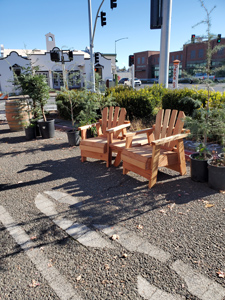 The big problem with doing anything on either of downtown's main streets is that each of them is a state highway and the state Department of Transportation has to approve nearly anything done. If you were wondering why these look so temporary, I think that's the reason. When I emailed them in early November, I asked about approvals, and Slayter acknowledged that as a problem. I am pretty sure they went ahead and put these up pending approval. If their request gets denied, in four or five weeks (with the bulk of the shopping season in the rearview), then the city can appeal. Right? I mean, that's how I'd do it.

I applaud the city for anything it can do to get our local merchants through this pandemic. Personally, I'm not convinced parklets are the winning ingredient, but let's hope I'm wrong and hundreds of shoppers (masked and observing social distance) throng our main street, swiping their credit cards like banners, pausing only for a nosh and a hot beverage in a parklet. On a busy street. In December, when it's cold. It could happen, right?