I ordered two sets of the Urban Crow Oracle Deck because I was wowed by the artwork and the color palette. (Still waiting on the second deck, which is for a friend.) Anyway, I love these vivid cards, which feature one of my favorite creatures.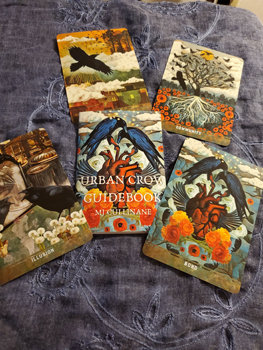 MJ Cullinane lives in or near Seattle and clearly spends time watching crows, because she gets them absolutely right here.

I love decks of divination cards and I don't use them for divination; instead they are a resource for inspiration and contemplation. There's a lot to contemplate here.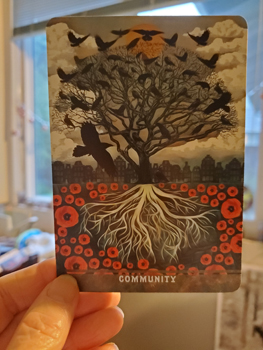 The first card I pulled for divination was Community, because it was a concept that I'm interested in, and the card with its symbols was beautiful. I contemplated this card and what it means on Friday, January 8, 2021, two days after a group of seditionists led by a failed President launched a terrorist attack on the US Capitol building. I had a lot to think about.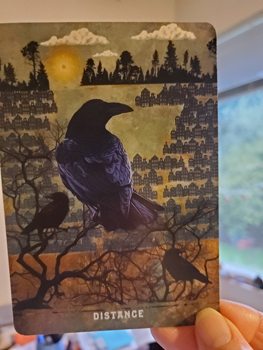 Another card I chose was Distance. Although simpler, the composition of this card intrigues me. And "distance" carries a lot of meaning right now, too.

As you've gathered, I am not picking the contemplation cards at random (although I might in the future). I'm choosing concepts that have meaning for me.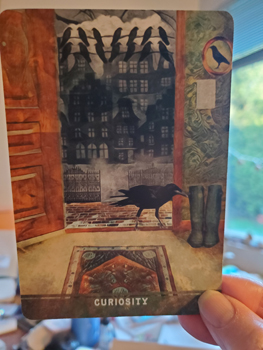 Curiosity is a trait I share with crows. There's also a delightful kind of innocent arrogance to a crow's curiosity (contrasting with their periodic, strange fearfulness. They're quirky birds.). This was a fun one.

You can learn more about Cullinane's work here. The Roar deck looks inviting!