I've ridden or driven past the turnoff for the South Shore of Camanche Lake Reservoir a hundred times, literally, but I'd never driven up to it. Linda and I weren't on a clock, not really, so we took the turn and went up to the lake.

Camanche Lake is part of the East Bay Municipal Utility Department (East Bay MUD). Based on the levels of the lake, the east bay is in serious trouble this drought cycle. There is still enough water for some houseboats, but lots of orange earth shows, even out in the fingers of blue water.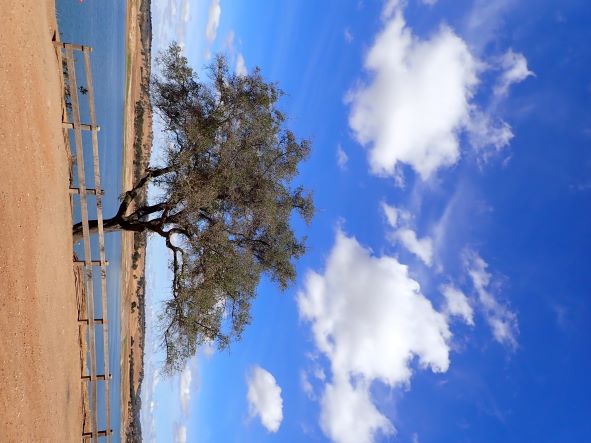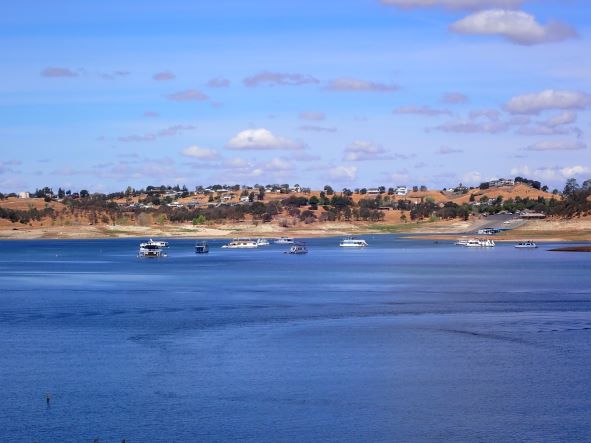 As we were leaving we drove past a campsite filled with vultures. The site was teeming with them, and they were behaving like crows. I'd never seen that before. I counted 27 but since they were flying in and out, I may have counted some twice. And I may have missed some. A whole group sat in the tall grass outside the campsite, but they weren't eating. (Linda and I looked at each other, thought, "Body?" and decided not to go there.)
The most interest seemed to be centered around the campfire circle– yes, in these bone-dry, high-wind times, surrounded by dried trees and grass, you can apparently have a fire– and the grill, which is mounted on a pole. Whatever was there, and I'm guessing remains of fish, the scavenger birds were squabbling over it.
The Lake is north east of the town of Wallace on Highway 12. We stayed on 12 until it turned into Highway 49, driving through San Andreas and Angel's Camp, where we had a late lunch at Mike's Pizza. While Mike's Pizza had been a staple of Thanksgiving weekends at Buzz and Sharon's house, it had always been carry out. The interior has that timeless pizza parlor quality; some kind of indoor-outdoor carpet, dim lights, rounded table, a clutch of noisy video games and grab-games in one corner–the ubiquitous counter where you order, the drinks station. Linda had a bambino pizza and approved of it. I had chicken strips. They were chicken strips; I was hungry; they accomplished their mission.

We drove through the picturesque town of Sonora and turned left (east) on Highway 108, which we followed all the way over Sonora Pass (9,623 feet above sea level) and down to Highway 395 which took us into Bridgeport, Mono's County Seat, where the Bodie Victorian Hotel is for sale, for about half the cost of a house in my neighborhood.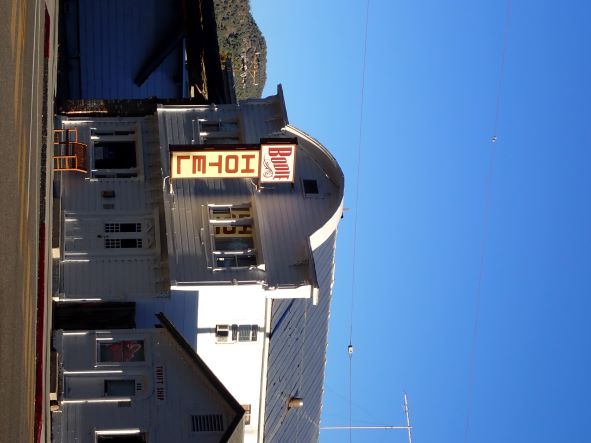 Thus ended Day One.