Highway 120 runs through Yosemite National Park in a roughly east-west direction. We had to get park reservations to drive through (it cost $2) and Linda did that on her phone.

The turnoff for 120, also called Tioga Pass Road, is just south of Lee Vining, no more that two miles, I think. From there it's about twelves miles to the fee station, and you're in the park.

I don't regret missing the Zagat rated gas station, Tioga Pass Market aka The Mobil, but I do give it as a reason to go back.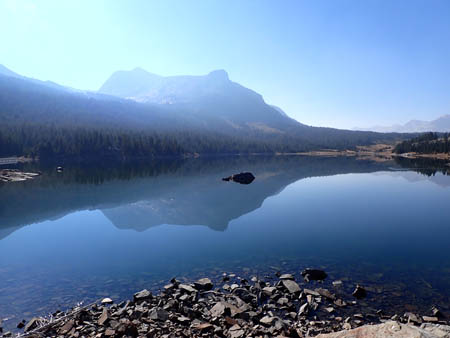 At the top of pass, this lake greeted us, one of at least three we passed.

Since we were heading home, with one more stop in San Jose, we didn't visit the valley, but the drive through the park was inspiring and majestic as it always is.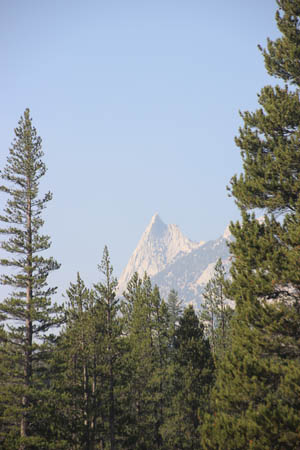 The park was busy, although nothing like peak season. Once we cleared the pass, at 9,943 feet, and glided downward, we had far less smoke.

Tioga Pass is higher than Sonora Pass, but much easier to drive. I wouldn't want to drive Sonora Pass again unless it was an emergency.

Anyone who's read any of my fiction knows I am enchanted by caves. Oh, look! Here's one now.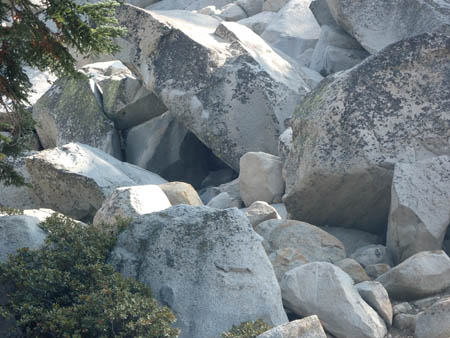 This boulder, sitting in the fall meadow, reflected in the wide stream at is feet, is one of my favorite pictures.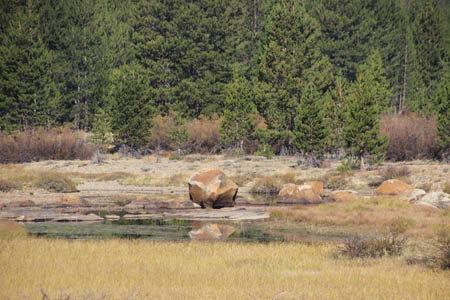 There were dozens of ground squirrels, the animal I associate with Yosemite from my childhood, but these hungry little mammals were on a mission. They're tiny and I was driving, so I got no pictures.

I estimate it took two hours before we reached the east side of the park. We stopped for a restroom break and talked to a friendly ranger–redundant, I know). Soon we were headed out, across the central valley, to San Jose and the Winchester Mansion.