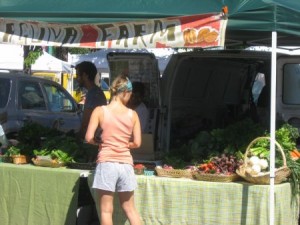 What can you get at the farmers' market?  Just about everything.  The next six weeks are the peak of the growing season, and Sunday's market was bursting with root vegetables, leafy greens, squash, beans fruits, berries, flowers and plants. What's your pleasure? 
Fruit:  Peaches, plums and nectarines are on display at several booths; from Santa Rosa plums, invented by local horticulturalist Luther Burbank, to sweet, juicy yellow plums.  I bought some of those from Hector.  Nectarines and peaches include white-flesh as well as yellow.  The white peaches seem to have a slightly more delicate flavor.  Middleton Farms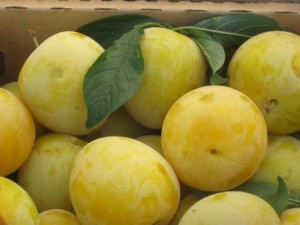 and other booths have pears, although I didn't see many apples yet. 
Berries:  The peak of the local blueberry season is gliding under our surfboard as we speak.  Get them now!  They are big and luscious.  Berries will freeze, but I find they don't last long enough in my house to get frozen, unless I buy two boxes and freeze one.  Blueberries are good on cereal in the morning, in smoothies, and mixed with raspberries and chilled for a light dessert. Then there is always blueberry pie, if you have a baker in your family. Check out Michele Ana Jordan's Seasonal Pantry blog for some great blueberry recipes. Berries will probably be around until mid-August this year, because of the long wet spring.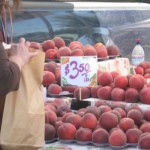 You can also find raspberries, strawberries and marionberries, a blackberry hybrid. 
Vegetables:  Almost every variety of squash is available, as are beans, peas, cucumbers and asparagus.  Right now the only two things that are still scarce are tomatoes and eggplant. 
Root vegetables:  Tables are heaped with carrots, red beets, golden beets, turnips, onions, garlic and radishes. Two booths had potatoes, although I anticipate more, later in the season.
 Leafy Greens:  At the beginning of the market I saw a lot of cool-weather crops like chard and baby spinach.  Those are still around, joined by a variety of lettuces and bouquets of fresh basil.  Laguna Farms has their legendary salad mix for sale by the bag, or you can create your own salad mix just by browsing the various stands and choosing greens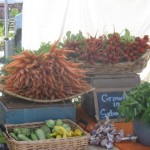 that look good to you. 
Other delicacies:  As always, you can get meat, fish, cheese and eggs; honey, baked goods and chocolate; olive oil, vinegar and wine, and beautiful cut flowers. 
If you haven't shopped a farmers' market before, now is the best time.  You can sip raspberry lemonade or a coffee drink, taste-test fresh fruit, listen to music, and feel virtuous because you are buying fresh, field-ripened produce, chock-full of all those good vitamins and minerals. We'll just ignore that delicious buttery scone you picked up along the way.