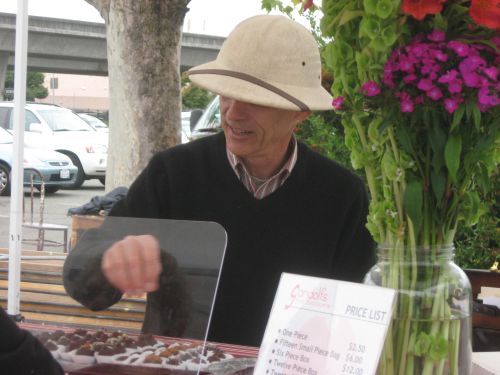 What price a woman's soul?  In my case, chocolate.  Well, really good chocolate. 
Guy of Gandolf's Fine Chocolate is offering a free piece of chocolate to anyone who writes a web-review.  So I'm doing a blog posting about him. I went over to Yelp to post a review.  When you pull up the review pane, it reads, in part, "Please don't review if you are getting a freebie."  Drat!  I debated posting anyway, planning to virtuously turn aside my free chocolate; "No, Guy, I can't.  It just wouldn't be right."  Yeah.  Like that'd happen.  So I'm not posting on Yelp; I'm writing here. 
There's not much of a moral dilemma, because Gandolf's Fine Chocolate is divine, and I said a while ago that in 2010, I was going to include more chocolate information on the blog. 
Guy sells his chocolates at the Santa Rosa Farmers' Market on Saturdays.  You can also find him at the Marin markets but I don't know that schedule. In addition to truffles and caramels, he sells pastilles, pieces of dark chocolate, slightly bigger than chocolate chips, that are sublime. 
His truffles are a chocolate lover's visit to heaven. 
The shell of his truffles has that slightly bitter smokiness I expect from dark chocolate.  The centers are dense, silken in texture.  I found the "classic" chocolate truffle to be almost overwhelming.  My favorite truffle was the cranberry, because the bits of minced dried cranberries were a tangy contrast to the intense chocolate, but the hazelnut, with its distinctive mellow nutty flavor, is also a favorite.
The six-piece box is a perfect hostess or thank-you gift, or the perfect gift for yourself. After all, you deserve it. 
You can buy from his website:  gandolfsfinechocolate.com, or find him at the Santa Rosa Original Farmers market at the Santa Rosa Veterans' Building, 1351 Maple Avenue, Santa Rosa.   He's near the information booth. It's worth checking him out at the market, because there are some special deals for market buyers.