P-30
707.861.9030 • 9890 Bodega Highway Sebastopol, California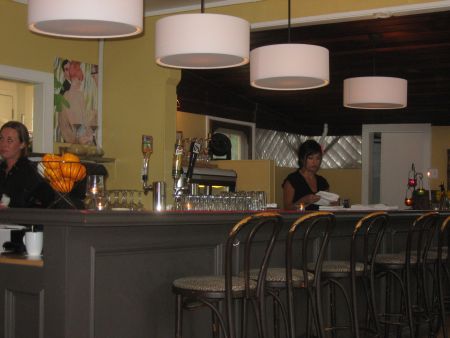 I've read glowing reviews of P-30, but never been able to stop there before.  The location, on Highway 12 between Sebastopol and Bodega, is a little difficult to get into, it's small, and they don't take reservations for parties of fewer than five.  Late Sunday afternoon seemed like a good risk, though, so Kathleen and I chanced it.
 We got there about twenty minutes to five.  It was open; the bar was serving but the dining room didn't open until five.  The friendly women behind the bar directed us to a set of sofas in one corner.  The bar was narrow, running the length of the building, which is a cross between a storefront and a 1940s bungalow.  We could see down the hallway that ran at right angles to the bar and while we waited, a man walked in from the back dining area with a bunch of just-picked chives in his hand, and went into the kitchen.  The hostess asked us if we wanted drinks, and said they were printing the menus right then, but they'd have one ready shortly.  A long, long dining table was set up in the bar, clearly ready for a large party. 
The young hostess had blond hair with a flower in it, an outfit so fashion-forward it bordered on costume, a big sparkly necklace of iridescent silvery white beads and a friendly attitude.  The other two servers also had flowers in their hair.  I wondered if it was the uniform. 
The hostess brought out the menus.  At the top it said, "Not small plates, but not overly large plates, more of a grazing menu, as it were."  They had starters and main courses; the whole 1960s redux food that's so popular right now like pork chops, fried chicken—with a waffle, very southern—and burgers.  This is also called "comfort food" and to us aging boomers it conjures up home cooking as it should have been.  It never was, but this is how we imagine we remember it. 
They offered chicken noodle soup under Main Courses.  That seemed, well, a bit lame.  On the other hand, under the Starters menu, macaroni and cheese was listed.  Before we were seated knew what I was going to order. 
The dining room is at the back in the "house" part of the structure.  We walked down the hallway past the tiny kitchen.  From our table we could see the two patio areas and beyond them, a large garden.  I don't know that it's attached to the restaurant but I assume so, mostly because of the chives. 
I ordered a salad and the macaroni and cheese, and Kathleen ordered the soup. We shared the salad; bibb lettuce, candied pecans, gorgonzola cheese and ripe pear in a light vinaigrette. Our server was fast and friendly, keeping our bottle of water topped up and checking on us without being intrusive.  Shortly after we finished the salad she came up and set a French coffee press in front of Kathleen.  It was about half full of some dark liquid.  I hadn't heard Kathleen order coffee.  "I'll pour that for you in a minute," the server said, setting a good-sized soup bowl in front of her.  The bowl was filled with large chucks of glistening, succulent-smelling chicken, caramelized onions, wide fresh noodles, slender new carrots, greens and some other vegetables.  A buttermilk biscuit perched on top like a beret.  The server set my mac-and-cheese in front of me, and picked up the press.  Kathleen quickly rescued the biscuit as the server poured the liquid, a rich, savory broth, over the chicken and vegetables. One of the most impressive soup presentations ever, and I've been to St. Orre's. 
Kathleen let me try the soup.  The stock had multiple layers of flavor; spice, chicken, onion, some earthy herbs I couldn't place.  She said the chicken appeared to be roasted, not boiled.  The server said that the noodles were home-made on the premises.  "It's my favorite soup," she said. 
My mac-and-cheese came in a ramekin about the size of a cereal bowl.  It is hard to imagine how this could be a starter with an entrée to follow, unless it were for two.  The first bite brought me the crunch of crumbled seasoned croutons and the thick layer of St Jorges white cheddar that enveloped the elbow macaroni.  The cheese was tangy, the creamy sauce that permeated the whole dish a little less so, with bits of crunchy bacon scattered throughout.  The textures varied from crisp to velvety, silken to crunchy, while the flavors revolved, tangy, peppery, sweet, salty, milky.  It was perfect, and paired with the salad, a perfect meal for a cloudy fall day. 
We ordered coffee.  I thought it would come in the small glass press the broth had been delivered in, but instead our server brought out two silvery-colored contraptions that looked like something George and Jane Jetson would have drunk their pressed coffee from.  "This needs to steep for two minutes," she said, "And I'll be back to pour."  Kathleen and I exchanged a silent oh, really? glance across the table.  I decided that after three minutes, when she wasn't back, we'd just press our own, but she was back! 
"This gets labor intensive for you," I said. 
"Not really.  I love these presses," she said.  "I didn't like the other ones because they break too easily.  This is a fun.  It's a fun place to work." 
It did seem like it was a fun place to work.  The hostess came by a few minutes later and asked how the meal had been.  She said the bar had gotten busy and crazy.  She was young enough to be the daughter of either of us, but the conversation didn't feel forced or obligatory.  All of the serving staff seemed genuinely friendly and genuinely glad to be there. It just added to the pleasure of the meal. When we left we agreed that the bat was indeed busy; the huge party of twenty, and people two-deep at the bar. 
Most reviews talk lovingly of P-30's burgers, so some day when I'm really hungry I will go there and order one.  On the other hand, fried chicken and waffle sounds intriguing too.  And I haven't explored their desserts yet. They are pricey, on the low side of expensive, if that makes sense, and I'm not enough of a foodie myself to know if they appeal to the foodies, or just the cool young people who drink Scotch and martinis, work in the City and eat beef.  It seems to me that this tiny little eatery is big enough for just about everybody.  I recommend it.