It had stopped raining but there was a shallow puddle right in front of the walkway up to Dianne's studio.  As I pulled in and parked, a friendly smooth-hair  terrier in the car next to me poked his nose up to the cracked window, his tail flailing.  I put up the back of my hand to let him lick, but there was no way to pet him.  I got the box with my boots and hat (and parasol) out of the backseat and waded through the water.  Dianne opened the door as a started up the walkway.  A man came out and introduced himself as Henry, her husband.  "This will sound strange," he said, "but your dress is beautiful!  It's not a costume, it's a dress!" 
"Thank you," I said.  "I've been imagining what it looked like all the way up here!"
Dianne had the ensemble on the dress form.  It wasn't exactly what I had expected.  I had expected the sleeves to be the chocolate brown of the skirt.  Instead, she made the undersleeve brown and went with the plain blue for the whole jacket, with a reversible belt.  An inspired choice!  The other surprise, for both of us, was that the view I had chosen, the bicycle skirt, was not a split skirt after all, but a very full skirt with box pleats front and back.  It looks a lot like a split skirt, but those Victorians didn't want to remind anybody that women–ladies–had "limbs;" so the skirt is designed to cover practically the entire bycicle.  And it's still great.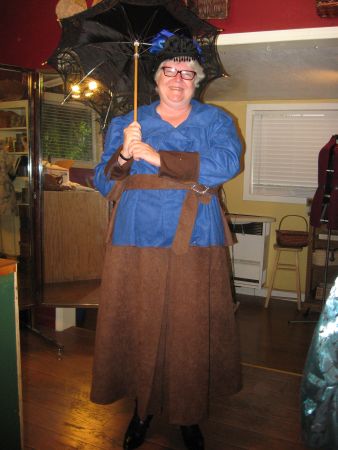 Still doesn't do the hat justice.
The jacket, which is dramatic and more obviously "costumey" will not have brown cuffs.  It was just easier for Dianne to pin them that way.  The jacket will close at the top with a hidden hook and eye, decorated with simple black buttons.
You catch a glimpse of a glittery oval-shaped buckle on the belt.  I went out in last weekend's rainstorm to look for antique belt buckles, finding that one at Whistle Stop Antiques in Santa Rosa's Railroad Square.  It is not quite the right period but has a vintage look and I liked the shape.  To our surprise, it worked!
 I pick up the finished thing tomorrow at 1 PM, for tomorrow night's party.  There are still a few props, most notably the big piece of jewely I bought at the handcar regatta, that need to be included.  I had a grin on my face the whole time I was there this afternoon, when Dianne and I weren't laughing.  It's just a set of clothes, but I love it.