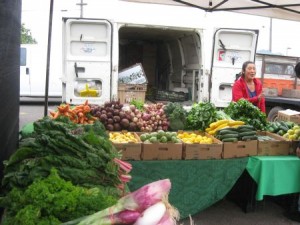 Keith Abeles of Quetzal farms barters produce for time in the commercial kitchen built by the Council on Aging to prepare their Meals on Wheels.  Quetzal Farms makes "value-added products," like salsa, from the farm's dry-farmed tomatoes and peppers. 
Sheana Davis makes cheese.  She uses Sonoma County milk, but makes her cheese in Berkeley because there is no local facility available.  She ships 30% of it back to Sonoma for sale here; the rest goes to New Orleans and New York.  Sheana also developed for herself an "advisory council," a group of artisan cheese makers from across the country, who call and e-mail each other with questions, ideas and advice. 
Doug Beretta sells his organic  milk to Wallaby Yogurt, based in nearby Napa County.  The company sells internationally and uses milk from Sonoma and Marin. 
Faced with geographical, economic and regulatory barriers, what is a small farmer going to do to be successful?  The food forum had some suggestions.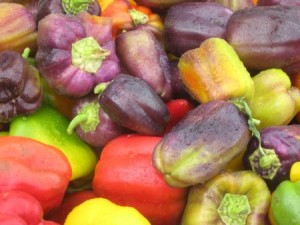 What the Government Can Do 
Maintain those farm subsidies!  The Farm Bill, the single biggest source of subsidies for farmers and growers, is up for reauthorization.  Participants at the forum were very clear on the need to advocate for inclusion of the California Specialty Crop Block Grant, a source of hundred of millions of dollars to our state's growers, farm markets and non-profit organizations. 
The Farm Bill also authorizes the SNAP (Food Stamp) program, one of the most successful stimulus and anti-poverty programs in the country.  SNAP benefits help low-income families and individuals purchase food items. The USDA is encouraging a massive "education" effort to encourage program participants to purchase healthy, less processed food.  SNAP helps poor people and families; SNAP helps farmers by increasing their revenues. 
I'm cynical about small-government types who live off government subsidies (like, for instance, Republican farmers).  In this case however, my sympathies shift a little bit.  Until 2009, California was a "donor" state.  This meant we paid more in federal taxes than we received in federal payments. The recession has hit California hard; we are now a "needy state" and it's time some of those dollars came back our way.  So, Republican policy-makers in Washington, the sooner you help California recover, the sooner you can start shoveling our extravagant tax dollars back into your pork-barrel projects, okay? 
Rescue the Williamson Act.  This is one where county government and local growers are in agreement; the Williamson Act needs to be saved.  Given the cataclysmic state of California's finance's, that seems uncertain. 
Farmers would also like to see local government participation in the simplification of some regulations, the return of freight rail to Sonoma (due in April, 2011, apparently), creating of a Sonoma "branding" effort, and the development of a food hub.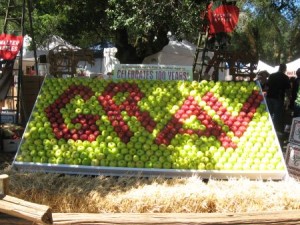 What the Growers Can Do:
"If you want to be successful, get special."  Those are the words of Paul Vosson.  Local small growers cannot compete with central valley growers for volume, and often produce is ripe a week or two earlier in the valley than here.  Sonoma products have to be special and branded  as special(see above).  He applauded the move into olive growing and "value-added" (processed) items such as salsa, marinara sauce, muffaletta mix, etc. 
Barter, share space. Quetzal's arrangement with Council on Aging is one example.  Barter produce for time at a commercial kitchen where you can make salsa or marinara out of your summer tomatoes. 
Be united.  This came from Sheana Davis, who said, "In the past we've bickered among ourselves.  Don't let them divide us; we need to speak with one voice." 
Embrace agri-tourism.  Doug Beretta envisioned dairy tasting rooms like wineries have.  I don't know how thrilled I'd be at a"milk tasting," ("Now, this is last Tuesday's northwest pasture early harvest—notice the nutty bouquet and the long finish.") but a chance to tour an organic dairy would be fun.  So would a cheese tasting, or a yogurt tasting room.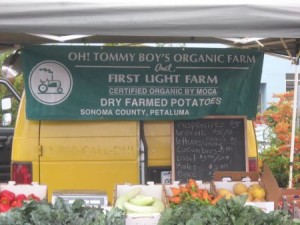 What Educators and Consumers Can Do 
Buy Local. If you can, spend the additional 10-30 cents on a gallon of local milk, knowing that your money stays in your local economy. In Sonoma County, if you choose to buy Clover-Stornetta, you can also be assured that you are buying the cleanest and safest milk in the country.  That's documented. 
Get to know your farmers.  Patronize a farmers market or purchase a Community Supported Agriculture (CSA) membership.  Share what you learn about nutrition, or recipes, with family, neighbors and friends. 
Vote and Advocate for your local growers. Contact your elected officials and encourage them to maintain the California Specialty Crop Block Grant, for instance.  
Educate your children about where food comes from.  Plant a vegetable patch or a garden.  Encourage your school to offer a salad bar, or healthier food in general.  Take your children to the farmers market or to community gardens like Beyer Farms.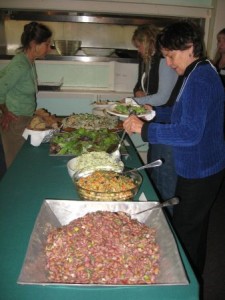 Conspicuously absent in any discussion from the producers was concern about the economics of food.  Local growers are keenly aware of the number of wealthy and very wealthy people who live here.  Most of the consumer suggestions are aimed at the families who make $150,000/year and more.  Local growers did not concern themselves particularly with the struggles of those families living on $20,000/year or less.  That discussion was left up to the next group:  The Eaters.