>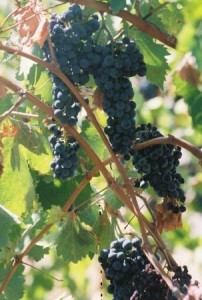 Two weeks ago I went wine-tasting with friends. Of the four of us, three of have our birthdays in the same one-month period, so it seemed like a good way to celebrate.
I wanted to go to the Dry Creek Valley wineries, and I didn't want to worry about driving, so I hired a car. I used Pure Luxury, a Santa Rosa based limo service. Because I had purchased a Savings Card (formerly known as Sonoma Express) I was able to get a 20% discount for a weekday.
Pure Luxury will help you plan your wine tasting itinerary but I already a good idea of where I wanted to go. Our excellent driver, Scott, picked us up. I had requested an SUV but because the vehicle was out of service unexpectedly that day, we got a free upgrade to a limo. I was skeptical, until I got inside and felt the air conditioning and saw the little bar along the side with champagne, soft drinks and water, nestled into an ice well. We had brought a flat of bottled water as well, in case we fell through a temporal rift and ended up in the desert, something I understand does occasionally happen during wine-tasting treks.
Scott navigated through the construction on Highway 101 North and took us into the valley.
First stop: Dry Creek General Store. Not for food, just a bathroom break and photo op, although the store, which has a deli, benefits from being the only place you can buy food. The place was established in 1881 and the rustic building, covered with grape vines, is very attractive. It is as nice inside as out, with a genuine creaking wood plank floor to create the ambiance.
Second stop: Sbragia Vineyards. Go all the way up Dry Creek road until you are staring at Warm Springs Dam, then veer right and go up the hill. The tasting room is pleasantly modern with a patio on three sides and a stunning view looking southeast over the entire valley. Inside, the glass-walled space is light and open. Sbragia is best known for its reds. Greg and Mary were replenishing their cellar and were in the market for reds that were drinkable now. They bought two bottles of wine at Sbragia. The hostess (I do not know the correct term for the person who pours your wine at a tasting room) was casual and pleasant. I liked that her explanations about the grapes and the vineyards was not overly fancy. I bought a bottle of their Merlot.
Third Stop: Ferrari-Carano. Part of the purpose of this trip was to take pictures, and it would have been a crime to bypass these glamorous building and grounds. Before we got anywhere near the tasting room we wandered through their beautiful garden. Then we walked up a long walkway where a life-sized bronze statue of a boar greeted us. To the left stood a faux-chateau set amid vivid flower beds. Beyond that, the rows of grapes and a double stretch of yew trees led to the rusty western hills. Directly past the tasting room, Ferrari-Carano has an elaborate fountain flanked by pillars. The tasting room itself was luxurious and fancy. At least I thought so until we went down into their wine cave and found the truly luxurious and fancy tasting room; marble, chandeliers and glass. They could film a James Bond movie down there; Bond could be wine-tasting and playing high-stakes poker with the villain, the Bond girl at his side. It's luxurious that way. Greg and Mary were more impressed with the wines than I was, and I found the hostesses at this stop to be the least hospitable of the three. They weren't rude or inattentive, just not very engaged. Maybe it was just me.
Lillian found a place we could crawl into, underneath the outside stairwell, to get a nearly perfect picture of the fountain, so the stop was a success for me. Ironically, we stayed here the longest, mostly taking pictures.
Fourth Stop: Bella Vineyards and Wine Caves. Bella Vineyards is on West Dry Creek Road, which means you turn off Dry Creek and head into the hills. This vineyard is the antithesis of Ferrari-Carano in appearance. The gift shop is a converted barn. They have picnic tables out in front, shaded by old olive trees. The wine-caves are carved into the hillside on which their grapes grow. By now it was about ninety degrees in the sun, so the caves, which were in the sixties, were tempting.
No marble and glass here. The tasting area has wooden tables (they looked like planks braced on old wine barrels) and the hosts have a pre-set flight they pour. Bella makes no whites at all, but the first wine they offered the heat-wearied travelers was a rose, chilled, condensation trickling off the glasses onto our fingers. Then they offered four different Zins; the last one being an ancient vines zinfandel dessert wine, something I had never heard of. The wine was very sweet, with good body, not overly heavy. It was an extremely fruity wine, with almost a raisin flavor, and I mean that in a good way. The alcohol content is about 12%, lower than most dessert wines and lower, in fact, that some of their other zins. This is a family operation. Our hosts were cheerful and well-versed in the provenance of the wines. I bought one of their table zins for a friend at work. Greg and Mary purchased several wines including the dessert wine.
By now we were almost out of time if we wanted to have lunch too! Our fifth stop was the Costeaux Family Bakery, on the plaza in Healdsburg. We found a table outside, next to the small fountain. Service seemed a little slow, but Mary commented that our server also had two very large parties, eight or more, inside. My friends ordered the iced tea and pronounced it ambrosial; not too sweet, with a hint of ginger, very refreshing. Lillian had a seared ahi salad and the rest of us were seduced by the French dip, which was wonderful.
I had ordered the bakery's triple-chocolate cake with a chocolate rose on top as a birthday treat. The server brought it out to have at our table while we ate lunch. The chocolate aroma alone was enough to knock someone out. The cake drew a lot of attention from passers-by—I mean lots of attention, like we were putting our chairs in a circle and holding our forks like defensive weapons. If you love chocolate, this dessert is worth splurging for.
I had one disappointment. I wanted to go to Yoakim Bridge Winery, but we ran out of time. They also do, as they describe it, "big, hearty reds." Scott, our driver, said, "You should plan to go there, because the owners create such a fun atmosphere. It's like tasting wine on their porch."
After I had the trip planned, another person had said it was worth getting a reservation to tour the Raymond Burr winery, not as much for the winery as for the tour of the greenhouses (Burr collected and grew orchids). Sounds like there's enough there for a second trip, easily.