"Treat these knives," Dr Wendy said, pointing out her professional-chef-quality set to her prep cooks and helpers, "like they're members of my family."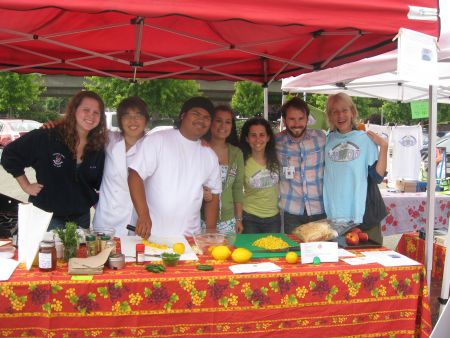 The annual Health and Harmony Fair was right across the street at the fairgrounds, bringing to the market a higher-than-usual number of slim youngsters with dreadlocks and tie-dyed clothing, enveloped in an invisible cloud of fresh sweat, patchouli and marijuana.  Apparently, at nine-thirty in the morning the drumming circle was going full blast at the fair.  Kids came under the overpass to check out fruit drinks or pastries. Got the munchies? The vendors must have been very happy.
Michele Anna Jordan, local celebrity and nationally known food writer, gave the event a shout-out in her column in the local paper yesterday.  Michele is a fan and champion of farmers markets, and goes to the Sebastopol market every week.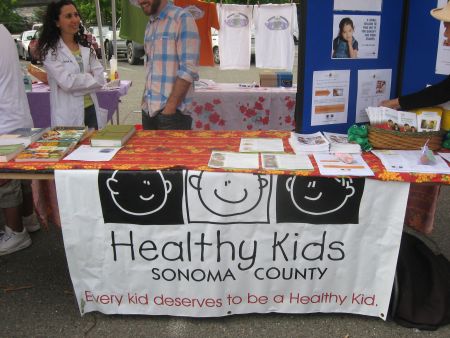 Wendy shared the demo-time today with Hasna, who was making a fruit-based desert.  She brought her niece Hannah, who helped with prep and also acted as a gopher.  While they were having fun with fruit, I helped Eliot and Pam from the Redwood Community Health Coalition set up their booth.  They have information about low-income health coverage for children and about CalFresh (SNAP or food stamps everywhere else in the US).  You might think from the photo above that  those folks are Pam and Eliot, but they are not.  They are Alicia and Dave, residents at Vista Family Health Center. From your right, there is an arm reaching into the photo to straighten something.  That's Pam. (Hi, Pam!)
 The VOICES kids were back, staffing their own booth with information about foster youth and their program, and also helping chop up peaches with knives they were treating as delicately as if they were Wendy's relatives.
The SAVOR shirts, which I admit I harbored doubts about, look pretty good! Damselfly Designs, who was set up right next to us, fabricated them at cost of materials, and she did a great job.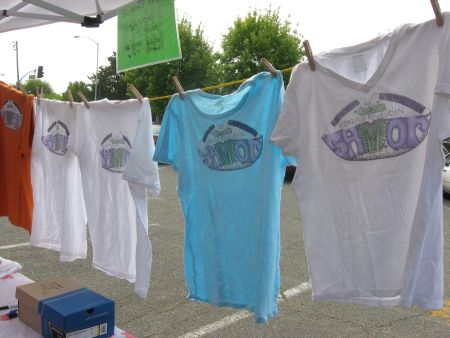 It's June.  Even with the late rains, there's plenty that good at the market right now:
Peaches.  Most of these are from the central valley; Fresno and Tulare area.  I know there is always tension about the vendors who are not "local," but frankly, if you are willing to load up your truck and leave home at 4:00 AM to set up at 8:30, I admire your work ethic and I'm probably going to buy your produce.  Peaches and apricots are ripe now; velvety in texture, sweet-tangy in taste and extraordinarily juicy.
Cherries:  When I was a kid, I had Rainier cherries a couple of times and didn't like them very much.  What was wrong with me?  My only excuse is that maybe I got bad ones.  They are juicier and sweeter than the dark red Bings.  My strategy is to get a small basket of Bings and one of Rainiers, which is the price of one big basket, and mix them.
Lettuce:  This is the good side of the late rains.  Lettuce is lush, sweet and crunchy.  There are all kinds of varieties available right now.  Several vendors have salad mixes, which makes it easy for a novice like me.
Kale:  Of course the wonder vegetable is still present, and everything that is true about lettuce is true about it.
Onions:  Surprisingly it seems like a good season for onions already.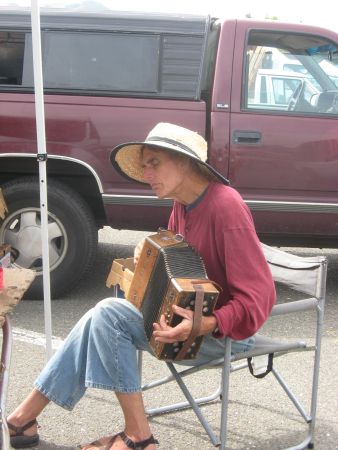 The fish vendors had an amazing array of fish and I bought two meals' worth.  I thought ahead today and brought the small ice chest with the blue ice blocks, so I didn't have to worry about transporting my Alaskan salmon and halibut home on a warm day.  I didn't buy scallops, though, because Dave at the Sebastopol market has the best scallops, and I can get those tomorrow.