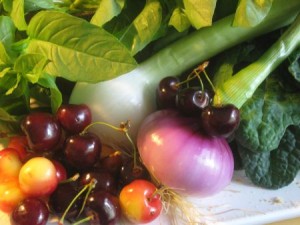 Michele Anna Jordan says that she has completely flipped her food-buying process; shopping weekly at the farmers markets and going to the grocery story about once a month for staples, dry goods and so on.  I doubt that I'll ever reach that point, but her discussion about this on KRSH got me curious, and since I was going to be at the Santa Rosa market for SAVOR Saturday, I decided to see what I could do.  How many dinners could I shop for in one trip to the farmers market? 
(Well, it turned out to be two trips, because I went to my local market on Sunday to buy scallops from Dave, the fishmonger there.  He has the best scallops.  Period.) 
Brock of Black Sheep Farms was there on Saturday.  This is as rare as an Elvis sighting! Jordan had actually called him out in her Press Democrat blog for his absences.  Anyway, he was there and he had ground beef, so I bought a pound. I also bought fish, and put it in the ice chest with the blue ice blocks I remembered to bring. 
Sunday I bought scallops from Dave, goat cheese from Javier, peaches and onions from Nancy, and pea sprouts from Oh Tommy Boy Farms. 
So, this week the challenge is; four dinner from the farmers market. 
Saturday: We had chile-cheddar burgers; ground beef mixed with one of Nancy's onions, finely chopped, and some Worchestershire sauce, roasted Ortega chiles, Tillamook cheddar, not from the farmers market but from the grocery store.  I served the burgers on baby ciabatta loaves from Full Circle Baking Company in Penngrove.  Their baby ciabattas are perfect for a large sandwich.  I also used salad mix from the market on the burgers.  Our salad used lettuce mix with a bit of kale thrown in, cukes, store tomatoes and avocado (not from the market, although the valley vendors who had peaches did have some smooth-skin avocados available.)  The burgers were good, filling, and probably took care of any beef craving I might have for the next week or so.  
Sunday:  A scallop stir-fry with kale, onion and garlic served over soba noodles from the store and a salad with salad mix, pea sprouts and ginger-soy dressing .  This was a great meal,mainly because of the scallops.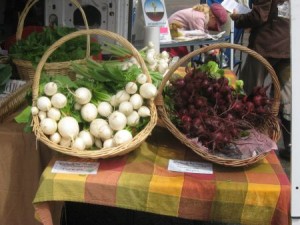 Monday:  Tonight, halibut with white peach salsa, and "nips and taters."  Well, kind of.  I buy young turnips because they look pretty and I always think I can cook them some interesting way, but I can't.  Nancy of Middleton farms said, "I just boil 'em and smash 'em up with a little bit of butter," which reminded me of the quintessential Scots side dish, "nips and taters," which are basically mashed potatoes and turnips.  We'll see how that goes.  Brocoli from Redwood Farms is our green vegetable. 
The white peaches came from Nancy.  They are quite small, about the size of large limes, and perfectly ripe, but not very sweet.  I think this is because of the late rains and the dearth of high-heat days.  A little bit of Hector's honey addressed that problem.  I used one of Nancy's onions, some of her garlic, and some cilantro from the store. 
Sometime later this week we will have Alaska salmon, but I don't know what we'll have with it.  We have a little bit of the lettuces left, but I polished off the kale in the stir-fry. I will definitely be hitting the grocery store to round out that meal.