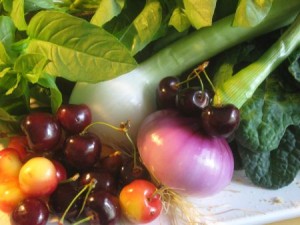 Monday night:  We had halibut.  It was delicious.  "Nips and taters" were good, but mostly taters.  Still looking for a clever way to cook turnips.  The peach salsa was a little disappointing.  I liked it more than Spouse did.  The white peaches were perfectly ripe but not very sweet.  When you combine this with the fact that white peaches tend to have a more subtle flavor than yellow ones anyway, they were overpowered by the onion and the cilantro. 
The delightful surprise was how sweet new broccoli is.  I have taken that slightly bitter aftertaste for granted for years; fresh, new broccoli doesn't have it.  
Tuesday was Spouse's night to cook. Last night I had a complete failure of imagination, so I brought home sandwiches. 
Thursday:  Alaska king salmon, baked, cous-cous (from the store) and a green salad with grocery store avocados and tomatoes but the last of Bernier Farms's salad mix.  I bought a half a pound and it got me nearly through the week.  Good to know!