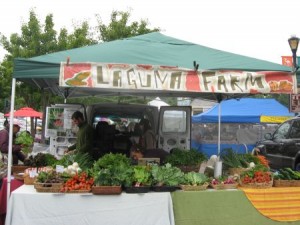 Laguna farms has beautiful basil.  I have a bunch of that in a water-glass and the kitchen smells like basil.  That's for pesto to go with the fish tonight. 
Nancy has dried garlic and some big bulbs of green garlic, but I don't know what I would do with it.  The market is in what some experts call a "shoulder season," which means our late spring brings the continuation of spring crops, but some summer crops are coming in too.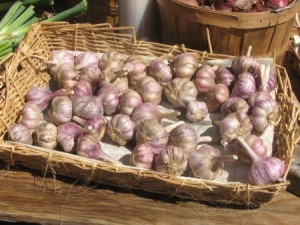 Nancy, for instance, still has asparagus but she is the only one.  Raspberries and blueberries are just coming in.  Gloria of Sebastopol Blueberry Farm thinks it will be a short season this year because of the late rains, but other berry people pointed out that last year, blueberries ran longer because of the late rains, so I don't know.  I bought raspberries from Gloria and a jar of Nancy's poached pears in honey, for dessert. 
From Dave, the fish-seller, I got salmon, halibut and shrimp.  I do seem to be in a rut with the salmon and the halibut but they are both so tasty and so healthy, it's hard to resist.  Dave does not fish for halibut himself, he buys it from guys with boats who are getting in off the Oregon coast.  Dave does fish for his own Alaska salmon.  He keeps his boat in Bodega Bay. 
Things you can't get at my local farmers market; pine nuts or whipping cream, so I am off to the grocery store.
UPDATE: No pignoli at the grocery store!  None, nada, zip; not a single pine nut to be found.  Are they being embargoed?  Is there a health scare?  What?  I settled for slivered almonds.  Boring choice.  If you can't find pignoli, what nut (other than walnuts) should you substitute in your pesto?  I really need to know!