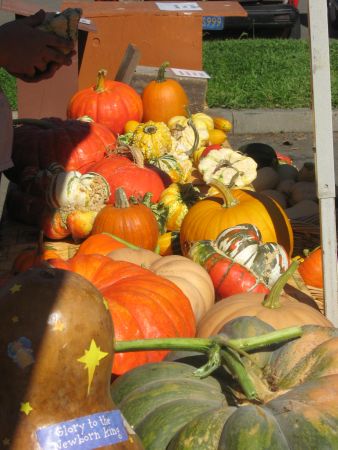 This Saturday was a bright blue-and-gold autumn morning, the kind of fall day that reminds me why I love to live here. I got to the Healdsburg Farmers' Market late because the cyclists were out in force on the narrow country streets I prefer to drive. Sonoma County has hundreds of miles of back roads that the cyclists love, and this time of year, on the weekend, I can expect to encounter forty of fifty of them. Saturday, I was lucky and only saw about twenty five. These cyclists are knowledgable, experienced, and follow the road rules, but understandably they still slow things down.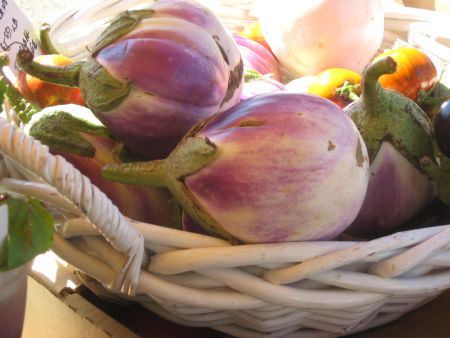 It was a warm day without being too hot. The parking lot that holds the market is surrounded by trees that still have their leaves. I left my coat in the car, and a breeze ruffled my hair as I walked across the street to the market. Soda Creek Farms had brought a whole truckful of their tomatoes. Nancy Skall had fresh basil, small Bartlett pears, eggplants, and garlic. I got basil and pears. I figured I'd wait until Sunday to get my weekly supply of onions.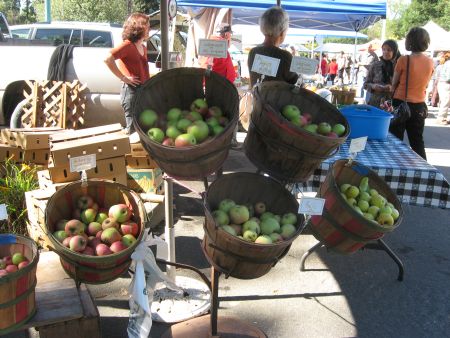 Mary Kelley is the Healdsburg Market Manager, and this market is open twice a week; Tuesday evenings and Saturday mornings. This time of year squash, gourds and pumpkins are coming in strong. There are lots of fresh herbs. The standouts right now are parsley, cilantro and basil.  Apples, pears pumpkins and squash are everywhere. We still have tomatoes, and strawberries.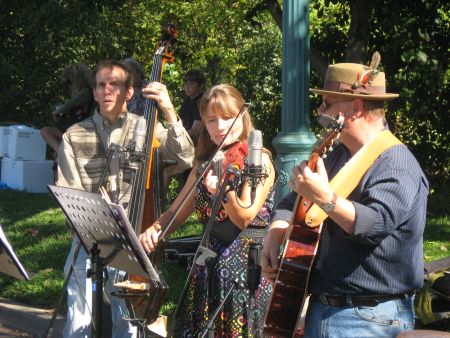 Mary had some French butter pears for sale. I bought two for a dollar, just out of curiosity. I started to walk away from the stand and took a bite of the pear. It was so rich I had to stop, overwhelmed by the texture and flavor. Most pears are a bit granular, even when ripe; this one was silky. The juice was thick, nectar-like, honey-sweet, with the essence of pear.
On my way out I got bratwurst from Gleason Farms.  For dinner, I split the casings and mixed the sausage with squash, sun-dried tomato, garlic, onion, parsley, fresh basil and goat cheese. I put this stuffing mixture into round green squash. We had a salad and broccoli with it. Tasty!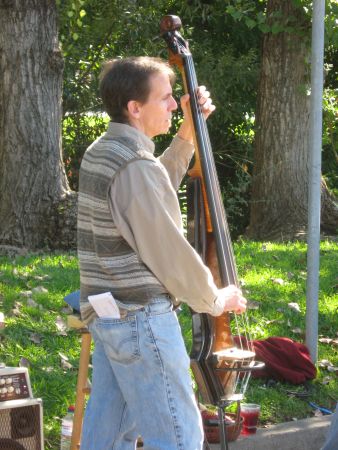 The musicians were great. They played some kind of 1940s swing-era song; sweet three-part harmony. The fiddler was excellent. As I was walking to my car they added a flautist, but I didn't get any pictures.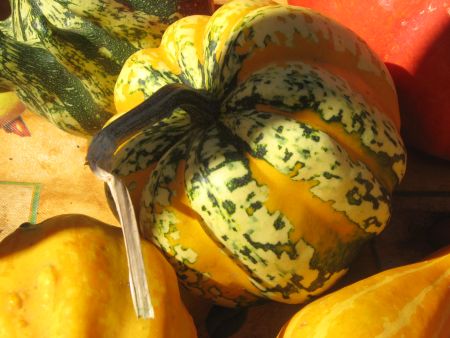 The market will have a Pumpkin Festival on October 22. I have the writers' group that Saturday, or I'd be there!