Auburn is about thirty miles north-northeast of the California capital of Sacramento. It is in part a bedroom community for people who work in the capital and surrounding towns like Roseville and Elk Grove. It's also one of the historic mining towns that line State Highway 49, a traditional Sierra foothill village tucked in among the hills and ravines. The population is about 13,000, and it's the county seat of Placer County. The original downtown area has been re-imagined as Old Town, a mix of history and tourism, with a beautiful domed courthouse presiding over it.
The courthouse was built in 1894. It is technically the third courthouse, although the first structure, called a "courthouse" by the residents, was in fact a large tent. The second courthouse was a graceful Grecian revival style building made entirely of wood. As time went on, that building began to have maintenance problems. The locals began to worry about having a hall of records that was entirely wood, and these fears grew when Auburn had a couple of serious fires. That's why they built the third one, crowning the largest hill downtown, three-stories high, with a further sense of grandeur added by the long row of stairs that leads up from each side to the second story entrances. Lawyers and legal clerks in Auburn must have some good calf muscles.
The courthouse is still in use as a courthouse but the ground floor also has a lovely museum that shares a little bit of Auburn's background. During the work week, visitors have to go through a metal detector to get into the museum, but they do not on Saturdays and Sundays. I felt torn. I was pleased at the convenience (me, with two cameras, two lenses, a purse and a tote bag) but also, as a county worker, a little insecure, thinking that someone could come in on a weekend and hide out until Monday when they could run amok.
The museum had, as one of their rotating exhibits, a series of wedding dresses through the decades. The 1920s dress was pure flapper; a simple thin bodice that looked like a boy's undershirt, a short silk skirt with a handkerchief hem and a veil that also functioned as a train, about three times the length of the dress. As a bonus, they had a set of photographs, and a picture of that wedding was included. The bride was, well, slender, not to say skinny, with the 20s style headpiece and the veil curling around her ankles like seafoam. They had two dresses from the 1940s, much longer, needless to say, and a simple, lovely white dress from 1910, which was also, to my surprise, kind of short, ending at the ankle.
The museum also has an interesting exhibit on the dentist, Dr Hawver, who, in the late 1800s, located the area's famous fossil cave. Our docent pulled out the models of the fossil skills of a smilodon, the saber-tooth cat—okay, there's a good logo for a dentist—and a dire wolf, both of which were found in Hawver cave. The cave has been closed to the public for quite some time because of damage, but the locals are working to get it reopened or at least allow tours. The place was full of Pleistocene era fossils, most of which are now at UC Berkeley. It's not every day at a local museum that you get to play with a saber-tooth cat skull.
In the lobby they have a wonderful set of Native American baskets from tribes across the continent; from Midwestern cradleboards to Pomo berry baskets and woven water bottles, from the Pate family collection.
The museum was wonderful, and there are two other museums in town we didn't visit, which was a mistake. Instead we walked down to Old Town, which has a lot of antique stores, some bars, many restaurants and lots of cutesy gift shops. A little disappointing. There is a brew-pub that looked like it might be a good place to eat. The museums would have been a better choice overall, although we did visit an interesting jewelry gallery called Oz, with some wonderful metal sculptures, and a great collective next to the brew-pub. The collective had wood, glass, photography, sculpture, pottery and paintings, and they were having an opening. A Native American woman, not local, was displaying her work. She was in full native regalia and she looked wonderful! The room her display was in was so crowded that we couldn't get a close look or a chance to meet her; disappointing for us but great for her.
There are a few inns and B&Bs in the area, but we chose the Best Western Golden Key, We were meeting someone who lives in the area and it just seemed easier. It was the perfect choice. The rooms were fine, nothing luxurious, but sparkling clean and comfortable. The staff were, to a person, the most helpful, cheerful and friendly people I have seen in a hotel in a long time. Chuck gave us a big smile as we checked in, sharing jokes about the weather ("Chance of showers," he said, gesturing to the Weather Channel, as we shook water off our coats.) He volunteered information about restaurants and amenities such as grocery stores. They booked our friend Sharon into the room right next to us so we basically had a suite. When I went up to the office a little bit later to get an additional towel and some paper towels, they young woman behind the counter went overboard, giving us a whole roll. Or, I don't know, maybe she just knew us. Maids smiled and said hello as we passed them in the morning, and even the young man lugging a toilet to a room that was being refurbished had a big grin. "I don't usually do this," he said. "Honest." He let me take his picture.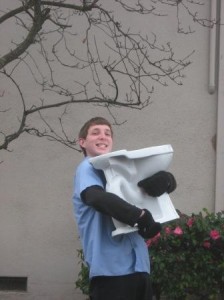 The Golden Key has a pool, and they had covered it with a tent. When we went inside, our glasses fogged up. I took mine off. It didn't make any difference. It was cold enough outside, and the pool was warm enough, that the place functioned like a sauna.
The Best Western chain offers a complimentary breakfast. This isn't a big aluminum urn of coffee and some pastries wrapped in cellophane. It's a high-tech breakfast. They have waffle irons on timers, batter dispensers standing by, hot and cold cereal, hard-boiled eggs, fruit, bagels, toast and muffins, and one-cup coffee makers that had me trying to figure out where the di-lithium crystals went in. These coffee makers have a cylinder on top into which you place a cartridge of coffee syrup. You then place a cup under the spout beneath the cylinder, and close the lid. As a third step, you chose whether you want a full cup or a three-quarters-full cup (three quarters will obviously make the coffee stronger). I am leery of coffee-syrup coffee generally, but this was all right and it was so fun to make that it didn't matter. The timed, no-stick, even-I-couldn't-screw-it-up waffle iron was the most fun though.
About a block north of the motel is a super-fruit-stand called Ikeda's. In addition to citrus, grapes, berries and apples they have dried fruit, home-made pies they are apparently well-known for, caramel corn and snacks, a plethora of smears, salsas, spreads and dips, and Ikeda memorabilia such as T-shirts and tote bags. There is also a small café attached. We didn't try the pies, but I can attest to the fine quality of their dips and their chocolate covered pretzels. Based on the crowd in their parking lot at any time, I'm not the only one who thinks they've got good stuff. If you are in a motel and you don't want to go out for dinner, you could easily find enough to make a picnic meal at Ikeda's.
We wanted to go out, though, preferably to a place with a bar, so how convenient that there was a restaurant right next to the motel. Lou LaBonte's looked like a 1960s vintage steakhouse, with the big neon sign out front. Chuck described it, correctly, as "white linen but casual." He said, "The first time I saw it I thought I was under-dressed to go in. Then I watched people walk out and decided, maybe I was over-dressed." That sounded promising. We walked over to make a reservation. The entrance takes you straight into the bar, with a TV screen in the back and a long curve of dark polished wood. The bar has two levels—almost like a dance floor or stage at the back, although they had tables set up with balloons tied to the chair, celebrating someone's 70th birthday. They have karaoke after nine on Fridays and Saturdays. Three steps down lead you into the dining area. There is a fire place on the south wall. Our very nice hostess saved us a table next to it. The place looks like Dean Martin and Peter Lawford would have hung out there and drunk martinis in the sixties. Well, maybe not Martin and Lawford. Maybe some B-list rat-pack wannabes who dressed like them. Over the hall into the kitchen is a dark green semi-circular awning that reads, "Lou La Bonte Theater."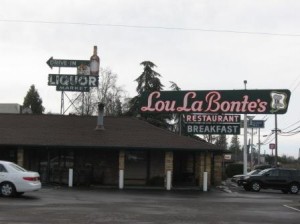 That wall is mirrored, creating a pleasant illusion of more space, and the walls facing west are windowed, although you're only overlooking Interstate 80. The hills beyond it might be nice in the spring, though. Throughout the place they have old black-and-white photographs of celebrities. It turns out Lou La Bonte was a musical arranger in Hollywood until the 1950s when he burned out, and came north. He opened the restaurant 61 years ago and they are celebrating that anniversary. The menu is heavy on the beef; prime rib, steaks, burgers, but there are a lot of fish entrees and some pasta. The Sig-O and I ordered the prime rib and Sharon had a New York steak, which took up practically her entire plate. The Sig-O, on impulse, ordered an ahi tuna appetizer for the three of us. This was a little miracle, a complete surprise in the Sierra foothills—sushi grade ahi, crusted in sesame seeds, with soy sauce and wasabi and a mixture of finely shredded cabbage and Asian noodles dressed with a light rice vinegar dressing. The fish was so fresh I'm wondering how they did that. It was perfect and it could have been a meal.
But then I had the prime rib too. It was good, and the mashed potatoes were light and flavorful.
We split a crème brulee also, and it was rich and subtle. The meal was very good but the appetizer and the dessert were beyond that, exceeding expectations.
Like the hotel staff, the servers were efficient, friendly, always attentive but never intrusive. We liked it so much we decided to go there again on Saturday rather than the brewery, although we unanimously agreed to forego the karaoke experience.
When I go back I'll devote more time to the museums, maybe even participate in the Old Town walking tour that leaves from the courthouse on Saturdays at 10:00am. I'll go up to the old quarry. Maybe they'll even have Hawver Cave open for tours! In fact, the best plan for the area would be to take a couple more days and tour Nevada City, Grass Valley and Auburn. I could always stop at Ikeda's for provisions.
Ikeda's
13500 Lincoln Way
Auburn, CA 95603-3216
(530) 885-4243
www.ikedas.com
Best Western Golden Key
13450 Lincoln Way
Auburn, CA 95603-3238
(530) 885-8611
www.bestwesterncalifornia.com/…/best-western-golden-key-auburn/ –
Lou La Bonte's Restaurant
13460 Lincoln Way
Auburn, CA 95603
530-885-9193
Fax: 530-885-4378