1–I'm thankful for my wonderful spouse, my step-family and my friends. You keep me honest, you keep me sane and you make the world a fairer place.
2–I'm thankful for glorious autumn sunrises.
3–I'm thankful for Goodwill. This week I took three boxes (stuff) and four bags (books) to the local store.
4–I'm thankful for Arrogant Bastard Ale. I love the name and the brilliant back label. It's a tasty ale and, when you use it as a key ingredient in a Rachel Ray Welsh rarebit-style mac-and-cheese, it creates an awesome dish.
5–I'm thankful that I live where I do. America, of course; specifically, that I live within walking distance of two good bookstores and a library; walking distance of a local farmers' market and two excellent grocery stores who sell local products, and a great park; within driving distance of six more bookstores, two live theaters, numerous live music venues; thirty-one parks (okay, some of them would be quite a drive); a food bank; and a place where I can go for a walk in my neighborhood and see this tree.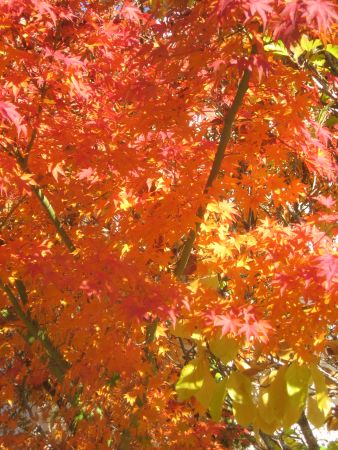 6–I'm thankful for people like Ginger, Lisa and David; three people who live every day with a devastating life-threatening disease, and who chose not to sink into passivity or bitterness but to fight to make sure that things are better for others with that disease—and that it stops spreading.
7–I'm thankful for Joan, Marcia and all the staff at my dentist's office. They are so cheerful and friendly that they make a less-than-favorite chore much more pleasant.
8–I'm thankful for Doug, my mechanic, for keeping my car safe and reliable. I'm thankful for R's Automotive and Darryl, who will always fit me in.
9–I'm thankful for video streaming that means I can watch Hell on Wheels at a decent hour on my netbook. Thanks, video-streaming!
10–I'm thankful for the Four-Eyed Frog, Copperfields and AbeBooks for feeding my habit. Thanks, guys!
11-I'm thankful for veterans everywhere; and for firefighters, police, and teachers.
12–I'm thankful for the Republican primary candidates, particularly Herman Cain, Rick Santorum and Michelle Bachman. Yes, I know the time is soon coming when I will have to be worried about one of them (probably none of those three). For right now though, I want to acknowledge their unflagging public service. Free standup comedy, everybody! Right here!
13—I'm thankful for farmers' markets.
It doesn't get a number but I remain thankful for chocolate.