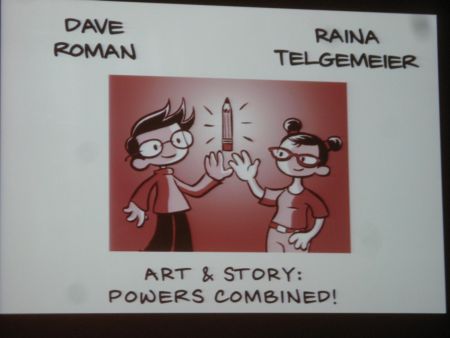 Reina Telgemeier and Dave Roman spoke at the Charles M Schulz museum today. Roman is the author and illustrator of Astronaut Academy; Zero Gravity. Telgemeier is the Eisner-award winning creator of the graphic novel Smile. The two cartoonists were born on the same day (month, day and year), he in Long Island, New York, she in San Francisco, California. They share a love of comics and a love of each other – they've been married for five years.
Their presentation, which included a Powerpoint, a lecture and a performance section with volunteers from the audience, covered their personal creative histories and some discussion of the power of graphic novels and comics. Each of them grew up reading comics. Raina's story of her experience with the graphic novel Barefoot Gen resonated powerfully with me. She was used to reading the comics in the  newspaper, and her father bought her Barefoot Gen, probably not realizing that it was about World War II and the bombing of  Hiroshima. "It pulled the rug out from under me," she said. "I realized then that comics could tell any kind of story; that they could really get to your heart and your emotions."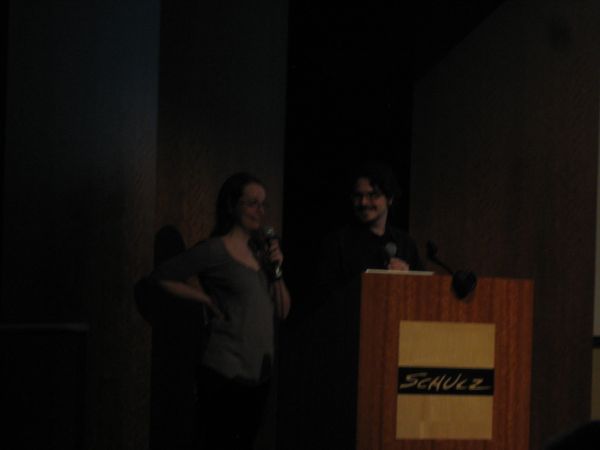 Raina pursued a slightly more "starving artist" career path, self-publishing a mini-comic called Take Out, while Dave found a job at Nickelodeon Magazine. Raina's first professional job was in developing the popular YA series "The Babysitters Club" as graphic novels. Dave got started first as a writer, with other people providing the pictures, and only more recently began drawing as well.
Dave and Raina sparkle with joy and warmth. Toward the end of the formal presentation, they requested the help of some young people in the audience to provide a dramatic reading of a chapter from each work. The kid-volunteers did a good job, and Raina and Dave (and Raina's dad, in a cameo, playing himself) provided the other voices and sound effects.
The Schulz auditorium surprised me; it was small. It probably seats no more than 120 people. The layout is good – not a bad seat in the place—and the acoustics are crisp. Good tech – none of the common problems of microphones cutting out or feedback whining in an upward spiral. After the presentation the two writers sat in the great hall and signed books. I ran into the award winning graphic novelist Brian Fies, who knows Raina and Dave. Brian was clock-watching, since another friend of his was also doing a book-signing across town at Copperfield's. It was a busy literary day for Brian.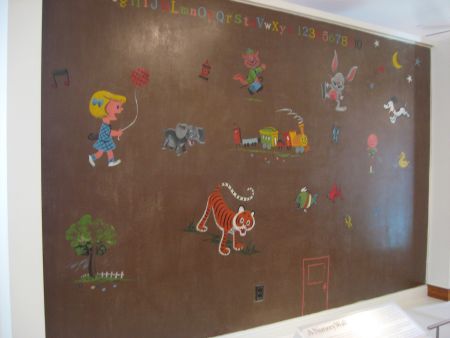 The museum's current exhibit has a sports theme. Without being too loud about it, Schulz was a support of athletic programs for women, and the strip Peanuts shows this with Peppermint Patty, the dedicated baseball team manager. I hadn't known that in the fifties, Lucy was a golf prodigy, but one exhibit is an enlargement of a three-strip arc about Lucy's championship golf tournament.
When I was a kid, comic books were slightly, well, disreputable. My open-minded parents didn't forbid me to read them, but my mother sighed and rolled her eyes when she saw me with them; and I was reading tame material like Classics Illustrated, Fantastic Four and Wonder Woman. (Spouse had a sterner mom than I did, and he had to smuggle comics into his room or hide them other places.) A person from the audience asked Dave and Raina if they would speak to ways comic books help children read.
Raina said that comic books improved her vocabulary by giving her big words in a context that meant she could decipher them. Dave's answer was more interesting. Pictures, he said, help people who get stuck. They can look ahead and help "conceptualize" what's going to happen, rather than seeing big blocks of text as a frightening obstacle. I wondered if this had been his personal experience. For a child who is having trouble reading, the ability to pull from a different medium to get clues about the story would be a great relief.
I like graphic novels because they let both sides of my brain come out to play. For me, they will never replace pure text, which is like clean water for me – too many days without a book and I start to shrivel up. A graphic novel is like fresh-squeezed orange juice, or sparkling water with a slice of lime, not a staple of my diet, probably, but a treat. And listening to people like Dave and Raina talk about their process, their love of art and story, is a treat too.