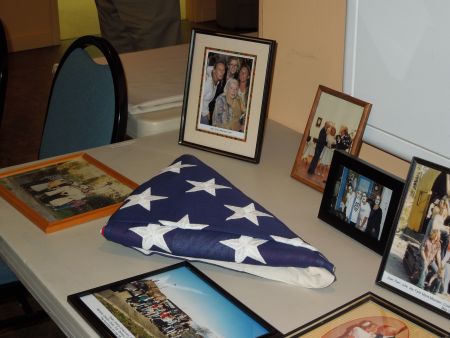 Faith joined the US Navy, the WAVES (Women Accepted for Volunteer Emergency Services), after Pearl Harbor was attacked in 1941. She ended up assigned to Washington DC, where she met my mom. (They both worked in a code-breaking unit.) She served for two years. This means that she gets a flag at her funeral, and the leader of the color guard from the American Legion gave her folded flag to Colleen, her oldest child.
Faith and my dad were pretty active in the Legion on Orcas Island, and she continued her involvement after he died. The color guard did a gun salute in the courtyard, close enough to the windows that their expended brass bounced off them. Boom! (Tink!) Boom! (Tink!)  Boom! (Tink!)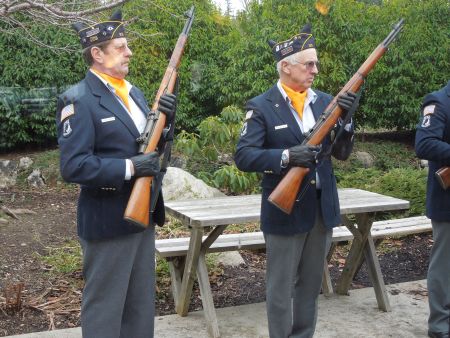 When the formal part of the service was over, four of the grandkids ran outside to scrounge the shells.
Marlene, Faith's daughter-in-law, brought nearly seventy photos, from Faith as a three-year-old with her parents, up to a great photo of her, dancing with Marlene and cousin Elise on New Year's Eve, 2011.  There were a handful of pictures from the Alaska homestead, where Faith and her husband George lived for a few years.  Most of the pictures include Faith and one or several of her kids, and many with grandchildren and great-grandchildren.
John Liger knew Faith from the Senior Center. He sang "Oh, Danny Boy," one of her favorites, accompanied by Ron. At the end of the service he sang another song, "We'll Meet Again." Ron had his sheet music on an iPad, which he put up on the music stand.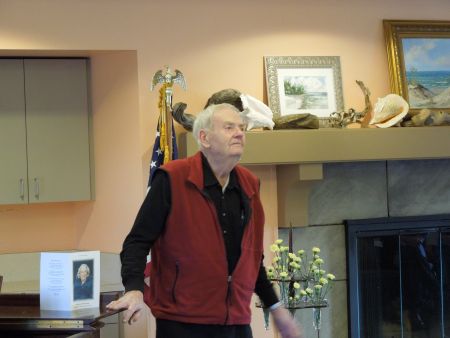 While she was on the island, Faith volunteered at the library. She went to senior lunch at the senior center, helped at events at the Legion, and went with my dad to the Ham Radio club field days.
Several people who talked about Faith spoke of the pioneer spirit. Elise talked about Faith's tendency to say, "Oh, yes!" to everything. Faith loved to travel. She loved to see new things. She loved her family, and playing Scrabble. She was quietly patriotic, quietly funny, deeply private, and she did not judge.