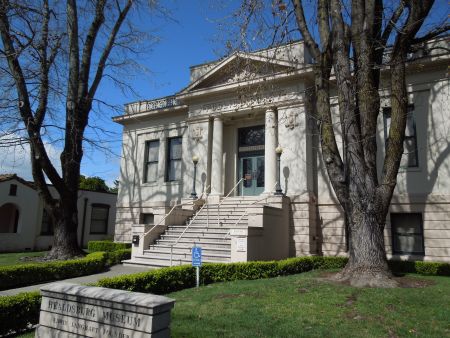 The Healdsburg Museum occupies the building that used to hold the town library. I remember going there when I was a kid. The pillars by the door made me think I was entering a temple. I can't remember any particular book I got from there but I remember the checkout desk near the door and the children's section, and the smell of my mom's face powder and holding her hand as we went through the door.
The building sits at 221 Matheson, on the corner of Fitch and Matheson — about two blocks east of the square. It is open Wednesday through Sunday, from 11 am. When I went in, there was an eager and friendly volunteer, probably a retired guy, who greeted me. The museum had a textile exhibit on one side, and a standing exhibit that included Pomo baskets, books and photos from  various schools in the area, and a diarama titled "From hops, to prunes to grapes."
Folk Arts: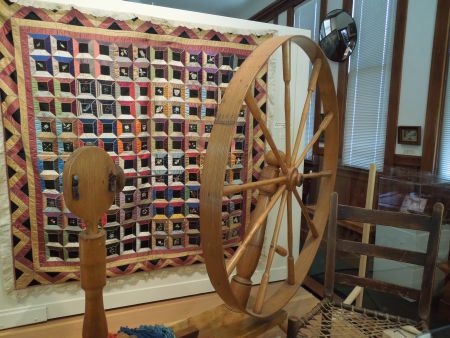 The current display has three quilts, including a rich velvet crazy quilt. In addition to the really striking spinning wheel, the exhibit includes a loom, several examples of embroidery samplers and a dress with beautifully tatted lace.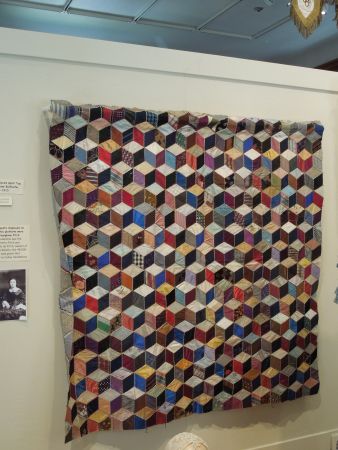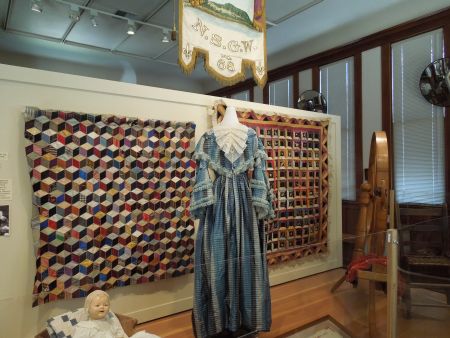 More Than Wine:
The town and the area is pretty rich in history, and wine is only one chapter. Harmon Heald founded the town because he opened a sawmill here; lumber was a big crop at first. Hops were big in the early 1900s, up into the 1930s. In the sixties and seventies, this was a big growing area for Sunsweet Prunes.
The next time you decide to hit the tasting rooms on the square, leave some time for the museum.