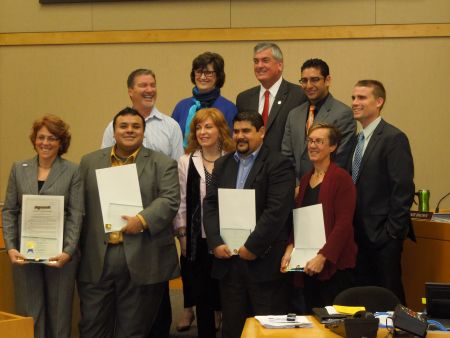 Here are Sonoma County's local Jefferson Awardees this year. The Jefferson Awards are given to local, regional and national volunteers — sort of a Nobel prize for volunteers. Sorry the pictures are so bad. I had to hold the camera over the heads of the people in front of me, and the big head you see in the lower left corner on a couple belong to the designated Press Democrat reporter who was covering the Board of Supervisors that day. Through no manuevering of her own, Supervisor Valerie Brown ended up in almost every picture, due to where her chair is and, to quote Sir Arthur Conan Doyle, because "The answer lies in trigonometry."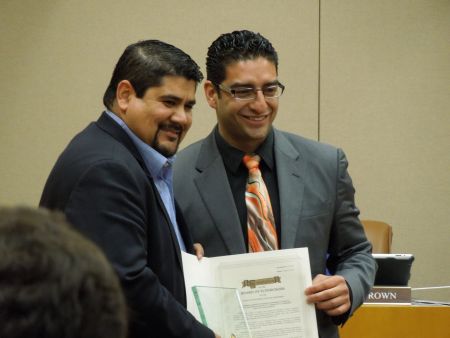 Oscar Chavez, Executive Director of Community Action Partnership, Sonoma. Oscar is also on the Workforce Investment Board, Health Action and the Innovation Council. He has spent his whole career helping people find ways out of poverty.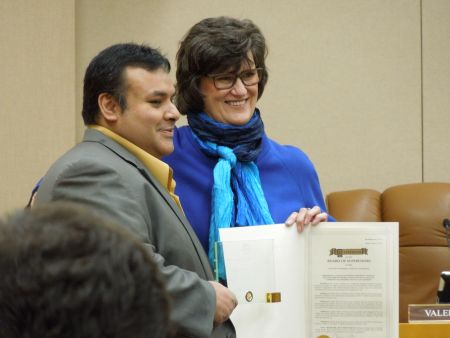 Pedro Toledo accepted the award for Healthy Kids Sonoma, a subset of the Sonoma County Children's Health Initiative. Healthy Kids provides health coverage, access and case management for 18,000 children, who before Healthy Kids did not have access to well-child checkups or health care in general. Pedro's group is getting ready to launch an awareness campaign called iCare for Kids.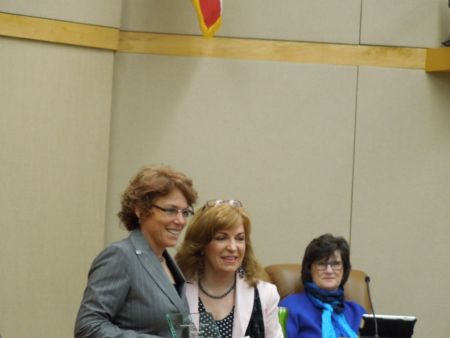 Diane Curtin, the Executive Director, accepted the Jefferson Award for Chops, the Teen Center. Chops was funded by Tom DeMeo, a local lawyer who left a fund for a teen center. The Chops Center has recreational and educational space, a kitchen, art studio and recording studio. The kids at Chops have created handcars for the Handcar Regatta for the last two years.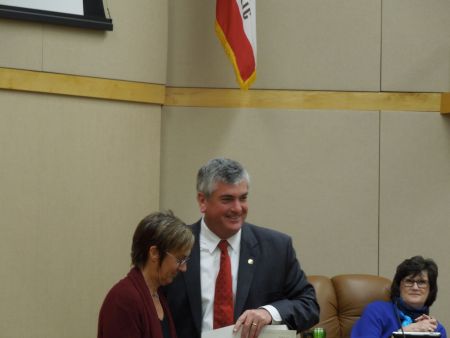 Cathryn Couch accepted for Ceres Community Project. Ceres is near and dear to my heart for a few reasons. One is, Cathryn loves kale. Another is that my friend Kathleen used the program when she was recovering from cancer. Ceres provides meals for people recovering from cancer, catastrophic illness or surgery. The food is mostly local, mostly if not totally organic, and Ceres uses teens to work in their kitchen and cook the meals. The connections are amazing. This is a young program by local standards –Ceres just had its fifth birthday last week, and just moved into new space a mile from my house. I love this program.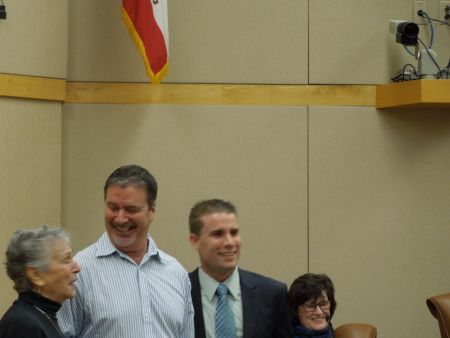 Rick Dean was nominated for Face2Face, the Sonoma AIDS Network. Rick accepted on behalf of his staff, his board, his volunteers and his clients. Rick and I are on the Commission on AIDS together. It's an honor to serve with someone like him, who has worked to end the epidemic for more than 20 years. Supervisor Mike McGuire invited Rick's very pround mother up to be in the picture with him.