Spouse and I walked up to the nearby regional park Thursday night, to browse the food trucks for dinner.  The County Parks Department, facing funding cutbacks and threats of closing some of our great local parks, have come up with several brilliant fund-raisers. One of these is inviting the food trucks to Spring Lake Park in Santa Rosa on Tuesday nights, and Ragle Ranch Park in my town on Thursdays. The trucks donate a share of the proceeds to the Regional Parks Foundation, which helps support the 19 local Regional Parks. The program's called Park-n-Eat.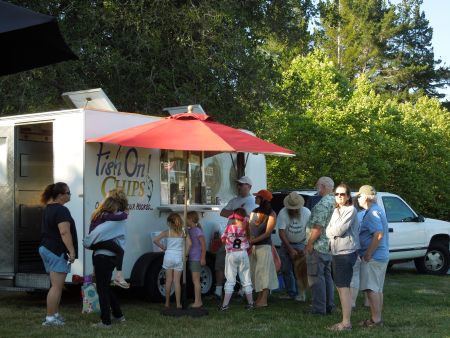 Ragle Park had a banner announcing food truck night. There are usually three trucks, but this particular night there were only two; Charlie Bruno's Chuckwagon and Fish On! Chips. The trucks are there until at least 7:30, and we got there shortly after six. I do not know what kind of a crowd I was expecting, but we certainly did not fit in. The lines were filled with bright and energetic six and seven year old girls and their dads, getting dinner after softball practice. Two grumpy want-to-be-retired people didn't fit the demographic. Still, we toughed it out and checked out our menu options.
Fish On! Chips had one menu item; fish and chips; the minnow (one piece) and the Holy Mackerel (two pieces). The fish is Alaskan cod. When you do something, and you know you do it well, you don't need to get fancy. He also offered soft drinks and root beer floats.
Charlie Bruno's Chuck Wagon has a varied menu with two salads and other items mostly in the meat theme; hot dogs, sandwiches, and so on although they did have fried calamari. It is a more stylish truck (Fish On is a trailer pulled by a pickup).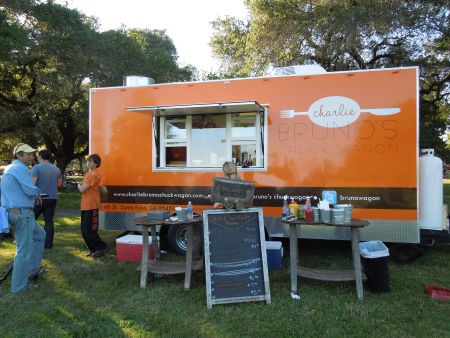 After some deliberation we picked the fish and chips. The twenty-something dads we were sharing the line with gave us a few tips for next time; split up, one orders salads from the Chuckwagon while the other orders the entrée from Fish On! Chips.
While we waited I ran into a retiree from work; so I felt a little more like we fit in. I ordered the minnow and Spouse the larger size. Each order is cooked individually. My fish was moist and flaky with a crunchy crust that held up under the onslaught of the tartar sauce. The fries were crisp on the outside, lightly dusted with some kind of spice mix. Fish On! Chips makes a special spicy hot sauce that I recommend.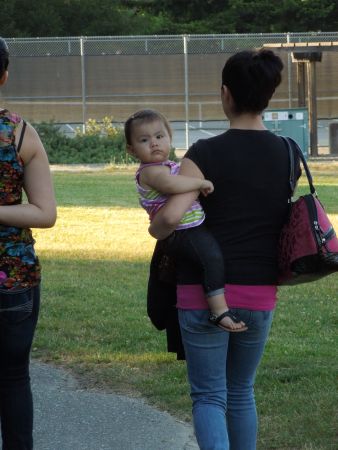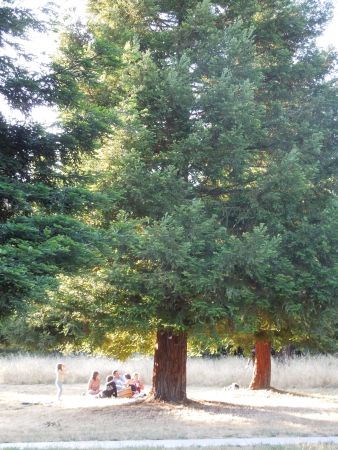 The park was filled with families and kids – and a rich golden light from the lowering sun, casting the oak bark into high relief and turning the dry wild oats nearly white. After careful consideration as we walked around the top loop of the park, we pronounced dinner a success.