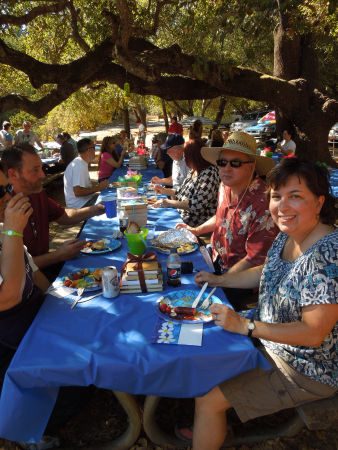 It was 82 degrees and sunny. the park was not too crowded, but there were plenty of healthy-looking joggers and families with bikes and dogs. By the time we got there, the barbecue was smoking and a dozen people were already there with salads and side dishes.
About 60 people showed up. Karen had the brilliant idea to get books donated, and use them as table decorations.  After the party, they were donated to VOICES, a one-stop center for emancipated foster youth, and the Valley of the Moon Children's Home (children's books only; Karen carefully divided them).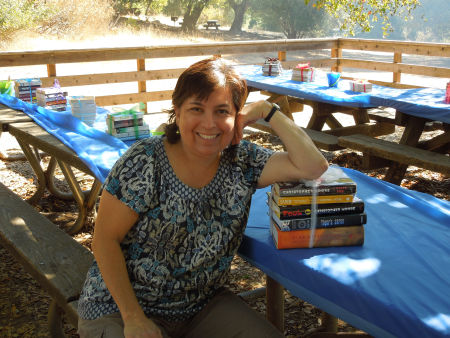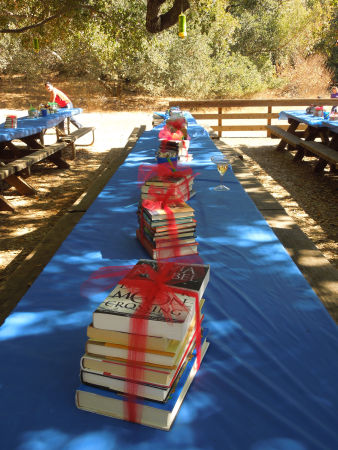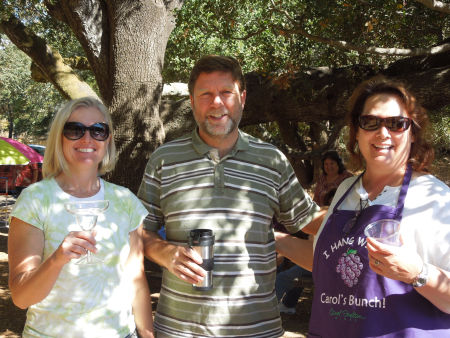 All but one of the Executive Team was there. Diane refused to fly back from Hawaii (the trip they'd planned months in advance). Honestly, some people are so selfish. Above, from left to right; Marla, our Information Integration Director; Nick, Family, Youth and Children's Services; and Gail, Fiscal/Operations, also known as the Fiscal Goddess.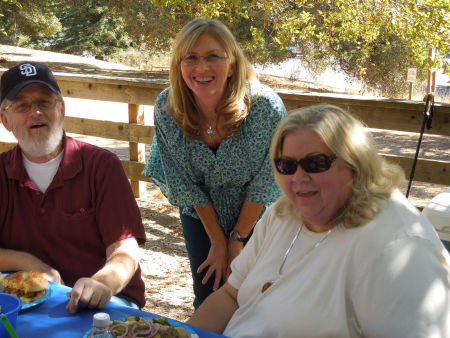 Some people change your life. The woman on the right, Carol, did that for me. She showed me how to be the kind of boss –the kind of leader — who would put fairness ahead of fear, and do the right thing rather than the defensive thing. On the left, her husband Chris, and Stacy, who is an IT Manager and generally awesome human being.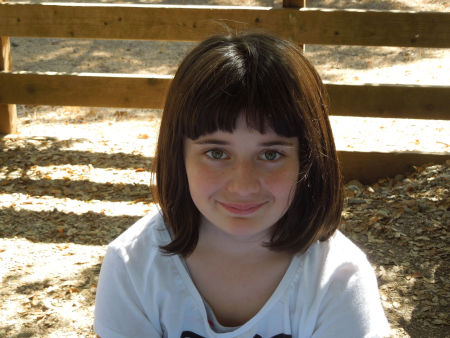 Greg and Mary's beautiful grand-daughter, Lauren.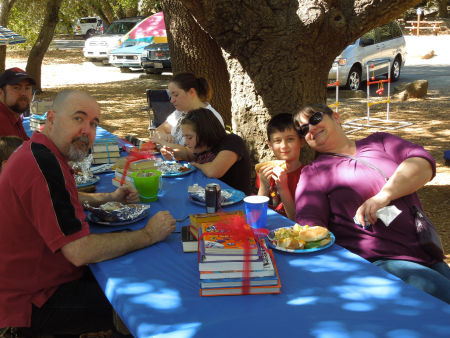 Lauren's parents, Joe and Kat, and her brother Sean. when and Mary, Kat was a little girl. Now she and Joe both work for the county (it's a dynasty!)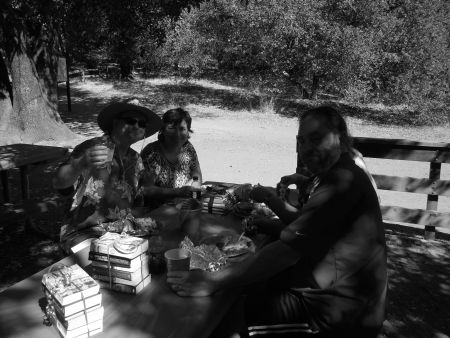 Brian, Karen and Lou (the grillmaster!) in artistic shades of gray. Lou is married to Gail, and he and Brian cooked the burgers and dogs, which were delicious.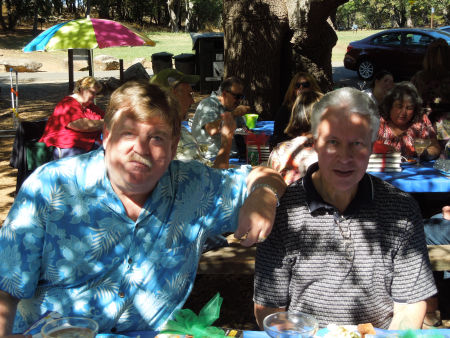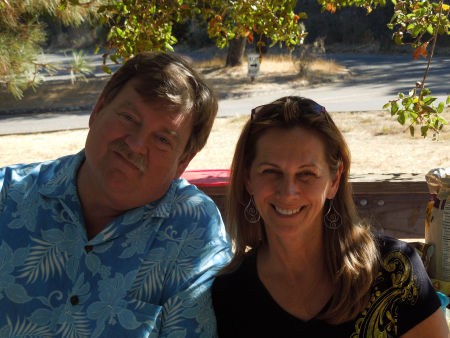 Jerry, in the blue shirt, is the current Interim Department Head. That's his partner, Bill, in the top picture. Bill is the quiet one in the relationship (no one would ever call Jerry "the quiet one").  The picture directly above is of Jerry and the previous director, Jo Weber. Jo and her artist husband Alan Lant  gave me a print of one of Alan's exquisite, evocative paintings, inspired by a walk in Annadel Park.
I got another piece of original art. The award winning graphic novelist Brian Fies drew the announcement for the party. He gave me a signed original in black and white. (A picture will follow.)
The party was low key and delightful, with lots of time to visit with friends. I promised Spouse no pictures of him, so you don't get to see him with his broken arm in the sling, but even he had a pretty good time.
It was a wonderful party and yet bittersweet. I had a wonderful time. I didn't expect to feel sad as we drove away… but I did.
Thirty-five years is a long chapter. In fact, maybe it's a whole book. The second book of  a trilogy, maybe. Maybe in the last volume, I'll see how all the plot points wrap up.