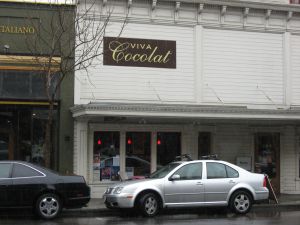 I stumbled across this chocolate café the cold, rainy Friday I went to Petaluma to take pictures.  The cafe is in a long, rather narrow storefront. The pleasant friendly woman behind the curving counter is the owner.  She told me they'd been open a little over two years. 
I ordered a hot chocolate and browsed the dessert case.  The treats certainly looked sumptuous.  There was lava cake, chocolate decadence, layered chocolate cakes and some smaller pieces that might have been truffles.  I chose the triple-chocolate mousse, with its layers of dark chocolate, milk chocolate and white chocolate on top.  The texture was light and airy, the flavor intense.  This was the first time I was actually able to distinguish a different—and still chocolate-like—flavor to white chocolate. 
My drink came in a smooth, dark brown ceramic mug, and a squiggle of chocolate syrup decorated the cap of whipped cream.
Viva Cocolat advertizes chocolate fondue for two on the weekends (reservations recommended).  Think "high tea" at a chocolate café.  The upcoming weekend she had two baby-shower fondue parties scheduled. 
I sat at one of the small tables at the front so I could look out the window at the wet pavements and slanted curtain of rain.  There are larger tables at the back in a room outlined with twinkle lights.  Where I was sitting, a round display table showed off chocolate novelties, candies, puzzles and table games.
They do not make most of the chocolate they sell.  They have products from Chocoholics in Clement, as well as Belgium, Brazil and France.  My mousse came from a chocolate bakery in Marin County. 
The hot chocolate was a perfect restorative after time spent in the cold rain.  Next time, though, I'm going to sample the European sipping chocolate, rumored to be so rich that it's like a melted chocolate bar.  That sounds worth a try. I can recommend what I had, but to be fair, and a good reviewer, I really should go back many more times and try many more things.
Viva Cocolat, 110 Petaluma Blvd North, Petaluma, CA.   (707)778-9888