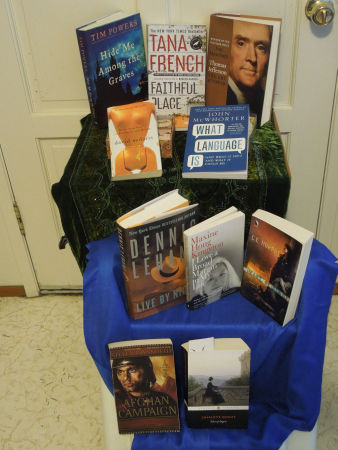 Between actual books –brightly wrapped packages tied up with string (well, ribbon) – and gift card books, we did all right this year. Above is the pictorial representation of our haul. They include:
Hide me Among the Graves, by Tim Powers. This is his latest vampire horror novel, set in the same world as The Stress of Her Regard.
Faithful Place by Tana French. French burst on the thriller/mystery scene with her highly original, if flawed The Woods.  This is the 3rd book with the detectives of the Dublin murder squad as characters.
The Art of Power, by Jon Meacham. Spouse's "big" Christmas gift, the new biography of Thomas Jefferson.
Dress Your Family in Corduroy and Denim, by David Sedaris. This was in my box from Linda, not as a gift, just as a book she thinks I'll like. Sedaris is observant, acerbic and hilarious.
What Language Is, by John McWorter. One of my gift card purchases. Looks like an engaging discussion on language.
Live by Night, by Dennis Lehane. Another gift card book, this one for Spouse. Lehane has set this historical novel during Prohibition.
I Love a Broad Margin in my Life, Maxine Hong Kingston. Another book sent by Linda, by the author of The Fifth Book of Peace and Woman Warrior.
Hearts of Stone, by C.E. Murphy, a stocking stuffer. This urban fantasy features a gargoyle.
The Afghan Campaign. A stocking stuffer for Spouse. Steven Pressfield's second Alexander the Great novel follows the experiences of one soldier during Alexander's Afghan campaign. They call that country The Graveyard of Empires for a reason.
Tales of Angria, by Charlotte Bronte. Growing up, the four Bronte siblings, Charlotte, Branwell, Emily and Anne (Helen and Maria died at boarding school), invented an imaginary country in Africa and peopled it with English characters. They wrote stories about Angria, as it was called. Charlotte continued developing "sketches" and novelettes set in this country until her early twenties. This book collected five samples of this brilliant writer learning her craft and experimenting (and commenting on) the fictional conventions of the time.
Not pictured but ordered is The Rise of Ransom City, the second book of Felix Gilman's Half-Made World story.