Retirement means you can get up at 7:30 in the morning, get dressed, have coffee and toast, and go the Wednesday morning farmers' market any week you want.
Since I didn't make it to the local market here on Sunday, I decided to go to the Santa Rosa market today. This is the small market north of the city limits that is connected with the original certified market.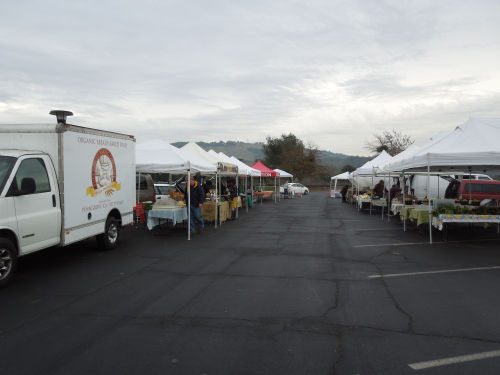 Today it was a tiny little market indeed. There were no protein vendors there — well, that isn't exactly accurate because Hector and another vendor had eggs, but no fish or chicken. This isn't surprising, as they often do not attend the Wednesday market. I got there right at 8:30, and some folks were still setting up. The weather was not the best. It was warmer to today than it has been, but rain is forecast and the sky was covered with gray clouds that look like gravy does when it starts to thicken.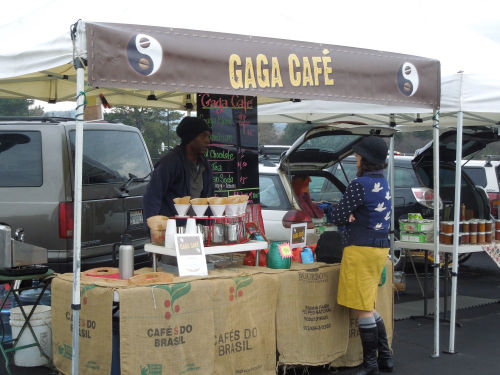 The guy from Gaga Cafe was there. I stopped for a cup of his hot chocolate. It warmed me up, but in the future I will stay with his coffee. He pours drip only. The eight ounce cup is very rich and flavorful and his is one of few coffees I drink without adding anything to it. I bought a half pound of decaf beans, only because the name grabbed me: Librarians' Blend. Apparently librarians find the books so stimulating they don't need caffeinated coffee.
The baker were out in force, so to speak; two out of the eight booths had bread or other baked goods. I got a loaf of power bread. I also got some kale and and an onion, carrots, potatoes and some Meyer lemons.
On my way there, I was very irritated by the number of cars on the road. Who are these people, driving around at 8:10 in the morning, when I want to go somewhere? Oh, that's right. People who work.