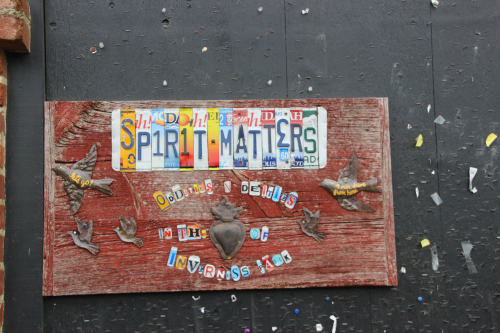 Assemblage sign for a shop in Inverness
My friend Linda is visiting from Hawaii, and I hung out with her most of Monday. It started with a  quick visit with Linda's daughter Tracey, her four-year-old Liam and seven-month-old Kahlia. Liam was too active for me to photograph!
Linda and I got started on our ramble after lunch at the Thai Kitchen, right next to Oliver's Market in Cotati. This is a small café with a simple lunch menu. Linda had the Thai-style barbecue chicken and I had chicken red curry. It left my mouth glowing, without knocking my taste buds into a coma. I call that good. The place has about ten tables, reasonable prices for lunch and a pleasant waiter.
From there we headed southwest, to Petaluma. We turned right on D Street, driving past the beautifully restored Victorian cottages (and mansions) that line that street. A ways out of town we crossed a border and entered a strange and foreign nation – Marin County. The rolling hills were Irish green, dotted with shaggy black cows.
We stopped in Point Reyes Station. I haven't been there in fifteen years, probably. The town was nearly twice the size I remembered it. We turned left onto Highway One, and there was the village I remembered – I guess I'd call it Old Town now.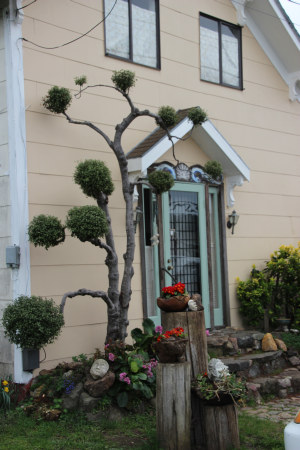 First stop, Point Reyes Books, a wonderful, eclectic bookstore. Linda gravitated straight to a box labeled "Artist papers;" damaged books and periodicals, sheet music, and printed pages in other languages. She scored a 1920 National Geographic book on dogs, filled with line drawings and lush color plates. Linda is a collage artist among other things, and this is perfect for her.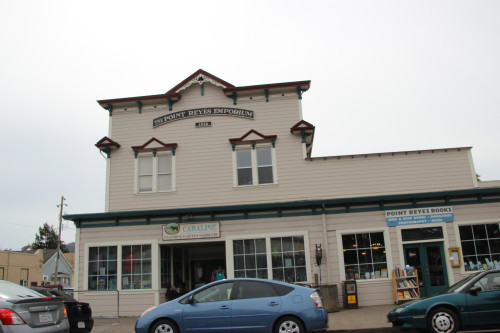 I found a book called 642 Things to Write About and picked up a copy for a friend; I got Elaine Pagels's newest, an analysis of the Book of Revelation; and a book on Buddhist writings.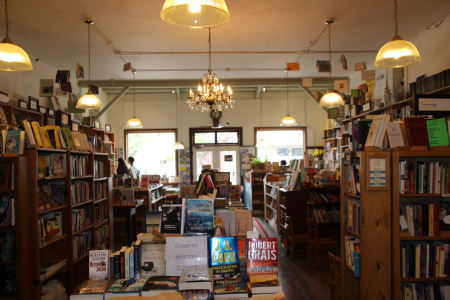 Point Reyes Books
Storekeepers in Point Reyes Station were not particularly friendly. Despite our shiny plastic and our folding green currency, something in our accents or our clothing marked us as auslanders. I'm not sure why. Linda looks like she just got here from Hawaii, one place that even Marinites will acknowledge is as cool as Marin. I drove up in a hybrid car, I wore all natural fibers, and I come from west Sonoma County, which means I ought to be able to pass.  Maybe it was my watch, which is just a Timex, not something hand assembled by a Fair Trade collective of Bavarian watchmakers who donate 3% of their profits to the Slow Food movement; or maybe it was my shoes, which were just shoes and not made from recycled 2-liter plastic soda bottles (I have a pair of those, by the way, I just wasn't wearing them.) Whatever it was, they could tell I was an outsider.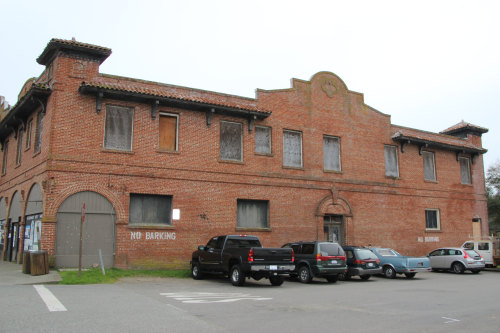 No barking. Yes, some waggish Pt Reyesian did change the P to a B on every stencil.
Although several of them would not return smiles, they did condescend to take our money, so I suppose I should be grateful. The toy store guy was friendly; and the woman who worked in Vita's, a strange and delicious store/gallery, was pretty nice. Two guys outside the Bovine Bakery joked with me about my camera. "Oh, no! It's the paparazzi!"  I assured them that I would respect their privacy.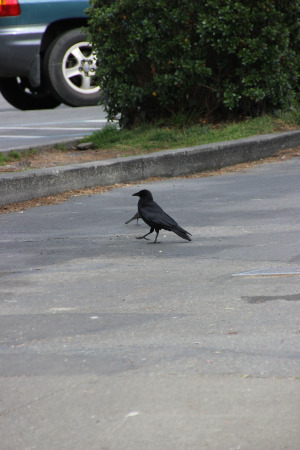 Crows of Point Reyes Station
Limantour Beach is a long shallow crescent south of the lighthouse. To get to it we drove up through the hills, pausing for stunning views. It was cold. The water looked like clouded silver. We shared the long stretch of pale gold sand with a few humans, a happy dog and several large and relaxed seagulls. Over the dunes, in the marsh area, we saw mostly crows.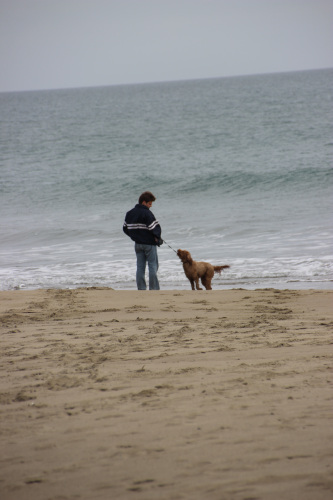 On the way back we stopped at Zazzle's in Petaluma for dessert. Linda had a 3-berry cobbler that came in its own ramekin. I had the indescribably self-indulgent chocolate mousse. It's served in a chocolate flower, piled high with fluffy dark chocolate mousse, with a subtle after-taste of some kind of liqueur. It was easily enough for two people, finished with a dollop of whipped cream. It also had a maraschino cherry on top, which I left. I brought about half of it home for the next day.
 No, I don't know either. An art installation of some sort with a crab carapace on the top.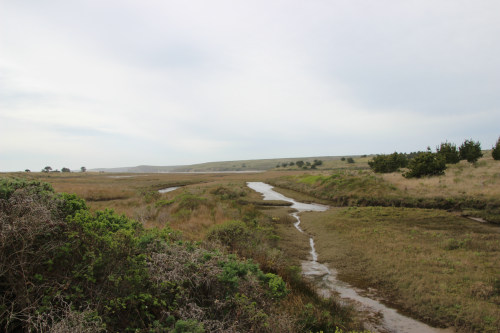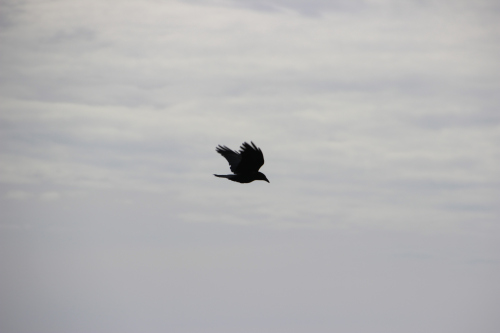 Just like the old days, sitting at Linda's kitchen table drinking coffee, our conversation ranged all over the place; movies, documentaries, making films, film festivals, grandchildren, dogs, whether women use more pronouns and articles in speech than men do (the shaky premise of a book I am currently reading)… care and treatment of cameras, Thailand, the Netherlands and the Nebula Awards (which was actually the result of a misunderstanding), Chinese artists, Marinites and their quaint customs, and the color of sunlight on water.