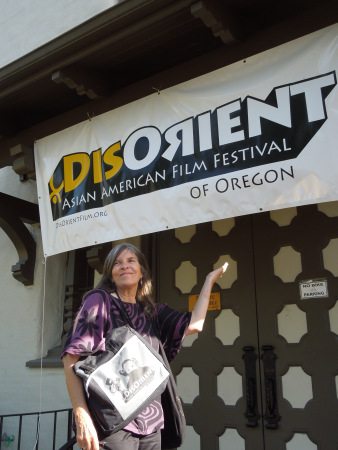 Linda with the DisOrient Banner
Last weekend I saw 19 movies in two and a half days.
Before you do the arithmetic and tell me that this is highly unlikely, I should explain that several of those were short films. Two, in fact, were each just six minutes long.
DisOrient film Festival is held in Eugene, Oregon. The Festival's mission is to present "honest portrayals of the diversity of the Asian American experience." Asian, in this context, includes Pacific Islander, which is why I was at the event. I had come up to see my friend Linda Kane's documentary Nona Beamer; a Legacy of Aloha.
If I say her film was great, you will think that I am biased. The movie played to a standing-room-only crowd, though, and the entire selection committee, and most of the volunteers, told Linda how much they liked the film. After it showed, a half dozen people came up to her to share their experiences with Nona Beamer, a well-known music and hula teacher in Hawaii.
Linda's film, at 90 minutes, is a full-length feature. The festival offered three sets of short films, categorized by theme. Saturday morning's theme was "Family Dramas."
Basketball Meri Jaan, by Veena Hampapur, was the first 6-minute film. Yeshodhara immigrated from India to the US (Dallas?) thirty years ago, She talks about how isolated and alone she felt… until she discovered the LA Lakers. She and her grand-daughters watch the Lakers, and the three of them go to a home game. All three women discuss the way the love of the sport has bridged not only cultural, but generational divides. In six minutes, Basketball Meri Jaan touches your heart and gives you lots to think about.
Reiko's Hina Dolls is a 15-minute fictional film about a Japanese family who has moved to Canada in the 1930s. They cherish a collection of Hina dolls. Together, they face devastating loss and the threat of internment after the attack on Pearl Harbor. The little girl who played Reiko made this short film come alive. Kamiko Matsui, the director, was available to answer questions after the films were over.
Paulina  follows a Cambodian teenager in Washington DC as she comes to grips with the realities of her father's gambling lifestyle. Of the morning short features, Paulina, directed by Cayleen So, was the most polished and professional looking. I'm sure we will be seeing a full-length feature film from So pretty soon.
The Commitment, directed by Albert Chan, is about Robert and Ethan, a gay couple who are adopting an Asian-American baby (Robert is Asian American). A sudden obstacle to their plan forces them to re-examine their own relationship. I liked this one better when I learned that it was based on a read couple's experiences.
My Mother's Jade, by Irene Young, explores the tension between a rebellious teen-aged girl and her Chinese immigrant mother.  This was "inspired by actual events." The dialogue was anachronistic; the girl refers to her white boyfriend's cigarettes as "cancer sticks"– an expression I haven't heard in 20 years. To prove that he is a complete sleaze, the boyfriend calls her "my little won-ton."  The mother's story about her jade bracelet, a piece she saved up and bought for herself, and the tales of the spiritual properties of jade, are wonderful, though. The movie seems to end on a cliff-hanger; will the girl choose tradition (her mother) or the sleazy white boyfriend? The choice never really seems in doubt to me, but the emotion between mother and daughter felt genuine throughout.
The festival was held at the Bijou Theater in Eugene, on East 13th Street. It is staffed 100% by volunteers, and it seems like they should have been frazzled, but everyone was uniformly friendly, helpful, funny and always willing to go the extra mile. In one case that extra mile — or those miles — went all the way to Portland, when one film-maker got stranded because, due to the sequester, his flight was cancelled with little notice. A volunteer drove up and got him. At the end of the festival, another volunteer drove Linda back to the airport instead of just dropping her at the shuttle, which Linda had suggested. These people love their movies and their film-makers (and their audience).
Saturday afternoon's theme was "Heroes and Icons." There I saw the second-best film of the festival (Linda's was the best, of course!) called A Flicker in Eternity.