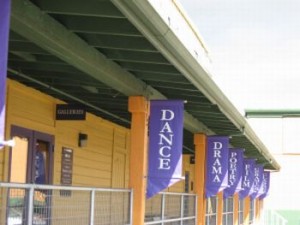 I haven't been to a show at the Sebastopol Center for the Arts in at least two years.  On Saturday, after I dropped off some things at the new  Goodwill, I went across the street to see what the center had. 
They have two exhibits hanging currently.  One is a still life show.  The show pushes the boundaries of "still life," in a couple of respects.  The media go beyond painting.  There is photography, micro-to-macro, with some altered photos; there is ceramic three-dimensional work and a handmade book.  Three of the paintings have human figures in them, which is a departure from tradition.  One of these, titled Vallejo, is right near the door.  It is a nice painting of a table and purple chair.  In the mirror behind the purple chair, a mate to the chair reflects, with a man sitting in it.  
JR Nelson's persimmons caught my eye from across the room.  This vivid painting is flanked by a Sally Baker piece, Gladiolus in a Green Pitcher, filled with her signature grace-notes, Chinese calligraphy and ripe persimmons, (this was the persimmon wall); and Weaver's Palette IV, by Karen Sprat, a row of cone-shaped spindles of colored thread.  
William Cutler won a merit award for his trompe l'oeil triumph Squeeze Play, which is, among other things, a visual pun (and it has a human figure, but the person is in a photograph).  The piece that moved me the most was called Waiting, by Lorraine Cook.  In the foreground a tangerine rests on the seat of a blue chair, in a blue foreground, while streaks of yellow and orange light strike from the upper left of the painting, shining from another room where two people, clad in swirling yellow and orange robes, stand waiting.  I like art that's narrative, and Waiting is bursting with story. In fact, I got a decent tax return this year and I'm thinking seriously of going back and buying it. 
Carolyn Batchelor entered an accordion book made out of altered book covers.  Plate Glass Kings is a huge painting in shades of gray, with one black chess pawn and a list of English kings.  I have no idea what's going on there, but it's intriguing. 
Another intriguing painting is Xcluded; oranges and a child's alphabet blocks.  Again blue and orange predominate.  The geometry of painting kept pulling me back. 
This is a great show, well worth your time. 
In the small gallery (I might have called it a "nook"), hung Women in Life, a show by Mary Sanders.  She has a series of small pieces, full body portraits, filled with humor and motion.  Two large, kaleidoscopic pieces drip intricacy and color, reminding me of Hmong embroidery.  One wall holds a series of large portraits that I didn't like as well.  After the life and exuberance of the other pieces, the portraits seemed static. Overall, her work is worth checking out. 
The show is free but it's a nice idea to leave a donation.  When you've finished interacting with the art, you can walk a block up the street and have homemade ice cream at Screamin' Mimi's. 
**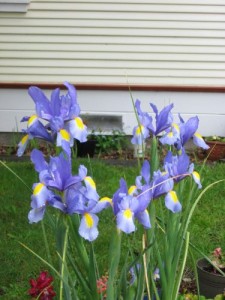 So, I'm at Goodwill dropping off two boxes of stuff, and a young woman walks up behind me.  She looks like she's in her mid-twenties.  She has shoulder-length, shiny brown hair, jeans that are fitted, but not sprayed on, and a clinging jersey top.  She walks past me with one box and the Goodwill guy, who's about thirty, says, (seriously), "Oh, hellooo." 
She says "Hi," and sets down her box. 
He says, "Do you have other stuff?  Do you need help?" which, to be fair, he also said to me, if not quite as ardently. 
I didn't hear her answer but a few seconds later she passed me and here's the guy right behind her.  And here's the second guy working, right behind him.  And here's the third guy, hanging out of the door. 
 Ahhh, spring.