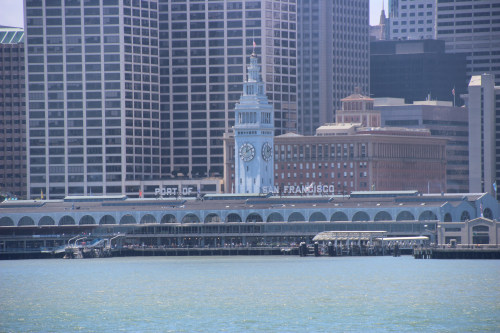 I spent Friday, July 12, in the Embarcadero in San Francisco with my friends Kathleen Cooke and Lillian Lee. It was the first photo safari the three of us have done together. It was great.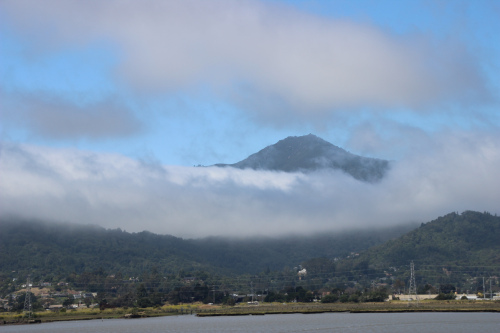 Lillian and I met Kathleen at the Larkspur Ferry Terminal. It's pretty easy to get to; from Southbound 101, take the St. Francis exit, veer left. At the stoplight, turn left. You'll drive about four blocks before you see the large, free parking lot for the ferry. The fog was still in, pearly gray, and I was wondering about our photos (although you can get great photos on a foggy day), but while we waited for the 11:40 ferry the fog began to thin, turning to silvery mist and then evaporating, leaving the thinnest veil of shell-pink mist overhead.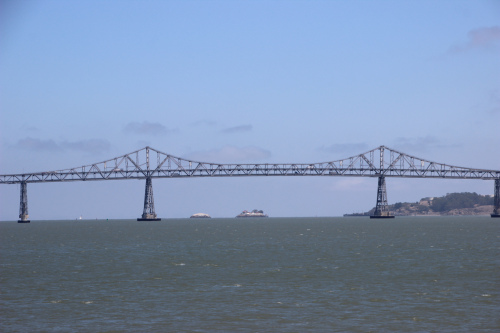 West Brother and East Brother Islands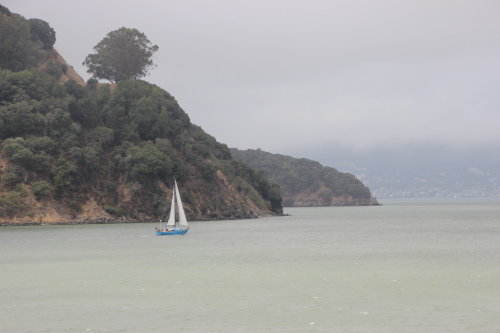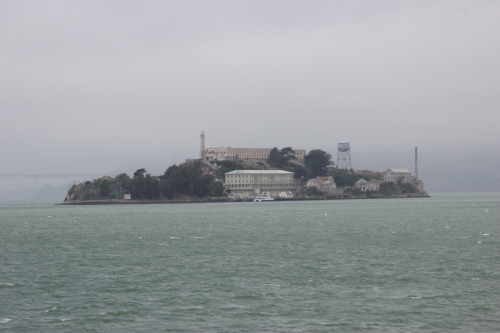 Angel Island and Notorious Alcatraz
As our catamaran, Mendocino, shot across the bay I started adding trips to my now-I'm-retired-let's-do-that list. First of all, a trip to Angel Island. Secondly, a tour of Alcatraz. I don't know why, particularly; it's certainly a site of untrammeled human misery, but the history and architecture of the island are fascinating. I'm writing a science fiction novel with a new prison built on that island so it would be worth it to see it up close and not just in a movie. (I say that, like,"Oh, I must do research!" The prison gets about two paragraphs' worth of time in the book. But I'm just sayin', it ought to be authentic, y'know?)
Our view from the Mendocino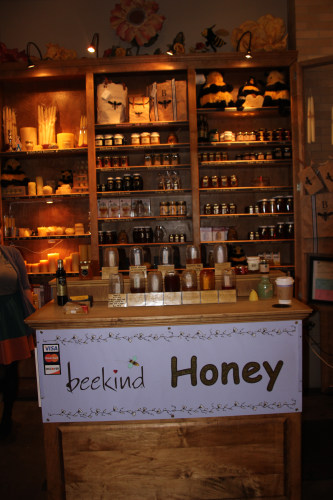 Neither clerk wanted to be in the picture, but I got a third ofsomeone. Sorry.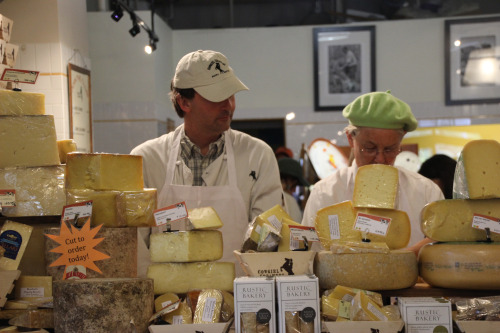 Cowgirl Creamery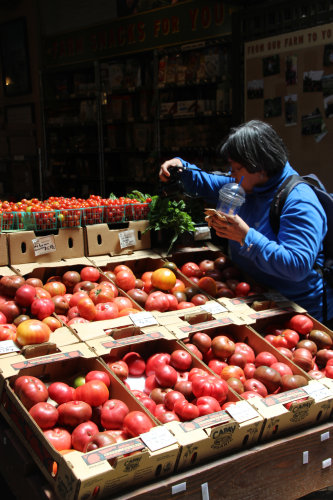 Lillian experiments with her new camera
We got to the SF Ferry Terminal shortly after noon and the place was bustling. A lot of people were tourists like us but many were in business clothes, coming down from the financial district to grab lunch. A number of local products are represented in the terminal marketplace; BeeKind, a Sebastopol business, Stone House Olive Oil, and Cowgirl Creamery, which is a Marin-based cheese-making concern with great cheese. Strauss Family Creameries, also based in Marin, is represented at the soft-serve ice cream place.
Pedicabs! A thing I've read about, but not seen in the US.  We don't have many in my home town. The Embarcadero is full of them. (Pictures will follow in a later post.)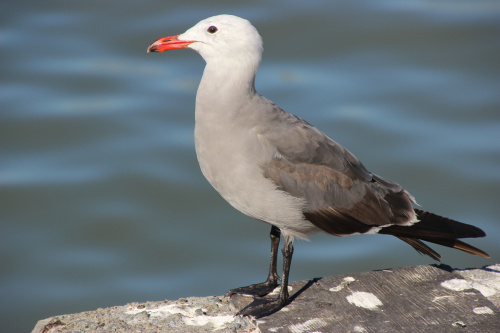 I had also never seen a Heermann's gull before. When seen in contrast with the "local" gulls and kittiwakes, they are distinctive for their size (2/3 as big as the others) their nearly-red bills and black legs and feet. They are also shier and less aggressive than what I'm used to; almost a wallflower by seagull standards.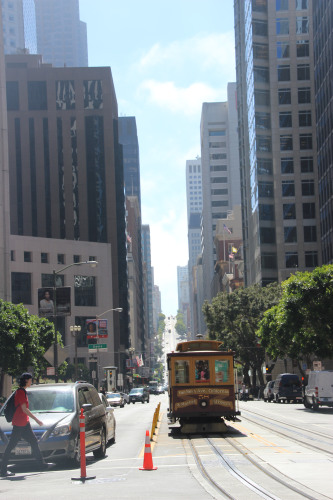 Market Street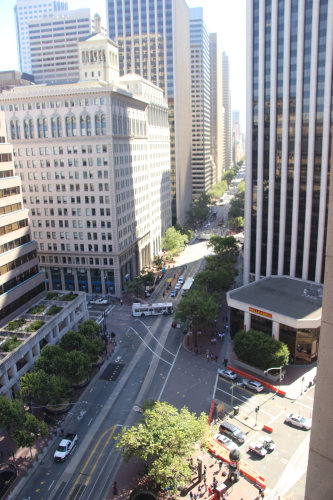 And Market Street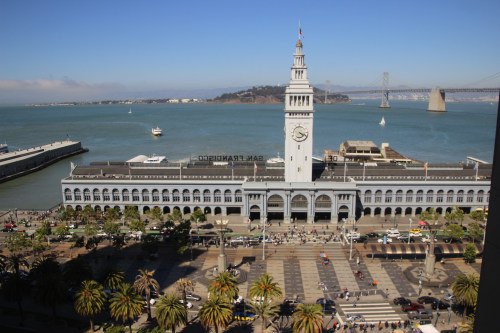 Ferry Terminal from the 14th Floor
After a spicy Thai lunch with a velvety Thai iced tea to wash it down, we visited a street fair at the end of Market Street. Kathleen wondered if the Hyatt Regency still had the exterior glass elevator, so we made our way up past road work and sewer work (phew!) to find out. They did not. The internal elevators are glass and look like old fashioned hour-glasses, or maybe large shot glasses gliding up and down. You can ride to the fourteenth floor without a key-card, so we did, and took some pictures from the public areas there.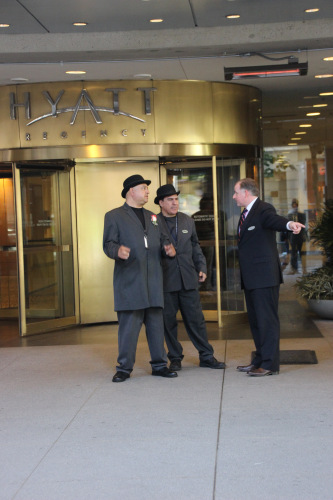 The men of the Hyatt
Market Street is a pleasing blend of old buildings and new featureless skyscrapers. US Bank wins the award for most ugly bank building. The Federal Reserve is a mix of both; it doesn't have gingerbread and fretwork, but it isn't bland either.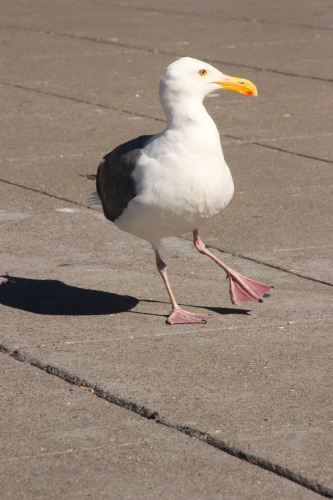 Sheldon, the soft-shoe seagull (had a very shiny nose.)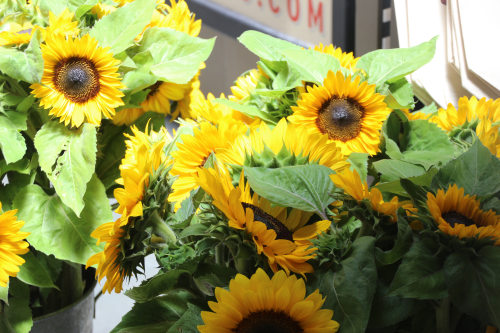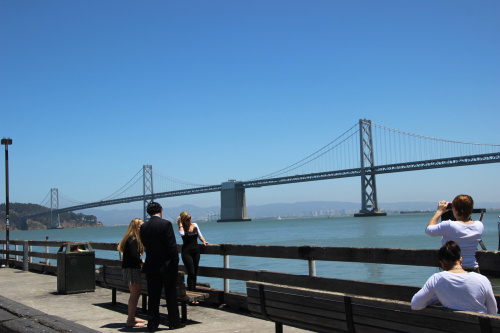 Bay Bridge with people. Many more bridge and boat pictures coming.
We spent the whole day, catching the 7:20 pm ferry back, and never went for than four blocks from the terminal. We could have walked a few blocks (or taken a pedicab!) south and gotten a whole different array of pictures. We also came up with about a dozen other things we could do.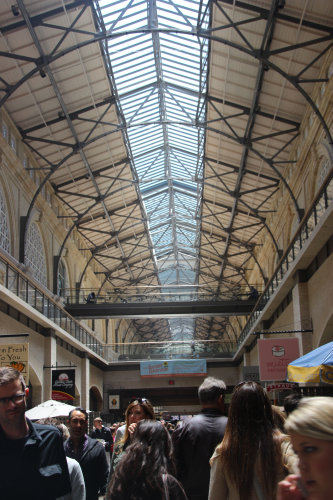 Good friends, good weather, good food and good photo ops. Some days are good days. Some days are great days. This was a great day.