For the past eight years, Keoke Kahumoku has held a Hawaiian Music and Lifestyle camp, the first week of November. The camp takes place in Pahala on the big island, and top-drawer musicians and dancers teach ukelele, open-tuning guitar, singing, chant and hula. On the final day, the participants hold a free concert.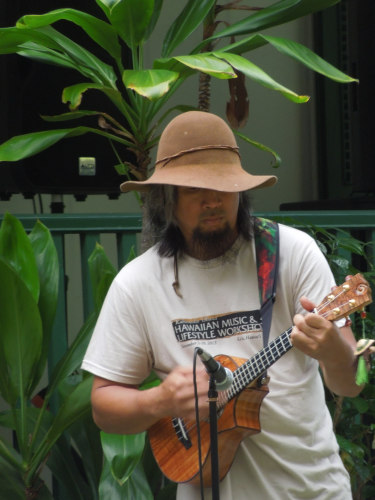 Lifestyle doesn't mean that you drive a Prius, do Pilates and cook with stevia. These workshops keep the traditional Hawaiian arts alive and thriving.
The camp is held at the Palaha Plantation House, and attendance at the final day concert has grown. Linda said in previous years musicians just staked out rooms in the house and jammed; you could wander from room to room and listen to your favorites. This year, the house was basically the backstage area, not open to the public. Plate lunches were served for $10 from the kitchen. All the money raised by the lunch and the T-shirt sales go to support the workshops.
Performances ranged from the very nervous hula class to the world-class guitarist Led Kaapana. Each performer performed three pieces, but the enthusiastic audience yelled "Hana Hou!" (do it again/"encore!") almost immeditately. When Led played, he launched into a piece and someone yelled out, "Hana Hou!" Led: "Dude, this is the hana hou.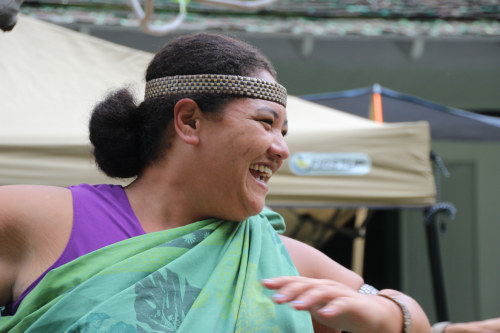 The nervous hula students soon relaxed.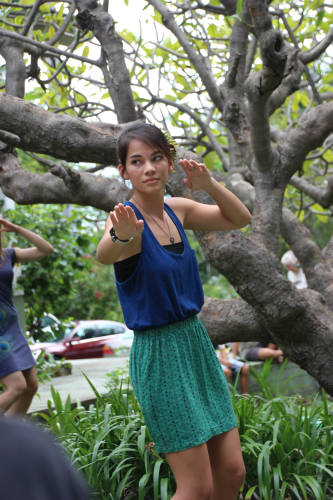 The students from Volcano Village School of Arts and Sciences performed a pop song and a song they had written.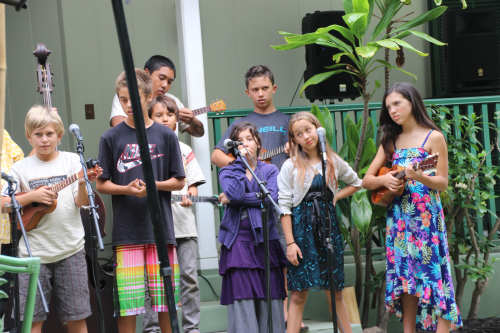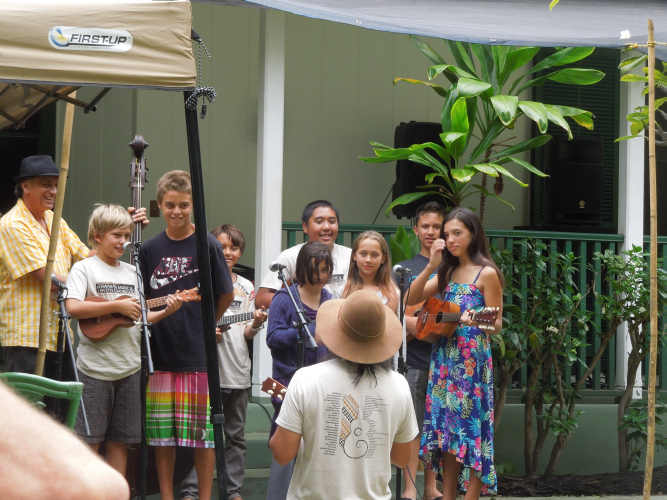 The girl on the right in the blue print dress sang two songs she had written, accompanying herself on guitar.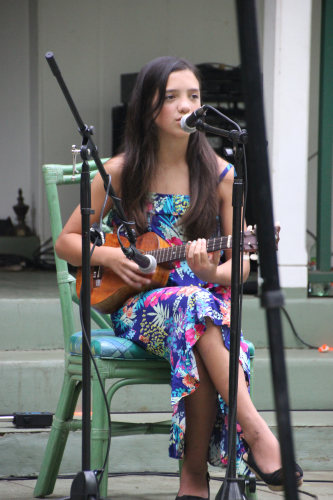 It shouldn't really be a surprise that bluegrass melds well with Hawaiian music. Guitar, mandolin; guitar, ukulele– not that big a difference. Growing up I never took the ukulele seriously. At worst, it was s joke instrument to me; at best, something for someone who couldn't play the guitar. Once I started hearing it in Hawaii I realized its range. A bluegrass group came from North Carolina to attend the music camp. "We're the North Carolina Ukulele Group," the spokesman said. "When we got together and discussed what we wanted to learn, all the members said they wanted to learn Hawaiian music."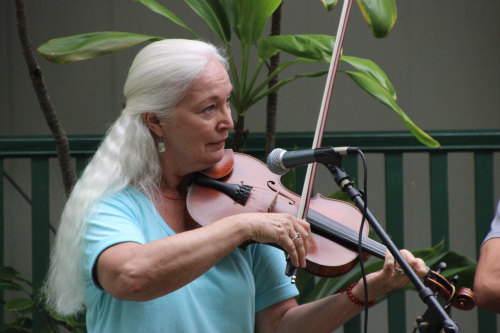 A blue grass fiddler
James Hill is barely thirty, and I have no idea how old Ann Janelle, his music partner and wife, is; they are tearing up the fretted instrument world. James is considered the premiere ukulele player, even by Hawaiian musicians. Ann plays cello. Ann shifted away from the traditional cello to this electric cello, which lets her "rock out" a little bit more when they perform. They are amazing together and separately (Ann writes and performs her own songs, as does James). My second favorite song of the afternoon was performed by them, and I never would have believed it if I hadn't heard it. It's "Billie Jean," a creepy song by a creepy dead superstar. Here's a little taste of how it went; our version was about six times better than this.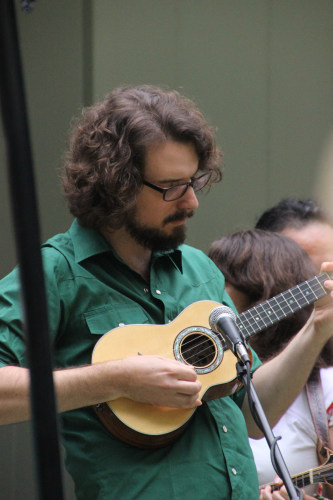 James Hill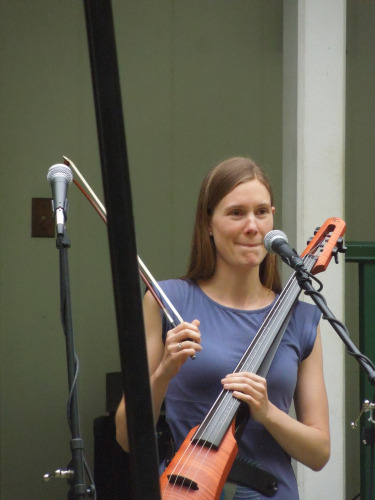 Ann Janelle
Led Kaapana can make one guitar sound like six.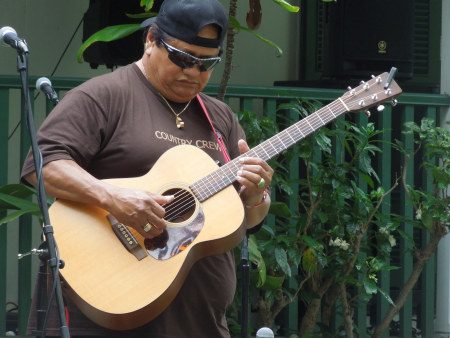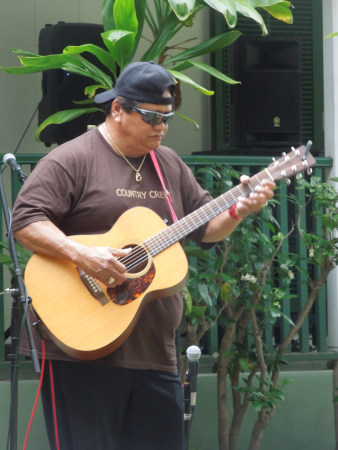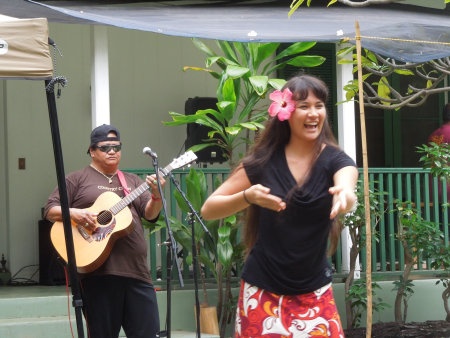 This is Jon Yamasoto. He sang my favorite song of the day, "Last Night I Dreamed I Was Returning." I would buy every CD of this guy right now.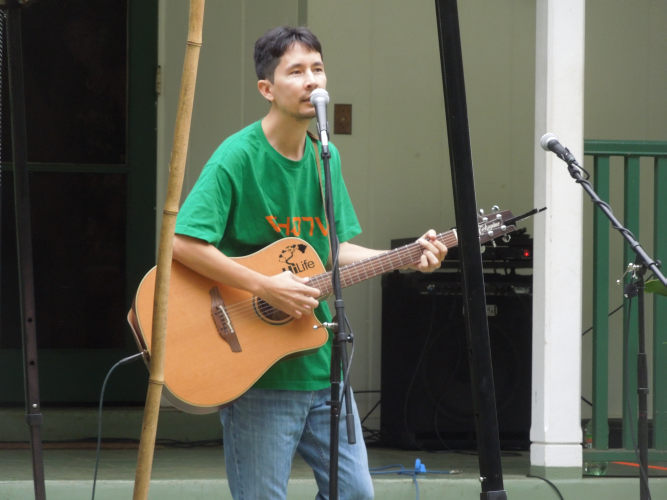 To my surprise, the audience mostly looked like this.  Where were the native Hawaiians?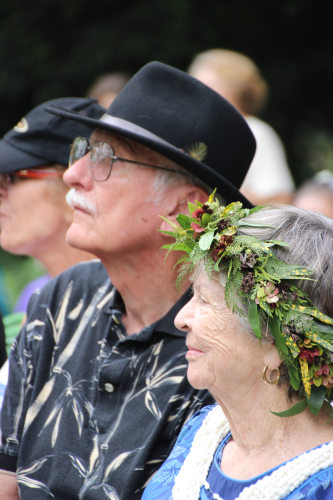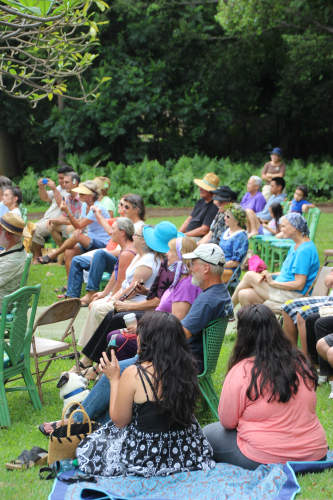 I have forgotten this family' name. They live on Oahu in the North Shore area. This was their first off-island performance.