What's to like about the Alegria Inn, in the village of Mendocino? Here are a few things:
The hosts. The Alegria's owners, Eric and Elaine Wing Hillesland, are archetypal B&B owners; friendly,  helpful, accommodating, flexible and realistic, both interested and interesting. They take an interest in their guests without being pushy.  Eric and Elaine own the Alegria. they either manage or own and manage the Raku House, across the street, and manage two other vacation rentals. Without being intrusive, they are quick to ask if there is anything you need, or anything they are doing that you don't need. Eric, for example, knew I was a writer because I'd been there before. "Do you want a card table, or some kind of work surface? I can bring one up," he said. I declined, because I'd seen the stairs. Later, regretting this decision, I talked to Elaine, who suggested one of the TV trays in the closet. (I'd totally missed the TV trays.) It worked, but I wish I had taken Eric up on his offer.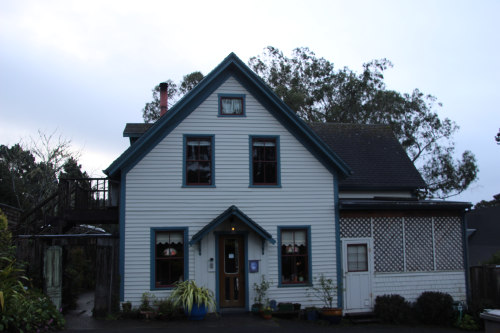 The hospitality basket. The basket in Treehouse, my room, had a personal note from the two of them,welcoming me back. It had a large bottle of Pellegrino Water (more on that in a few minutes), chocolates from a village chocolatier, crackers, Brie and an apple. In some circumstances, that could be dinner, and it was.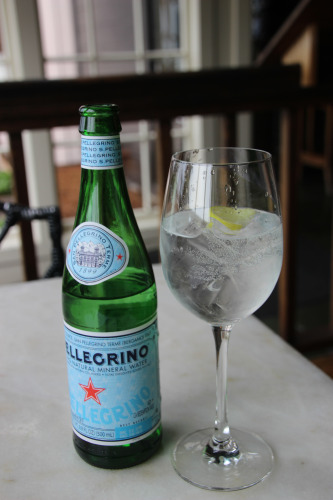 The Trail to the Beach. The Alegria perches on the north bluff of  the mouth of Big River, just at the north end of the bridge. From their glass-sided breakfast room you can look across the garden and down at the river, watch long curling breakers frothing onto beige colored sand. From the garden, the trail winds past this eucalyptus down to a broad flat stretch of beach. Turn west and stare at the silvery oceanic horizon, or walk each and follow the bend of the river.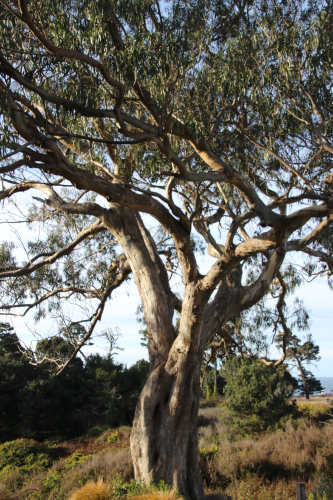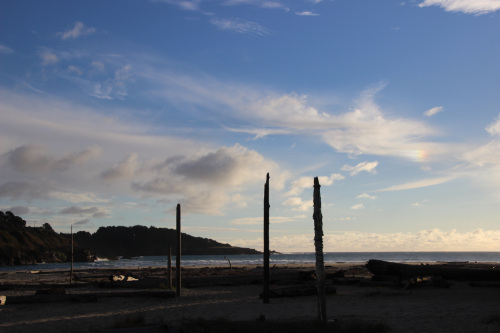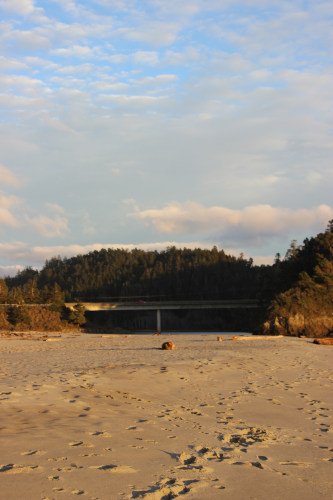 Treehouse. My room is on the second floor of an outbuilding on the Inn's grounds. I'm guessing the structure is part of the original plan, maybe a carriage house or garage. The upstairs has a deck, a sharply peaked ceiling that means you have to duck to get into the shower, and two long rectangular skylights over the bed, letting in the starlight, or, in my case, the steady patter of much-needed rain. The bed is big and warm, loaded with pillows. The room has a wet bar, coffee maker, mini-fridge and microwave oven. The wooden staircase up to Treehouse is a half-hearted spiral; it makes a 270 degree curl before straight-lining up to the deck. I understand the space limitations that led to this unusual design. I both liked, and didn't like, the staircase.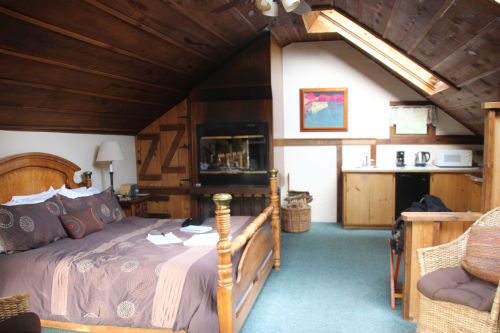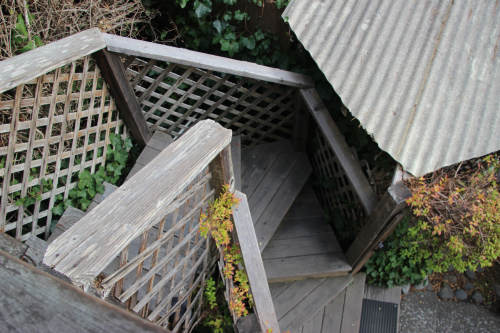 Breakfast. I used these days to finish a writing assignment, and I knew before I went that the best room for this type of project is the one I had in December, The Aloft Suite in Raku House. Aloft Suite is huge, and has a huge oak table and straight backed chairs. I was self-indulgent, though, and wanted to share the glorious full breakfasts that the Inn gives guests. Every morning, fresh fruit and fruit juice; then pancakes or waffles (Friday morning's offering was chocolate waffles with chicken-apple sausage from a Fort Bragg smoke house). Thursday we had a break from the bread-themed breakfasts with a succulent egg dish; cooked in a ramekin, velvety eggs with milk or cream, melted cheeses and a base of mild fresh salsa. Eggs and salsa; perfect. Eggs and cheese; perfect. Eggs, cheese and salsa… approaching ecstasy.
Maybe you have some dietary restrictions. Let them know, and they will adjust for it.
The Inn. The house that is the inn dates from around the 1850s, when it was built for a local sea captain. Subsequently, several cottages were added in the 1970s, contributing a perfect hippy-dippy creativity. Treehouse is probably an example of that. I don't know when the breakfast room was added but I would bet money it is not an original part of the house.  The place needs maintenance. My room had a small leak. If you have to have a leak in your hotel room, this was the perfect one; it wasn't dripping on me or threatening electrical equipment. It is a good indication of how long it's been since we've had a good rain, because wood shrinks as it dries; it's also a reminder of how much upkeep is needed when you live right on the ocean.
Meeting Oscar Nominees. Okay, the best director of a documentary, a category they don't even televise, but still. More on this a little later.
The Ravens. Mendocino has the best free raven show ever. I'm sure the village's ravens are not inherently more intelligent than others of their species. I think they are more used to people, and associate people with food. This means they let you get quite close, and the reverse; they will stalk you if they think you have food you might drop. And there are lots of them. They are busier, and more tolerant of humans, than their aloof brethren in Fort Bragg.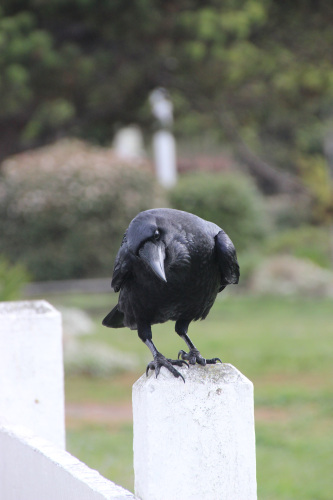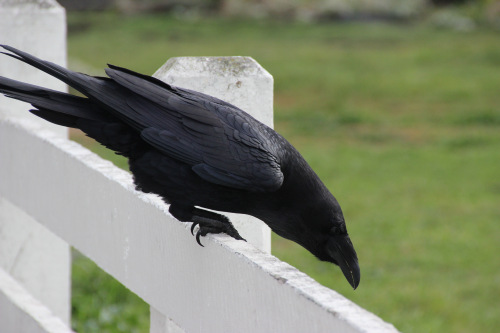 There were a few things I didn't like.
The drought. The village is buying water from Fort Bragg and it's delivered by truck. That bottle of Pellegrino served a dual purpose. It not only tasted good (and fizzy!) but it alleviated some guilt. Restaurants will not bring you water until you ask. All of this is a preview of what the rest of California is going to be like for the next few years.
The staircase. As I said, the wooden staircase up to my room was quirky and decorative. It was also steep, wooden, and wet. A long time ago someone had applied friction strips to the treads, but once there is a sheet of water on them, friction strips don't really help. I love how the staircase looked, but my last trip to Mendocino, in December, was cut somewhat short after my friend slipped on a set of wooden stairs, fell, and broke her arm. It wasn't at the Alegria, but it was on my mind, especially as I went up and down them with a travel case, a tote bag, an expensive camera and a laptop.
My Back. This was a "writing retreat," involving reading through a long piece of mine and then finally completing the last chapter (which, by the way, I did). Why, oh why did I graciously turn down Eric? Why didn't I say, "Dude, a card table sounds awesome, and by the way, can you drag me up a folding chair while you're at it?" I did make use of the TV tray and it worked great, but I was mostly sitting on the bed. Lower back? Ouch. This is entirely my responsibility, by the way. On the plus side, I did enough walking every day, usually in the morning when it wasn't raining, to mitigate most of the damage. But seriously, how stupid am I?
As far as I'm concerned, if you want to stay in the village of Mendocino itself rather than the bigger and more lively town of Fort Bragg, about seven miles north, the Alegria is the place to check out. Eric and Elaine will make your stay special. The e-mail is inn@oceanfrontmagic.com, the phone number is (800)780-7905.
If you see the ravens, mention my name. Then they'll mob you for treats.