I think I've written about us before. The four of us met at the Mendocino Coast Writers Conference and have maintained a connection that is fed largely by writing and also by, well, food. Two of us live south of the San Francisco Bay, and two of us live north of it, so after a couple of dry runs (a meeting in San Rafael, one in Berkeley) we found Sailor Jack's on the water in Benicia, and have been meeting there monthly ever since.
Just to recap:
Terry, a retired (or retired-next-week) teacher, is writing a powerful and scary story about a teenager who is starving herself to win the approval of her selfish, clueless parents. Sue, one of the other members of the group, calls it "Stephen King for mothers." Terry's great ear and exposure to kids gives this YA novel a realistic edge that is even more scary.
J.C., who works at UC Santa Cruz, is writing a literary mystery about a biologist who works in a sea park. J.C. has a way of shifting from the very dark to the absurdly funny in one stroke, like a champion figure skater.
Sue, a technical writer, is writing an atmospheric child-in-danger thriller set in Sweden.
And me, I write my usual stuff. I've brought them a couple of science fiction stories, a couple of fantasy stories, one mainstream story and even, inspired by Terry and JC, who both shared memoir, an autobiographical piece.
We usually meet on Saturdays. We aim for once a month, but we can't always make the same Saturday in the month; it's not a fixed meeting. And some months, like May, we miss for a variety of reasons.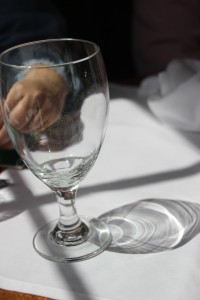 I liked the reflection.
Even if we, alone, weren't awesome, the waterfront area of Benicia is great fun. Periodically we run into some event that's happening there. One Saturday it was a regatta out on the bay. In April it was a classic car show.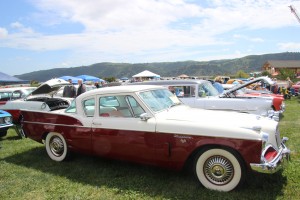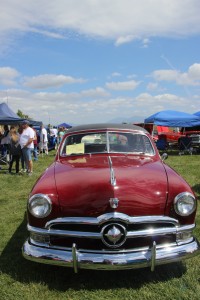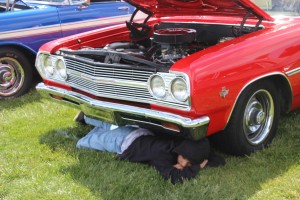 How to stay cool at a car show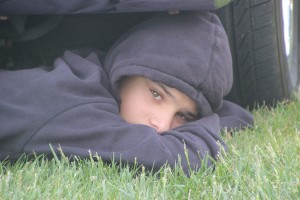 This month, we are meeting on summer solstice and it will be a wine-tasting day on Main Street Benicia. We expect parking to be challenging, and to have to  dodge clusters of happy people, clutching their logo wine glasses, as we walk up to the Benicia Bookstore after brunch.