I dragged myself out of bed at the outrageous hour of… okay, well, it was 6:45, fifteen minutes earlier than I usually get up. I showered, drank coffee, put on make-up and drove carefully through the curtain of ground-level fog to the village of Forestville, where Food for Thought was holding their Volunteers and Donors breakfast at the Oddfellow's Hall. I qualify as a donor.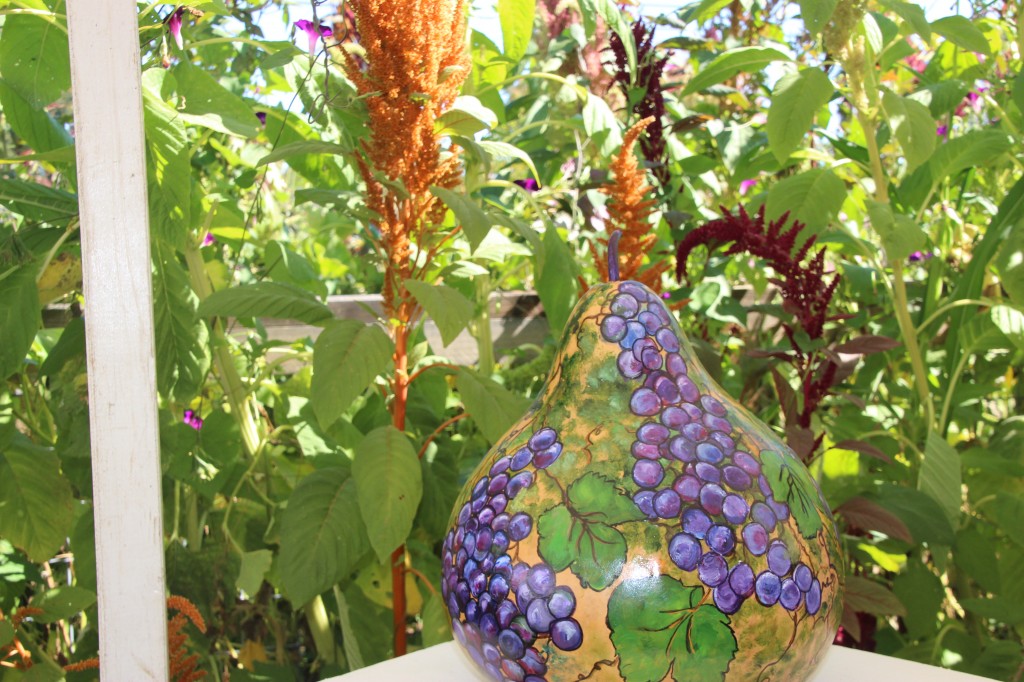 From Calabash
The hall was a bit chilly, but the tables were set with festive green-and-white checked oilcloths and beautiful bunches of flowers, including cosmos. The coffee, from Sunshine Coffee, was flavorful. The Forestville restaurant Backyard, which specializes in "locavore" cuisine, provided frittata, field greens, roasted potatoes and fruit for breakfast. On our table, a little card gave us the name of the farmer whose eggs were used — and the names of the chickens who produced them!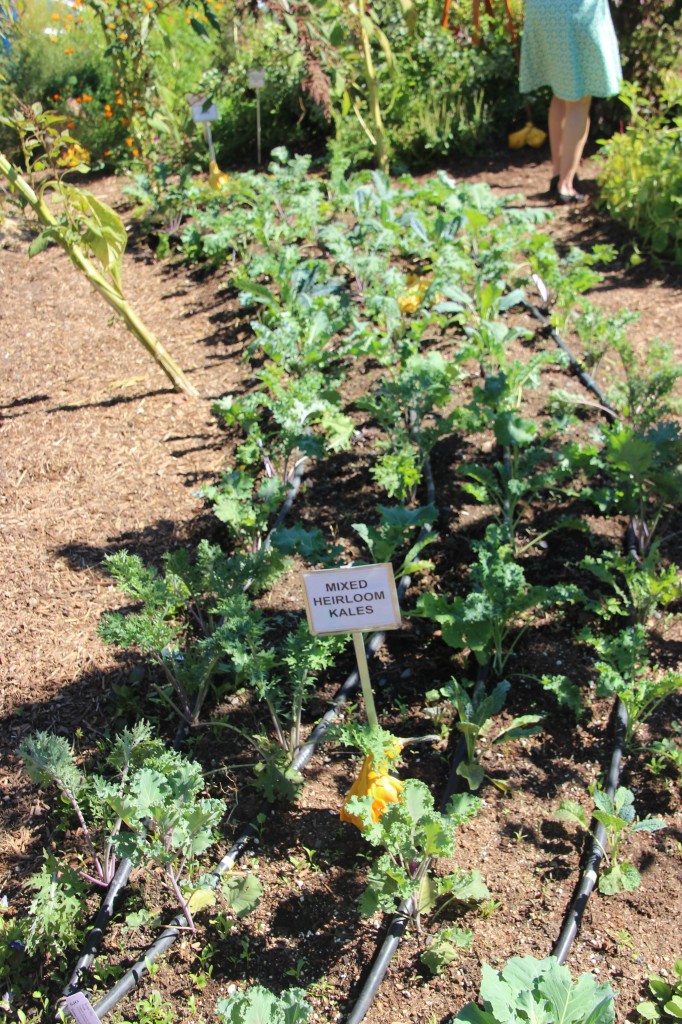 From Calabash, kale in the garden.
Diana and Fred, two Food for Thought board members, sat at my table, along with Rachel Gardner, and Shan Magnusson. Shan worked at West County Community Services for many years before moving over to Kaiser's Community Benefit program. She says that it's nice to be on "money-giving side of the desk for a change."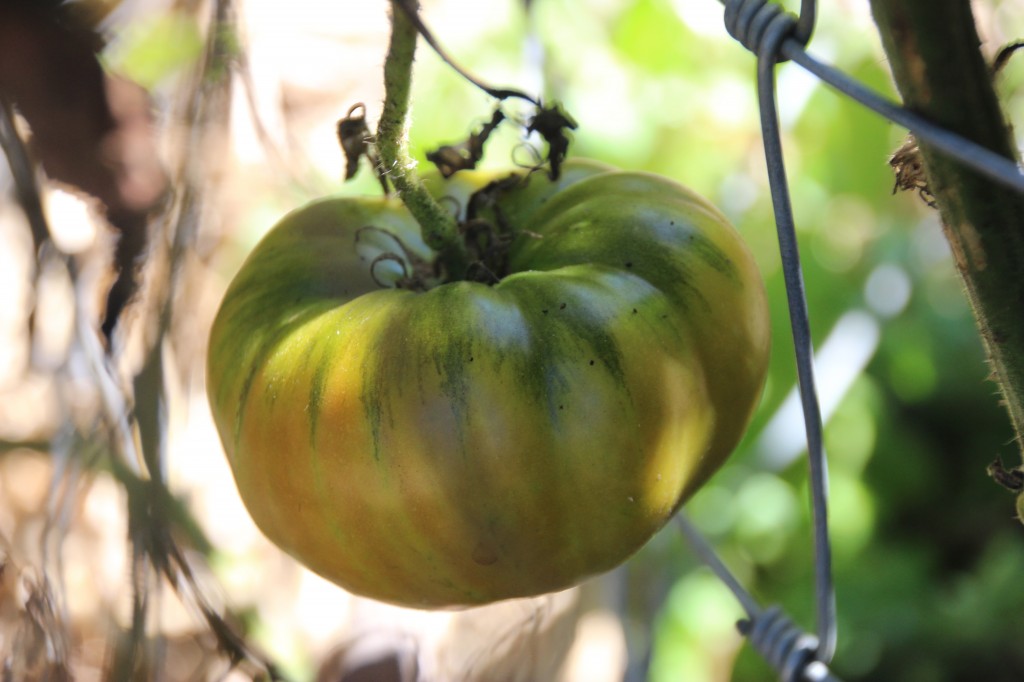 The breakfast served three purposes; to say "thank you" to donors and volunteers; to introduce new staff; and to introduce Food For Thought's new direction. Since 1988, the program has provided groceries, fresh produce, and prepared meals to people living with HIV disease. As the treatments for  HIV disease have improved, people are living longer and dealing with the challenges of aging with a chronic illness. At the same time, funding diminishes as the public and policy makers perceive the disease as "taken care of," because in many cases it's shifted from "terminal" to merely "chronically life-threatening." FFT plans to expand its services over the next five years; providing food and meals to people with other chronic illnesses.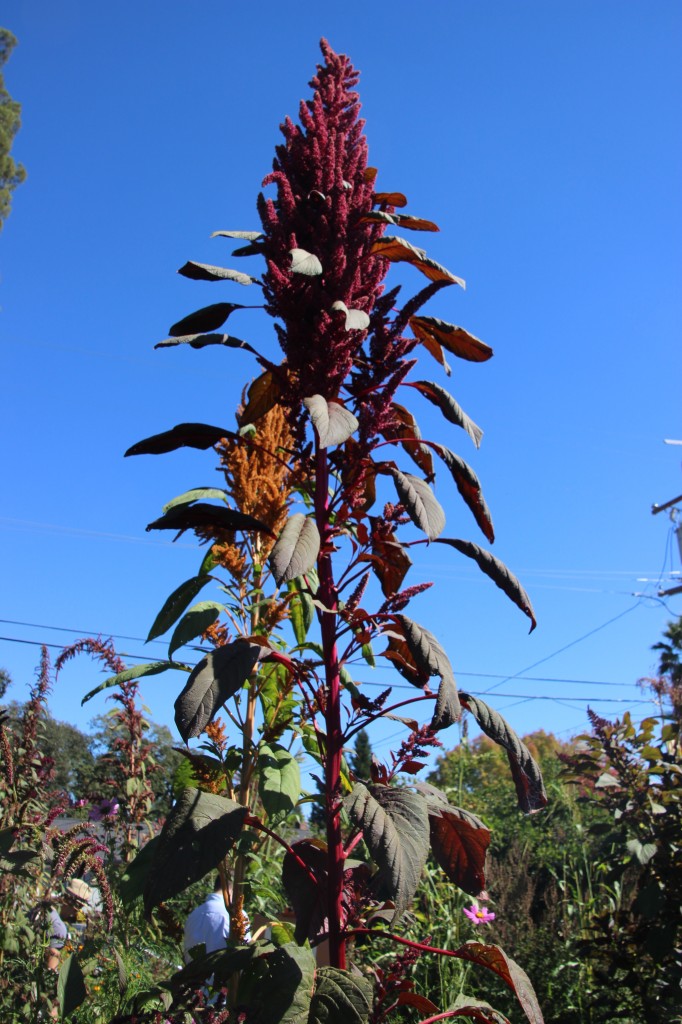 Amaranth, in case you were wondering.
In some ways, the program faces some challenges. FFT was born in the town of Guerneville, a town that had a high volume of AIDS cases in the 1980 and 90s and its office has always been in Forestville. It is seen, inaccurately, as a "west county program" because of its location ( 50% of its clients live in Santa Rosa). They want to be identified the countywide program they are.  Growth will have to be part of any expanded service.
The core of FFT's clients are people living with HIV disease. Lots of them still face stigma and discrimination, and they are understandably concerned about an influx of people using what they see as their services, and judging them.
On the other hand, nobody else right now does what FFT does. When it comes to providing groceries and meals, they have it down. They will be adding a congregate lunch service at Food For Thought, beginning November 1. They are already reaching out to programs like Meals on Wheels (which has a 40,000 square foot industrial kitchen available) and Ceres Project to identify overlaps, gaps and places where they can help each other.
Ron Karp, the executive director of FFT, is a strategic thinker who will move forward thoughtfully and carefully into this new territory.