Wednesday morning:
I wave to this woman. She says, "How ya doing?"
"Great!" I say.
"You here visiting?"
I say, "What gave it away; my camera or the big goofy grin?"
"A little of both,"she says.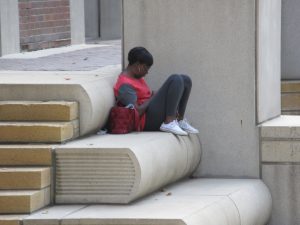 This is my hotel. Seriously. It's a 1930s historic building.
And here's my room. From the front room (they upgraded me to a corner room, just 'cause they could) I look straight across at the courtyard leading to the convention center where WorldCon 2016, also known as MidAmeriCon II is being held.
From the side window I see a gigantic air conditioning unit, lots of blackbirds, and the Crown Plaza hotel.
Welcome to MidAmeriCon.